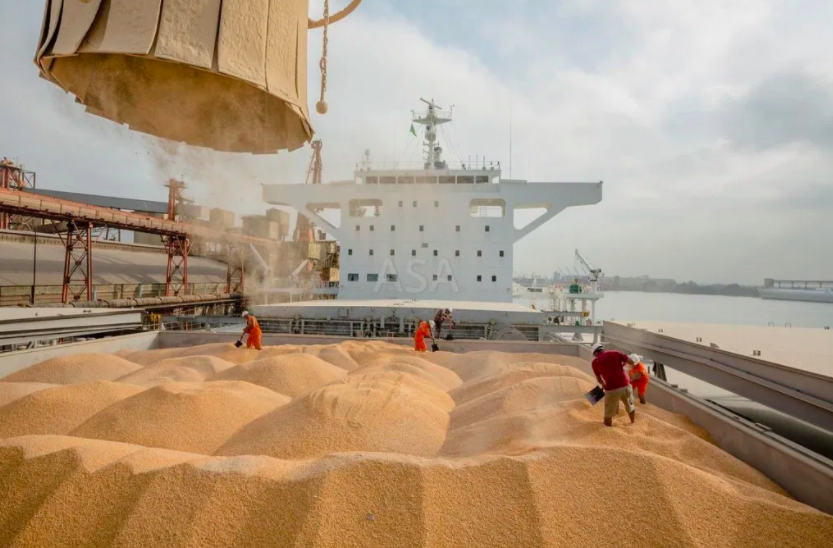 Monday, September 21
Grain Exports Down 10%, Farm Production Down 10%...Drought Delays Winter Wheat Sowing...With Climate Changing Government Moves to Revive Irrigation in Southern Ukraine...French, American, EBRD Investments in Ukraine Agro...Local Elections Look Depressing? Run Away to Zanzibar!
Grain exports are down 10% for the first 10 weeks of the marketing year, the Economy Ministry has reported. Since July 1 which is the start of the marketing year, Ukraine has exported 10.3 million tons of grain. Wheat export volumes are virtually unchanged, at 7 million tons. Corn sales are only one third of last year's levels, largely due to a late harvest. Overall, the government is forecasting a 16% drop in grain exports this year, largely due to smaller harvests than last year.
China doubled imports of Ukrainian barley this summer, pushing Ukrainian export prices up 20%, reports APK-Inform. "Chinese demand is just off the scale," reports the Kyiv-based agricultural consultancy. Sharpening buyer worries, Ukraine's Economy Ministry warned last month that Ukraine's due to poor barley harvests, Ukraine exports could drop by 35%, to 3.3 million tons.
Thank you
CMS Cameron McKenna Nabarro Olswang 
Ukraine for supporting UBN. As part of the mutual collaboration we have launched an 'Investing and Doing Business in Ukraine' brochure. Please follow this link to obtain the full version of the brochure on our website:
http://ubn.news/cms-preview/
Ukraine's farm production was down 10% through August, compared to the first eight months of last year, reports the State Statistics Service. As of September 1st, these harvest declines were registered: wheat harvest down 12%, to 25.1 million tons; barley down 14%, to 7.8 million tons; canola down 8.5%, to 2.6 million tons; and peas down 16%, to 489,000 tons. Overall, the Economy Ministry forecasts a 9.5% drop in the nation's grain harvest this year, to 68 million tons.
Drought is delaying the mass sowing of winter wheat by two weeks, APK-Inform consultancy says. "The soil layer 0-10 cm was almost dry on 70-80% of the area," APK-Inform said, citing forecasters. "Mass winter crop sowing in areas with such a low moisture is impractical." In some areas of central Ukraine, the dry, hard soil represents the worst sowing conditions in 50 years.
Thanks to climate change, Polissia, the northern swath of Ukraine along the Belarus border, has started to grow crops traditionally associated with southern Ukraine, Serhiy Ryzhuk, director of the Polissia Institute of Agriculture, tells Ukrinform. "Due to climate change, uncharacteristic crops came to us in Polissya," says Ryzhuk, whose institute is part of the National Academy of Agrarian Sciences. "If before flax, hops, potatoes, rye, millet, buckwheat were grown, now corn, soybeans, rapeseed and sunflowers have appeared here."
Facing drought and the collapse of ageing irrigation systems, the government is drawing up a law to transfer irrigation pumping stations to private hands under public private partnership concessions, Ihor Petrashko, Minister of Economic Development, Trade and Agriculture, said last week on a visit to drought-stricken Kherson. The government's 'Big Construction' program, currently limited to highways and bridges, will be expanded to include restoring Soviet-era irrigation systems.
For Ukraine to harness private capital for irrigation, it would have to borrow from the body of water law developed over the last century in the American West, argues Bate C. Toms, chairman of the British-Ukrainian Chamber of Commerce. The Chamber is developing model pilot irrigation project.
Paris-based SAS Investcompagnie, is expanding its Ukraine farm holdings, buying control of two agro companies, one in Chernihiv and another in Zhytomyr. The company already owns three other farming companies – in Chernihiv, Cherkasy, and Odesa.
Indiana-based Remington Seeds is acquiring the seed plant and farming operations of MAIS, a major Ukrainian seed producer. Called SEED Corp, the new joint venture will combine Remington's international experience with the farm machinery and 5,000 hectares of irrigated farm land of MAIS.
EBRD is lending €10 million to Ukraine's Agrofusion, Europe's third-largest producer of tomato paste. Agrofusion exports 72% of its production, selling to 45 countries. Part of the loan will help Agrofusion produce organic tomato paste, an increasingly popular product in Europe.
Ukraine, the world's largest sunflower oil exporter, increased its sunoil exports by 10% in the marketing year that ended last month, reports the industry association, Ukroliyaprom. The association says Ukraine exported: 6.7 million tons of sunoil, 335,000 tons of soybean oil, and 184,000 tons of canola oil. In dollar terms, Ukraine's exports of vegetable oils were up 17%, to $5.3 billion. Ukraine accounts for 55% of internationally traded sunflower oil.
Ukraine was the world's third largest potato producer last year, reports Potato Business. The ranking was: China – 93 million tons; India – 51 million tons; and Ukraine – 23 million tons. The Economy plans to ban the import of Russian potatoes. Although imports from Russia grew 43-fold last year, they only reached 250,000 tons, barely 1% of Ukrainian production.
A Russia-EU gas line returned to use last weekend after a mysterious explosion Tuesday in a field in Chabany, five kilometers west of Kyiv city. Ukraine's Gas Transmission Operator said 38 meters of pipe were replaced and welds on the high-pressure line were checked for defects. Police are investigating to see if the 30-year-old pipe self-destructed due to old age, or if the midnight explosion was due to sabotage. Covered extensively in the German media, the explosion took place as German Chancellor Angela Merkel is under heavy pressure to freeze work on the Nord Stream 2 Russia-Germany trans-Baltic gas line.
Ukraine's economy plunged 11.14% yoy during the second quarter, the April-June period that coincided with the strictest coronavirus controls. This calculation by the State Statistics Service matches preliminary forecasts of an 11% drop made last month by the Economy Ministry and the National Bank of Ukraine. For the entire year, the Ministry predicts the fall will be 4.8%. During the first quarter, affected only slightly by the corona curbs, Ukraine's economy shrank 1.3% yoy.
Next year's budget envisages GDP growth of 4.6%. Prime Minster Shmygal said on Ukraine TV Friday night: "4.6% GDP growth is absolutely a real forecast." He said Ukraine's economy is already growing in the second half of this year.
In the last six months, 3,000 entrepreneurs have been issued loans totaling $285 million under the "Affordable loans 5-7-9%" program, Finance Minister Serhiy Marchenko said Friday, reports Ukrinform.
Ukrposhta to sign an agreement next month for a €100 million loan to build the first new sorting centers in 40 years and to update 30 existing depots, Igor Smelyansky, CEO of the state postal service, said on the air of KSE Business Transformation Week. Funded by the EBRD and the European Investment Bank, the money would help Ukrposhta compete with Nova Poshta, the private package delivery company which is investing heavily in new sorting centers.
Want to escape the Oct. 25 local elections? Starting Oct. 24, SkyUp offers charter flights from Kyiv Boryspil to Zanzibar. With a refueling stop in Egypt, SkyUp will fly twice a week to Tanzania's exotic Afro-Arab spice island in the Indian Ocean. Zanzibar does not require results of coronavirus test from Ukrainian visitors. Visas on arrival at Abeid Amani Karume International Airport.
From the Editor: Anyone who has contemplated the Pont du Gard, the 2,000-year-old Roman aqueduct in southern France, will understand that water projects are the products of empires and efficient bureaucracies. Today, it is hard to imagine Ukraine's government reviving Soviet-era irrigation projects. This is the country where it takes 10 years to pave the Odesa airport runway, 15 years to build a fourth Kyiv metro line, and 20 years to complete a bridge over the Dnipro. To move fast to protect farming in Ukraine's south, private investment must be channeled into irrigation. Kherson already promotes the Oleshky Sands as 'Europe's largest desert.' With best regards, Jim Brooke