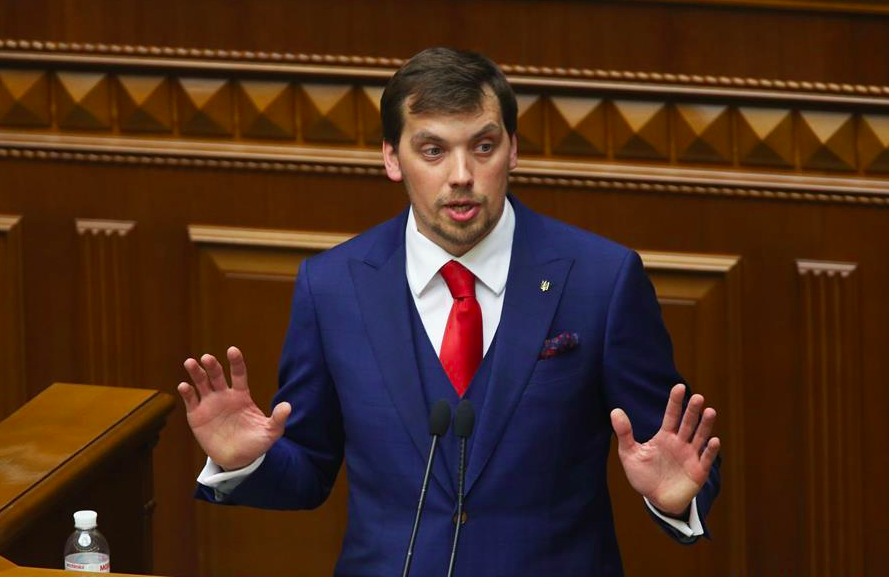 Doubling economic growth, lower interest rates, privatization, labor law liberalization, road repairs, one-time tax amnesty and "a smaller state," are the new government's goals cited by Ukraine's new Prime Minister Oleksiy Honcharuk in a wide-ranging interview with Ukrainian media outlets on Friday.
"My answer to all the important questions is: economic growth," the 35-year-old Prime Minister tells six reporters gathered in the garden of the Cabinet of Ministers. As transcribed by Ukrainska Pravda, here are the highlights:
Cut consumer interest rates in half, to 12-13%. "We need cheap money in the economy," he says."We know how to do it." He calls for the working "in partnership" with the central bank, which already has set a goal of cutting prime in half, to 9% at the end of next year. A key to bolstering the property rights of banks, he says. "We have very expensive money because…we have a total of mistrust in each other: banks and borrowers."
Abolishing labor rules — many carryovers from the Soviet era –will boost official hiring. "We have such a high unemployment rate, partly because hiring legally is very dangerous for business," he says. "Sorry, but it's easier [in Ukraine] to divorce than to fire someone."
Double the Road Fund next year. The money would come partly from a crackdown on the 'hundreds' of 'gray' gas stations that do not send to Kyiv excises taxes on sales of gasoline, diesel, and oil. The goal is to repair or rebuild all 24,000 km of 'main' roads, those connecting regional capitals and key districts
Billions of dollars for infrastructure spending also will come from cracking down on smuggling, he says. Placing his faith in Max Nefyodov, head of the new Customs Service, the Prime Minister says: "This year, smuggling as a systemic phenomenon will go into the past."
More money will come next year from a one-time amnesty on tax bills, he predicts. Finance Minister Oksana Markarova has been instructed to simplify the tax system. "It takes hundreds of hours for a business to fill in the paperwork that no one needs – a thing of the past," he says, promising to speed up digitizing taxes. "Taxation should be so simple that it is not burdensome for anyone."
A national census, the first since 2001, could be held in December. "We really want to have a census this year," he says. "This will save the state huge sums of money next year. The 'dead souls' will disappear. We need to see how many of us are.
"Big privatization is needed…the smaller the state in the economy, the better," he says. Although "a natural monopoly [like Ukrzalinytsia] can in principle be left to the state," there will be room for private investment in the state railroad.
An illicit enrichment bill, long a demand of the IMF will be voted by the Rada this month. The Prime Minister says an IMF mission arrives in Kyiv on Sept. 10 and stay for two weeks.
Separately, Oleg Ustenko, Zelenskiy's adviser on macroeconomic policy, writes on Facebook that a crackdown on smuggling will yield "several billion dollars" a year. "With such money, you can create the necessary fiscal space to stimulate the economy…to the desired 5% -7% annual growth that the President and the Prime Minister are talking about."
Privatization of state companies, a private farmland market, liberalized labor legislation, and matching vocational education to employer needs are among the goals of Timofei Milovanov, the US-trained economist who is now Minister of Economic Development, Trade, and Agriculture. Writing on Facebook, he says deregulation and digitalization will be keys to fighting corruption in approvals and licensing.
Preparing for the Rada's return to work tomorrow, the Rada worked into Friday morning, approving a streamlined system for passing bills and tabling a bill to cut the size of Ukraine's unicameral parliament by one third, to 300. The members would be elected on a strictly proportional system. The Rada now has 450 seats. Only 424 are occupied because elections were not held in July in Russia-controlled areas.
With 37 economic liberalization bills already drafted, they are expected to sail through parliament this month. The President's Servant of the People Party controls 60% of occupied seats. The President's party controls the speaker and first deputy speaker positions, and chairmanships and majorities of all important committees.
Six ruling party deputies have registered a bill to overturn a law listing state companies deemed too big or too 'strategic' to privatize.  The goal of the new bill is: "attracting domestic and foreign investment in Ukraine's economy, increasing its productivity, creating new effective jobs."
To draw 250,000 purchases 'out of the shadows,' a bill has been submitted to slash the mandatory level of ProZorro electronic tenders from $10,000, to $2,000. The bill contains new measures for detecting fraud in government procurements and increases fines five-fold, to $6,800.
Ukraine's new High Anti-Corruption Court starts work Thursday, President Zelenskiy tells 1+1 TV. Asked when his promised 'imprisonment' of corrupt officials will begin, he answered: "Everything will start in the autumn when we have both the Anti-Corruption Court and the [new] Prosecutor General."
With Estonian advice, 37 new draft laws for Ukraine's tech industry and e-government are being drafted, Mykhailo Fedorov, Ukraine's new deputy prime minister and minister for digital transformation, tells the Kyiv Post. The 28-year-old IT businessman says these are laws on cybersecurity, e-residency, extending 4G internet to rural areas and converting Ukraine's 250 paper registries into electronic registries accessible online.
"Zelenskiy Sets Up a Wild Ride for Ukraine," Bloomberg Opinion columnist Leonid Bershidsky writes from Berlin. Zelenskiy "is aided by the enthusiasm within his young, ambitious team, which was pulled seemingly out of nowhere," writes the Russian journalist, who at age 47 is older than almost all of Ukraine's new 17-member Cabinet.
Two of Ukraine's busiest airports close today for runway reconstruction. Kyiv's Sikorsky will be closed through Sept. 12. All flights are being rerouted to Kyiv Boryspil, on the east bank of the Dnipro. In southeast Ukraine, Zaporizhia airport is closed through Oct. 15. All flights are canceled or rerouted to Dnipro, 100 km to the north.
From the Editor:  With Ukraine's libertarians going mainstream, small government advocates hold a conference on September 14 in Kyiv: "Startup Nations Conference: Lessons for Ukraine." The time is 12:30 and the venue will be Admiral Hall, Khreshchatyk 7/11. Best Regards, Jim Brooke jbrooke@ubn.news