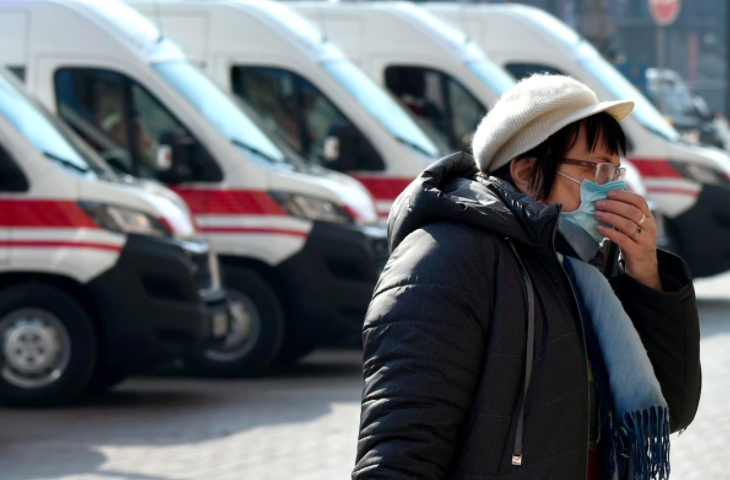 Starting today, Kyiv operates under 'orange' Coronavirus restrictions. Closings include: fitness centers, hostels (but not hotels), and restaurants after midnight. Most scheduled surgeries are to be postponed. Shopping centers and museums can work with limited attendance. Half of the seating in public transport will remain empty. It is unclear how strong enforcement will be. Yesterday, outdoor food markets were packed with shoppers, many without masks. The National Opera was selling tickets to Friday's start of the new season.
Controls tightened in Kyiv after the city reported record cases of new infections — 404 on Friday and 428 on Saturday. In one month, Kyiv has gone from 'green' to 'yellow' to 'orange.' Nationwide, Ukraine registered a record 3,144 new cases on Friday and 3,103 on Saturday. Ten cities, accounting for about 5% of the nation's population, are listed as 'red.' This means closing cafes, restaurants, shopping centers, public transport, schools and universities. These cities are: Berezhany, Chernivtsi, Chortkiv, Dubno, Ivano-Frankivsk, Kaniv, Kolomyya, Kalush, Nizhyn, and Ternopil. 
Ukraine has expanded its ban on foreigners entering Ukraine this month to include travellers coming to Ukraine in transit. The expansion is believed to be aimed at blocking Hasidic pilgrims determined to come to Ukraine to celebrate the Jewish New Year, Rosh Hashanah, which will be Sept. 18-20. According to the latest Ukrainian Health Ministry list of infection rates, Israel has the highest rate in the world – 395 cases per 100,000 inhabitants, as reported in the last two weeks. By this measure, Ukraine has the 8th highest rate in Europe – 88/100,000.
Fitch Ratings has removed Ukraine's state railroad from its Rating Watch Negative list, giving Ukrzaliznytsia a 'stable' outlook. Fitch said a key factor was Sberbank's decision last summer to extend its $200 million loan to UZ for another three years. Fitch maintains the UZ rating at B. Last July, Standard & Poors raised UZ's long-term credit rating to B-, from CCC. Volodomyr Zhmak, the railroad's new CEO, said: "The updated forecast regarding Ukrzaliznytsia is an important achievement for Ukraine."
Highlighting the growth of container rail traffic, Zhmak wants to reorganize UZ into four business units: freight transport, passenger transport, infrastructure and container. This reorganization was endorsed last week by the Cabinet of Ministers, reports GMKCenter.
Seven more companies are applying to take part in the pilot project to allow private freight trains on UZ tracks, Alexander Karnachev, UZ's strategic development director, tells Magistral, the railroad's in-house news site. Last month, Ukrainian Locomotive Company got the green light to become the first company to run private locomotives on the state rail network. For safety reasons, private freight trains initially are not to run on tracks with high speed passenger trains. Six additional companies have expressed interest, Valeriy Tkachev, the railroad's deputy commercial director, tells UNN.
With Romania emerging as a potential corridor for Persian Gulf gas from Greece, Ukraine is paying more attention to its long neglected southern neighbor. In recent days, Ukraine's Defense Minister Andriy Taran, and Ukraine's Foreign Minister, Dmytro Kuleba, made separate visits to Bucharest.
Last weekend, the navies of the two nations conducted 'Riverine 2020,' joint exercises on the Izmail-Orlivka section of the Danube River. Minesweepers participated in the exercises, ostensibly on the lookout for unexploded ordnance from World War I and World War II. The Soviet-era gas line crosses the Danube at Orlivka, where there is a gas measuring station.
At Orlivka, the first Ukraine-Romania ferry across the Danube has carried 460 trucks in its first month of operation. Ten years in the making, the ferry finally started running Aug. 10 between Orlivka,  and Isaccea, Romania. The ferry cuts out a 2-hour, 100 km drive that crosses Moldova's southwestern corner. Due to Covid travel restrictions the ferry carries only trucks.
Seeking to diversify gas supplies, Ukrainian planners hailed last July's test shipment by ERU Trading of gas from Revithoussa, Greece's LNG terminal, on the Aegean Sea, through Romania to Ukraine. "The ability to transport gas from the southern [Romanian] direction allows Ukraine to diversify both energy sources and supply routes," says Serhiy Makogon, general director of Ukraine's Gas System Operator. Noting that Ukraine's shipment of Russian gas to Romania has dwindled since January's launch of Turkish Stream, he says: "The reverse of blue fuel through the trans-Balkan gas corridor gives Ukraine access to liquefied gas from LNG terminals in Greece and Turkey and pipeline gas from the Caspian countries."
On the diplomatic front, Foreign Minister Kuleba said after his visit to Bucharest last week: "Energy has a huge potential of mutual benefit for Ukraine, Romania and the region as a whole." Ukraine's Foreign Ministry said: "The ministers devoted considerable time to discussing ambitious plans cooperation in the energy sector." Kuleba also announced that Ukraine will open its first diplomatic office outside of Bucharest, in the border town of Sighetu Marmației. This is across the Tisa River from Solotvyno, Zakarpattia, where Romania has one of its three consulates in Ukraine.
Odesa airport's new runway should open by the end of this year, Infrastructure Minister Vladyslav Krikliy told President Zelenskiy Saturday on a tour of the airport. The new 2,800 meter runway is expected to draw more airlines and bigger airplanes. Next year is to see the third and final phase of the project: construction of a $32 million taxi way, reports the Center for Transportation Strategies. Generally, in Ukraine, the state builds and maintains runways and private companies build and maintain terminals.
Prime Minister Shmygal promised last week to modernize Kherson Airport's 50-year-old runway. "Kherson International Airport is a strategic infrastructure facility in the region and has significant potential to increase the number of flights and passenger traffic," the Prime Minister said, accompanied by Infrastructure Minister Vladyslav Krykliy. The largest airport between Odesa and Zaporizhia, Kherson handled 150,000 passengers last year and was served by four airlines – Ryanair, SkyUp, Turkish and UIA. The airport is a 2-hour drive from the line of control with Crimea. Due to international sanctions, the 2.3 million residents of Crimea can fly only to Russia.
From the Editor: Leaders of the ruling Servant of the People are making noises about firing the 'economic ministers' after next month's election. First Deputy Speaker Ruslan Stefanchuk predicts Economy Minister Ihor Petrashko and Finance Minister Serhiy Marchenko will get the ax. Rada Member Oleksandr Kachura says Minister Petrashko "is already packing his things." The last time I covered a country that burned through four finance ministers in one year was in the 1988-1989 twilight of Alan Garcia's first government in Peru. Alan was a born entertainer. As a student the Sorbonne, he made money singing boleros in the Paris metro. (Sound familiar?) Going through four finance ministers in one year means stamping 'amateur hour' on your forehead. With best regards, Jim Brooke