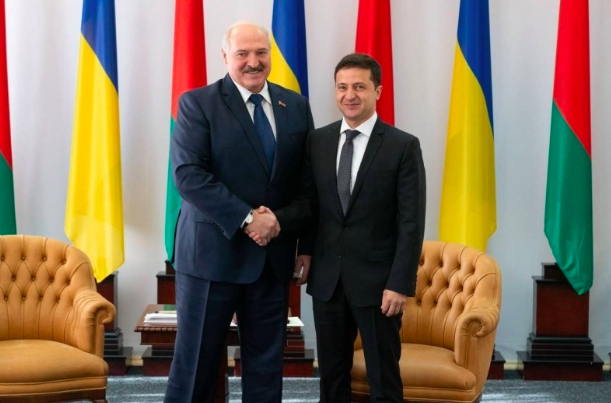 Monday, October 7
Sanctions-Busting Belarus Becomes Ukraine's 5th Largest Trading Partner...With Jan. 1 Countdown Starting, Gas Transit Talks Resume Oct. 28...Ukraine's E-Residency Prepared...In a $450 million Buy, Interior Ministry Orders 14 Antonovs
Belarus and Ukraine hope to expand bilateral trade this year by 20%, matching last year's rate, the two countries' presidents said Friday at the Second Forum of the Regions of Ukraine and Belarus. Held in Zhytomyr, 150 km south of Belarus, the forum witnessed the signing of $543 million in contracts – 10 times more than last year's forum, held in Gomel. About 300 business representatives participated in the forum.

With Belarus transshipping many Ukrainian products to Russia, Belarus now is Ukraine's fifth-largest trading partner, after China, Russia, Germany, and Poland. "The trade turnover between our countries exceeded $5 billion last year," President Zelenskiy. With Belarus President Lukashenko standing next to him, Zelenskiy said: "I agree with Alexander Grigorovich – we can and should overcome the mark of $6-8 billion."
Belarus plans to create 'an international port' in Nizhniya Zhary, a village on the Dnipro, about 100 km north upriver from Kyiv. It seeks major investment to dredge and straighten the Pripyat, turning this meandering river into an international waterway linking the Baltic and Black seas. But, two weeks ago, low water levels on the Pripyat created obstacles for a barge delivering outsized cargo from Kherson to the oil refinery in Mozyr, Belarus, about 150 km upriver from Kyiv.
Negotiators from Russia, the EU, and Ukraine meet on Monday, Oct. 28 to resume talks on Gazprom's gas transit contract with Naftogaz. The talks will come six weeks after the last meeting, and two months before the 10-year transit expires on Jan. 1. Last week, Naftogaz submitted for EU certification the documents of the new company required by EU law, the Operator of the Gas Transportation System of Ukraine.
If Gazprom and Naftogaz do not agree on a transit contract, Europe will see an "unambiguous" gas price jump this winter, Mario Meren, chairman of Wintershall  DEA, Germany's largest oil and gas producer, warns in an interview with Russia 24 TV channel.
US Energy Secretary Rick Perry, a former governor of Texas, pushed last summer to add two Texan oil executives to the board of Naftogaz, reports Politico. One of them, Michael Bleyzer, is raising money for private investment in oil and gas exploration and production in Ukraine. Bleyzer did not get back to Politico over the weekend to confirm or deny the proposal. Perry has been drawn into the Trump-Zelenskiy scandal. Next month, he plans to resign as Energy Secretary, following in the footsteps of Kurt Volker, the White House Ukraine Envoy.
Poland plans to stop importing gas from Russia within three years. Pipeline gas from Russia will be replaced by liquefied natural gas from Qatar and the US and by pipeline gas from Norway, Peter Naimsky, Poland's representative for Strategic Energy Infrastructure tells TASS. Referring to Poland's current dependence on gas from Russia, he said: "This problem will be solved after 2022. All gas imports to Poland will be carried out in a different direction."
Prime Minister Honcharuk promises to give the nation updates every Friday on the government's 5-year, 40% growth for Ukraine's economy. "I would like to emphasize again: the economy is growing by 40% it's our common purpose. It's real," he writes on Facebook. His highlights for last week; computerizing customs clearance paperwork; decision to sell property of debtors on Prozorro; the development of a unified cadaster by State Geocadaster; signing a memorandum of cooperation between the Government and the National Bank of Ukraine; abolition of the list of state companies exempt from privatization; and adoption by the Rada of concession law for public-private partnerships.
Drawing on Estonia's experience, Ukraine's government is drawing up a draft law to establish "Electronic Residency" in Ukraine, says Mikhail Fedorov, Ukraine's Minister for Digital Transformation. "We want it to be convenient to open a company in Ukraine, to conveniently open a bank account in Ukraine without coming to our country – to receive an ID card at the embassy, ​​and to have the opportunity to conduct business here," he told a tech conference in Lviv last week. In the five years since Estonia started its e-Residency program, Ukrainians account for the third-largest nationality.
Cases of alleged judicial and administrative abuse of Western companies were related to Prime Minister Honcharuk by Andrew Hunder, president of the American Chamber of Commerce. At a meeting of foreign business executives Friday, Hunder cited problems encountered by Philip Morris International, Jabil Circuit, Shell, Unilever and McDonald's. "McDonald's has been unable to open a restaurant at Boryspil Airport for many years," said Hunder. "Boryspil is the gateway to Ukraine. I hope that with you in the next few months we will be able to open a McDonald's restaurant."
As part of the new government's 'human-centric' policy, control points under construction at road crossings with Crimea are designed to promote travel and integration of Crimea residents with Kyiv-controlled Ukraine. To help residents update their Ukrainian documents, the Kalanchak and Chonhar checkpoints are to have Ukrainian government administrative centers. In addition, workers are building at the checkpoints regional bus stations and restaurants for drivers, writes Prime Minister Honcharuk. Regional authorities encourage Crimea residents to use Kherson International airport, and Melitopol train station, historically a rail hub for travel to and from Crimea.
A 51-year-old An-12 turboprop cargo plane crashed in the fog one kilometer short of Lviv airport early Friday morning, killing five of the eight people on board. Flying from Vigo, Spain, the Ukraine Air Alliance charter was trying to make a scheduled refueling stop in Lviv when it crashed in woods near a football stadium. The three survivors were seriously injured, according to State Emergency Service. Lviv airport was briefly closed on Friday morning.
Breathing new life into Antonov's Kyiv region assembly lines, the Interior Ministry plans to buy 14 new model Antonovs, in a purchase estimated at half a billion dollars. Minister Arsen Avakov tweets the ministry will buy 13 An-178s – a short-range military airlift jet. The Ministry will also by an An-32P firefighting turboprop.
From the Editor: "Vietnam is a country, not a war," Vietnamese used to tell Americans having a hard looking past the national obsession of 1965-1975. One generation later, Bloomberg headlined a similar reminder this weekend: Ukraine Is a Country, Not Just a Scandal"  Sunday afternoon, I arrived in New York City for a week. Judging by the early questions, I know I will be falling back on this truism to explain that there is more to Ukraine than Trump-Biden. Regards Jim Brooke jbrooke@ubn.news.