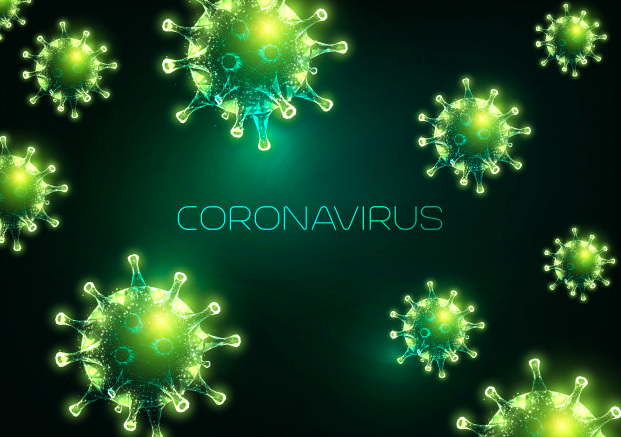 Monday, October 5
WHO: Corona Could Double in Ukraine by End of This Year...Ukraine Already is 5th in World for New Infections...Tight Corona Controls after Oct. 25 Election Would Put Economy on W Path...Microsoft Inks Digital Alliance With Ukraine...UIA Postpones NY Flights to Spring
Coronavirus cases will double to 9,000 new cases a day by the end of this year, Dr. Jarno Habicht, representative in Ukraine for the World Health Organization, predicts in an interview with Suspilne (Public) TV. Last week, Ukraine registered four successive days of record new infections, culminating with 4,661 on Saturday. "Our research shows that only one person in four washes their hands regularly," Habicht said. "We also see that every third person does not maintain physical distance when attending various events."
Ukraine ranks 5th in the world for daily new corona infections – after India, US, Russia and Mexico, according to the Worldometer daily tally of new cases. As of Sunday, the tally was: India – 26,265; United States – 15,333; Russia – 10,499; Mexico –4,863; and Ukraine – 4,140. With 37 million people, Ukraine ranks about 40th worldwide in population size.
Presidential chief of staff Andriy Yermak predicts Ukraine will face rising infections this fall and winter. "Summer was a big factor – people relaxed a little," he told Ukraine 24 TV. "All this has led to growth. And what is more: it's the beginning of autumn. It always means an increase in infectious diseases, flu." In a nationwide Ratings Group poll conducted last month, 45% of the 2,000 said the government's coronavirus response was "optimal," 23% said  measures were too soft, and 18% found them too strict.
Andriy Kobolyev, CEO of Naftogaz, the state-owned oil and gas company, has tested positive for coronavirus, he wrote on Facebook Friday. Ukraine's largest taxpayer, Naftogaz paid $3.5 billion to the national budget through August, 17% of total budget revenue.
Former President Poroshenko is fighting double pneumonia in a Kyiv hospital where he is being treated for coronavirus, his wife, Maryna, writes on the Facebook page of their party, European Solidarity. Maryna Poroshenko, a City Council candidate in Kyiv, also noted that one of their daughters has contracted coronavirus.
Ivan Venzhynovych, a doctor featured in a coronavirus public information campaign, died last week of coronavirus in his native Ternopil. After an AP reporting team visited his hospital, his photo became nationally known through black and white billboards posted across the country with the slogan: "We thank you. We support you. We help you."
To date, about half of actual spending from the government $2.4 billion Covid-19 Fund has gone for fixing roads, Finance Minister Serhiy Marchenko tells RFE/RL in an interview. As of Sept. 19, only 35% of the Fund had been spent, about half for roads and about half for medical supplies and salaries. Calling this a 'normal' decision, he said money had been moved to roads due to "ineffective usage by some ministries" responsible for fighting Covid.
Last spring, the government amassed the Covid war chest intending to divert much of the money to roads, Oleksandr Gumeniuk, investigator for StateWatch, tells RFE/RL On Friday, this NGO released a letter from Internal Affairs Minister Arsen Avakov asking Prime Minister Shmyhal to release $70 million from the Covid Fund to pay police salaries.
Returning to strict quarantine controls would reverse the economic recovery, sending Ukraine into a 'W-shaped' trajectory, warns Ministry of Economic Development, Trade and Agriculture. During the second quarter – April-June – Ukraine's GDP plunged by 11.4% yoy. If the recovering holds, this year will have a horseshoe-shaped recovery, falling by 5% yoy in 2020 and growing by almost that rate in 2021.
In the latest AmCham survey, one quarter of 94 companies participating said that all or almost all of their employees are working at home. In the poll released Thursday, half of companies said their revenues dropped during the pandemic, 61% said they have not changed salaries, and 77% said the number of employees has not changed. Almost half of companies predict their clients will not feel safe taking part in face to face company events before 2021, according to the poll conducted jointly by Deloitte Ukraine and the American Chamber of Commerce in Ukraine.
With three quarters of companies offering remote working, Olena Boichenko, director of Deloitte's Human Capital Advisory, said: "The new format of work has adversely impacted the mental health of people and the quality of interaction within teams, thus turning emotional burnout, difficulties in team communication, and uneven distribution of work between teams into the biggest challenges in the area of human capital."
The US Microsoft Corp. and Ukraine's Ministry of Digital Transformation have agreed to cooperate in what would grow to become a $500 million partnerships to put much of Ukraine's digital information inside Microsoft's Azure cloud. "One of the priority goals of our ministry is to digitize 100% of public services in two and a half years," Mykhailo Fedorov, Digital Transformation minister, said Friday at the signing of a joint memorandum of understanding in Kyiv. "This cannot be done if there is no data center in which this data will be stored in our country. In fact, Microsoft may become the first large-scale project that will help us realize our ambitious goal." The partnership is also to contribute to the upgrading of skills 100,000 Ukrainian IT workers through 2024.
The central bank sold a net $200 million to prop up the hryvnia last month, the regulator reported on its website. This was the third largest amount of sales in the first nine months of this year. Diminished foreign investor interest in Ukrainian government bonds coupled with increased demand by Ukrainian importers "led to a slight weakening of the hryvnia against the [U.S.] dollar, said the National Bank of Ukraine.
Due to the war between Armenia and Azerbaijan and the use of anti-aircraft systems around Yerevan airport, UIA and SkyUp have cancelled their Kyiv Boryspil – Yerevan flights. Last January, at a time of high US-Iranian tensions, an anti-aircraft crew in Tehran shot down a UIA Boeing 737-800, killing all 176 on board.
UIA is postponing the resumption of direct Kyiv-New York flight until next April, the airline announced Friday. Citing its hub model for filling long haul flights, the airline noted the pandemic in Israel and its cancellation of flight to Yerevan, Baku and Tbilisi. Yesterday, UIA temporarily stopped flights to Tel Aviv from Dnipro and Kharkiv.
Don't Breathe Deeply: Next spring, Chornobyl exclusion zone will open its first bicycle path, the government portal announces. Following old roads, this 45 km route will run from Zeleny Cape checkpoint through the villages of Kupovatoe, Opachichi, Otashiv and Plyutovishche. "We hope that the cycling route will allow visitors to the exclusion zone to see the unique world of the Chornobyl reserve," said Maksym Shevchuk, deputy director of the Exclusion Zone Management Agency. In addition, the agency and tour operators have worked out a 30 km route to be conducted in a Sherp, a Ukrainian-made all-terrain amphibious vehicle.
From the Editor:  With Covid-19 now stalking the corridors of the White House, truth once again proves stranger than fiction. In Ukraine, the government will probably hobble through the next three weeks, making strong statements, but taking no actions that would annoy voters before the Oct. 25 local elections – like closing schools. Given the economic body blow caused by last spring's sledgehammer approach, let's use a scalpel this time around. Please: no bans on farmers buying fertilizers or selling seeds. With best regards, Jim Brooke