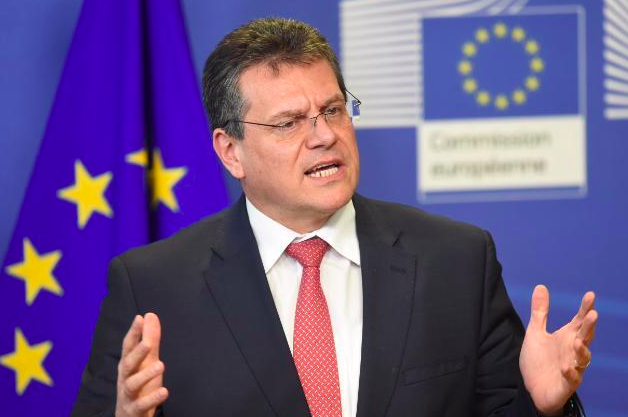 Tuesday, October 29
Russia-EU-Ukraine Gas Talks 'Disappointing'...Naftogaz Jumps Back in Eurobond Market... AmCham CEO Survey Picks up Optimism...Kyiv's Dnipro and Ukraina Hotels to be Privatized...Back to the 1990s: 10 km line of Trucks to Enter Slovakia
Noting that "time is flying," European Commission vice president Maroš Šefčovič, says he was "disappointed" by Monday's Russia-EU-Ukraine talks on renewing the 10-year-old gas transit contract that expires Jan. 1. "Given the date, there is and there must be a clear sense of urgency," he said. Russia's negotiator, Energy Minister Alexander Novak, told Rossiya-24 TV that gas talks will resume at the end of November.
An agreement could be signed after Dec. 17, the date when Ukraine's new EU-standard laws will come into effect and the separation of Ukraine's pipeline system from Naftogaz will be completed, Oleksiy Orzhel, Ukraine's Minister of Energy and Environment Protection, told reporters in Brussels. "We fully support the position of our European partners," he said, saying that Šefčovič proposes a 10-year contract based on an average of 60 billion cubic meters of year, with the possibility of hitting 90 bcm. Last year, Ukraine shipped 87 bcm of Russian gas. Naftogaz CEO Andriy Kobolyev said of the EU position: "We had pretty much the same view."
Russia argues for a "package" approach that would include resolution of its $3 billion debt to Naftogaz, stemming from a Stockholm arbitration court ruling last year. Raising the possibility of high-level talks, Russian President Vladimir Putin spoke by telephone Monday with German Chancellor Angela Merkel about the transit of Russian gas through Ukraine.
Naftogaz plans to place Eurobonds for $500 million with maturities of five to seven years, Interfax reports. A roadshow organized by Citibank starts tomorrow with investor meetings in London, New York and Boston. In July, the state energy company placed three-year Eurobonds for $335 million and five-year Eurobonds for €600 million. The yield on the dollar issue was 7.375%. The yield on the euro issue was 7.125%.
Interpipe, the international vertically integrated pipe and wheel company, has completed a restructuring with partial cancellation of its debt, including $200 million Eurobonds with a 10.25% coupon. The debt was partially reduced by a new issue of five year Eurobonds of $309 million at 10.25%. Interpipe is one of the world's 10 largest manufacturers of seamless pipes and is the world's third-largest producer of seamless-rolled railway wheels.
Over the next two months, the Finance Ministry plans to raise $2 billion – in foreign currency or hryvnia bonds, Finance Minister Oksana Markarova tells LB.ua. Referring to the steady compression of yields at the Ministry's weekly auctions of hryvnia bonds, she said: "For the last three months, we have been reducing the cost [of borrowing] every Tuesday, and doing it with incremental steps."
Ukraine ranks as one of the top three countries in the developing world for making progress in data transparency by sovereign bond issuers with international portfolio investors, according to an annual rating by the Institute of International Finance. In particular, the Institute praised the Finance Ministry's new practice of posting online public debt repayment schedules. The Institute is an association of 450 financial institutions from 70 countries.
Company executives are optimistic about Ukraine during the five-year Zelenskiy government, according to 110 top managers interviewed this month for the American Chamber of Commerce's annual Ukraine Business Climate Survey. Of the group: 88% forecast an increase in revenues this year; 84% believe Ukraine's government is committed to further opening Ukraine to foreign investment; 82% plan to expand their business in Ukraine over the next five years; 65% are increasing investments in Ukraine, and 64% see an improving investment climate.
Ukraine's top three advantages are: skills – 51%; low labor costs – 51%; and access to the EU market – 44%. Ukraine's most attractive investment sectors are: agriculture – 85%; IT – 73%; and energy & renewables – 45%.
Top obstacle for business are: courts – 74%; tax authorities – 51%; and law enforcement agencies – 48%. "Rule of law is top of the list of areas that requires urgent improvement," says Chamber President Andy Hunder. "Ukrainian authorities should focus on further boosting IT and renewable energy. There are concerns of new legislation that could hinder further growth in these sectors."
President Zelensky signed on Monday a law abolishing a 20-year-old list of over 1,000 state companies protected from privatization. To jump-start sales, the government plans to start with iconic properties in Kyiv: the Dnipro and Ukraina hotels and the Koncha Zaspa and Pushcha Vodytsya resorts. Yulia Kovaliv, deputy head of the President's office, told reporters that a prime candidate for sale is Ukrspirt. With 41 distilleries producing 36 million decalitres per year, the state alcohol monopoly producer could sell for $200 million, she estimates.
Kostyantin Zhevago has "temporarily" stepped down as CEO of Ferrexpo, the Ukraine-based iron pellets producer. Traded as FXPO on the London Stock Exchange, Ferrexpo exported 10.6 million tons of pellets last year, making it the world's third largest exporter to the world steel industry. A Rada member for 21 years, Zhevago lost his reelection bid last July, opening up him to 'note of suspicion' earlier this month by the State Bureau of Investigation for possible involvement in the embezzlement of $100 million from his bank, Finance & Credit, in 2015.
A 10-kilometer long line of 450 trucks has backed up at Ukraine's main highway crossing into Slovakia: Uzhgorod- Vyšné Nemecké. Ukrainian truckers try to take their goods through Slovakia to the EU because Poland cut its quota of Ukrainian trucker permits by one quarter. Ukrainian truckers charge that Poland is trying to force them to emigrate to work for Polish trucking companies, which lack drivers. With exports to the EU threatened, Ukraine tries to negotiate more permits from Poland.
The government will invest $25 million more in expanding and modernizing Zaporizhia airport, Prime Minister Honcharuk said Monday, shortly after landing on the newly resurfaced runway. In December, the airport will open a new terminal capable of handling 400 passengers an hour. With Donetsk airport destroyed and Mariupol too close to the war zone, planners believe that Zaporizhia will be the main airport in the 2020s for Ukraine-controlled Donbas. SkyUp launched flights from Zaporizhia to Sharjah on Sunday and to Kyiv Boryspil on Monday. Wizz Air plans to launch flights in March to six EU cities.
From the Editor: Thanks to Maria Barabash, long time friend of the house, for emailing 500 of her friends, inviting them to sign up for the Ukraine Business News. Judging by the number of greetings I received yesterday at the Zaporizhia flight check in at Boryspil, the UBN is spreading fast — through word of mouth. Best regards Jim Brooke jbrooke@ubn.news