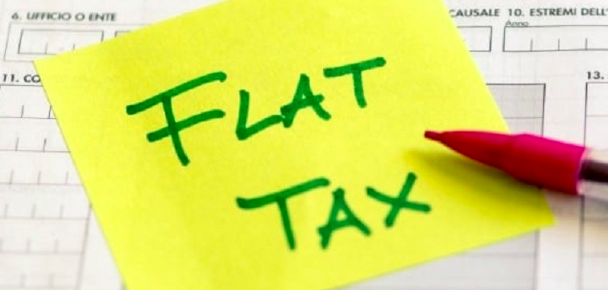 Monday, October 28
A Flat Tax for Ukraine?...Russia-EU-Ukraine Gas Talks Today in Brussels...Russia Gas Snakes Around Ukraine to the Balkans...Dutch Court Arrests Shares in Russia Gas Line Company...Gambling To Boost Tax Revenue...Trump Restores Ukraine Trade Preference...UIA Drops Beijing, Adds Flights to Delhi, London and Toronto.
A flat income tax, possibly of 10%, is under government discussion as part of a wide-ranging tax change package, says a participant in a government working group. Separately, Economy Minister Tymofiy Milovanov proposes a debate on adjusting taxes to "provide incentives for job creation, increase salaries, and reduce unemployment." Writing on his Facebook page Sunday, Milovanov proposes lowering personal income taxes, raising real estate taxes, and improving VAT collection. Ukraine's rock bottom real estate taxes explain why many cities are blighted with buildings that stand vacant for years on end.
Ukraine goes into gas transit talks with Russia and the EU today with enough gas in storage to get through the winter. Helped in part by the late start to Ukraine's heating season, Naftogaz has 21.6 billion cubic meters of gas in storage, 26% more than this time last year, the traditional start of the heating season.
Talks in Brussels will be led by Maroš Šefčovič, a European Commission vice president who is a Slovakian politician. Slovakia is the primary gas hub for Russian gas crossing Ukraine. Šefčovič, a fluent Russian speaker, studied for five years at the Moscow State Institute of International Relations, or MGIMO. Cautiously optimistic about talks to renew the 10-year gas transit contract, Šefčovič said Friday: "I want to develop the constructive spirit that emerged during our last negotiations."
Work is progressing on a gas pipeline to bring Russian gas around Ukraine to Bulgaria, Serbia, and Hungary, Russian officials say. "There are slight delays with regard to Bulgaria, but infrastructure should be built over the next first half of the year," Russian Energy Minister Alexander Novak, tells reporters of work by a Saudi-Italian consortium to build a $1.2 billion, 474 km pipelines across Bulgaria to the Serbian border. Russian gas flowing through this northern extension of a TurkStream pipeline is to be allocated as follows: 3.5 billion cubic meters for Bulgaria; 2.5 bcm for Serbia; and 6 bcm for Hungary.
Amsterdam District Court on Thursday arrested a 100% stake in South Stream Transport BV, the company responsible for construction and management of TurkStream, Yuriy Vitrenko, Naftogaz executive director, writes on Facebook. After Gazprom refused to pay a $2.6 billion settlement ordered last year by a Stockholm arbitration court, Naftogaz sued for Gazprom property in the US, UK, Luxembourg, Switzerland and the Netherlands. "My forecast: by the end of 2020, we will recover the entire amount – about $3 billion," Vitrenko writes, adding interest to the principal. "We will begin collecting in mid-2020 and finish by the end of 2020."
Russia will allow landlocked Kazakhstan to export 140,000 tons of coal every month to Ukraine by rail. The new quota is 23% lower than the 195,000 tons exported each month from July to September. Over the summer, Russia's 'Economic Development' Ministry rejected 37% of the Ukraine tonnage requested by Kazakh coal companies.
With the Rada reviewing 11 different draft laws for a farmland market, the Ministry of Economic Development, Trade and Agriculture have created a website on this work in progress. In Ukrainian, the site is instantly translated into English by most web browsers. President Zelenskiy has asked the Rada to pass land market legislation by year's end. The market is to start next fall.
Taxes on gambling could yield the Treasury $200-360 million a year, Finance Minister Oksana Markarova estimates in an interview with lb.ua. A bill to legalize gambling was submitted to the Rada 10 days ago. Finance Ministry economists are calculating tax earnings from the proposed legalization of amber mining.
Alexander Rodnyansky, a Cambridge University economist, will be the government's chief economic adviser, Reuters reports, citing Volodymyr Bondarenko, state secretary of the cabinet of ministers. "I was told by people working in the president's office that my surname was a risk factor," Rodnyansky told Reuters, alluding to his father, also Alexander, who founded 1+1, the TV channel that promoted Zelenskiy. "On the other hand, you can count the number of Ukrainian professors in Western universities on one hand."
President Trump restored a minor trade benefit to Ukraine on Friday, one day after The Washington Post reported that restoration was unexpectedly held up in late August. Noting the timing coincided with Trump's suspension of $391 million in military aid to Ukraine, the Post wrote the trade slowdown was "the first indication that the administration's suspension of assistance to Ukraine extended beyond the congressionally authorized military aid and security assistance to other government programs."
In 2017, Ukraine was partially suspended from the US Generalized System of Preferences, a tariff-free system that covered about 3% of Ukraine's $1.3 billion of exports to the US. After Ukraine passed laws to protect intellectual property, the Office of the U.S. Trade Representative decided to partially end the suspension. On Friday, the Office said Trump has restored duty-free access to $12 million worth of Ukraine exports, one-third of the affected volume.
Oleksiy Blinov, Alfa Bank's head of research, pokes holes in Ukraine's latest 7-notch rise in the World Bank's Doing Business rating. "Ukraine has now surpassed Luxembourg in the ranking, which is a good example why this rating is treated by many with a huge pinch of salt," he writes. "There are rather easy ways to 'hack' the index, by addressing the indicator which is assessed." Noting that Ukraine has risen to 64th place, he cautions: "Its neighbors are ranked: 28 for Russia, 40 for Poland, 48 for Moldova, 49 for Belarus, and 55 for Romania."
In a major schedule reshuffle starting Nov. 16., UIA will stop flying to Beijing and reduce flights to Bangkok but will increase flights to Delhi, London and Toronto. UIA said the cost of flying around Russia's air space makes the Far East routes money losers. UIA also will stop flights to Amman, Jordan and to two highly competitive destinations: Minsk and Riga. With British Airways and Brussels Airlines ending their Kyiv flights, UIA will increase its Kyiv-Boryspil flights to Brussels to daily and Kyiv London-Gatwick to twice a day.
UIA flights to Copenhagen, Krakow, Madrid, and Stockholm also will increase to daily. Flights to Toronto will increase to three times a week and to Delhi five times a week. Next summer,  Delhi is to be daily. The daily New York to Kyiv flight will once again become an overnight flight, leaving JFK just after midnight and arriving Boryspil at 16:20 Kyiv time. Flights to the US and Canada will be operated on Boeing-777 aircraft. UIA lost $100 million last year. Ihor Kolomoisky said last month he owns 25% of the shares.
SAS, or Scandinavian Airlines, returned to Ukraine Saturday after an eight-year pause, launching a three times a week flight between Oslo and Kyiv Boryspil. With the 2h50 minute flight, Kyiv now has direct flights to the three Scandinavian capitals – Copenhagen, Oslo, and Stockholm. Wizz Air flies from Kyiv Sikorsky to Billund, Denmark and from Kyiv and Lviv to Copenhagen. From Kyiv Boryspil, Ryanair flies to Stockholm-Skavsta, and UIA flies to Copenhagen and to Stockholm-Arland. Between 2012 and 2014, Norwegian flew between Oslo and Kyiv but dropped the flight after the war broke out.
From the Editor – This week, I will be reporting from the Sea of Azov – from the investment conference at Mariupol and from the solar and wind projects opening on the coast. Best regards Jim Brooke jbrooke@ubn.news