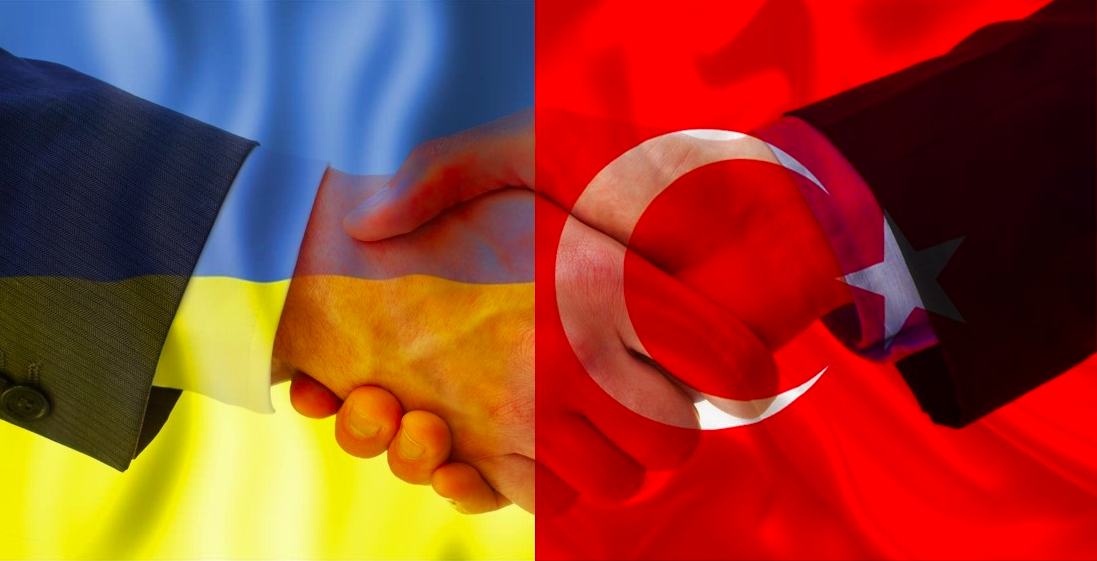 Turkey and Ukraine seem "to be edging toward a strategic partnership that could challenge Russia's standing in the Black Sea region," Metin Gurcan, a former Turkish military advisor, writes in a highly detailed article for Al-Monitor, a Washington-based English-Turkish regional affairs news site.
"Ukraine today stands out as Turkey's chief partner in a series of critical military technologies such as turbo prop and diesel engines, avionics, drones, anti-ship and cruise missiles, radar and surveillance systems, space and satellite technologies, robotic systems, active and passive armor protection systems and rocket engines and guidance systems," writes Gurcan, who served as a Turkish military advisor in Afghanistan, Kazakhstan, Kyrgyzstan and Iraq before writing his Phd dissertation on Turkey's changing military. "Technological cooperation between the two sides has dramatically increased over the past two years, laying the ground for a techno-scientific alliance with far-reaching implications for the geopolitical balance of power in the Black Sea basin."
Highlights:
Drones: A new joint venture between between Ukrspecexport and Baykar Makina, manufacturer of Bayraktar combat drones "will finally resolve the Turkish defense industry's long-running shortcomings in engine production."
Space and intelligence satellite technologies. "Ukraine agreed to transfer technical knowledge to Turkey to boost Turkey's fledgling space agency and a satellite research and development lab at Roketsan, Turkey's leading state-owned manufacturer of missile and rocket engines and satellites…Havelsan and…Ukroboronprom have already signed a deal to cooperate in the production of satellite technology."
Motor Sich engines: "The sale of about a quarter of the shares of Ukraine's engine manufacturer Motor Sich to Turkish firms, coupled with terms regarding know-how transfer, Turkey's sale to Ukraine of surface-to-sea Atmaca anti-ship missiles with a range of 200 kilometers — a development that might change the geostrategic balance in the Black Sea region at the expense of Russia if both Ukraine and Turkey deploy those systems on their coastlines…Ukrainian assistance for jet engine development in Turkey's TFX fighter jet project."
Airlift: "Turkey's recent military involvement in Libya and other conflict zones has underscored a pressing need for a jet engine-powered airlifter and Ukraine's AN-178 aircraft is being considered as an option.
Tanks: "Ukraine might also help in overcoming the protracted engine problem in Turkey's Altay national tank project, including the prospect of Ukraine supplying the diesel engine and other components of the first batch of tanks."
Navy ships: "The two sides also began discussions on the prospect of joint ship maintenance and even Ukraine's purchase of Turkish MILGEM-type frigates and gunboats."
Looking ahead, this Ankara-based military analyst sees: "Bilateral cooperation in the defense industry field might lead to joint military exercises and training enhancing the interoperability of the Turkish and Ukrainian militaries — a prospect that could alter the geostrategic balance in the Black Sea region. Moscow is doubtless keeping a close eye on the growing Turkish-Ukrainian rapprochement."
Turkey is considering financing the completion of the second Ukrainian An-225 Mriya cargo plane, the world's largest aircraft, Oleh Urusky, deputy Prime Minister – Strategic Industries Minister, said Friday at a press conference at Ukrinform, the state news agency. Ukrinform reported that Urusky "also reminded that during the visit of the President of Ukraine to Turkey in October, a document was signed outlining the parties' intentions to launch joint projects for the construction of warships, UAVs and all types of turbine engines."
Dozens of Belarusian IT companies and at least 2,000 Belarusian workers have moved to Ukraine in the three months since Alexander Lukashenko violently cracked down on post-election protests, according to Ukraine's Digital Transformation Ministry. The moves include hundreds of workers for Wargaming, developer of such world famous online games as World of Tanks, World of Warships and World of Warplanes, Oleksandr Borniakov writes on Facebook.
Other companies moving employees include PandaDoc, Viber, and Gismart. Each arriving worker generates $100,000 in foreign currency earnings, Ilya Neshodovsky, director of the Ukraine's Institute for Socio-Economic Transformation, tells Deutche Welle. This would mean an extra $200 million for Ukraine.
After the disputed election, Ukraine's labor short IT industry immediately courted workers and companies from neighboring Belarus. A trilingual website – in English, Russian and Belarussian –– BelarustoUkraine.com – touts the advantages: 180-day visa-free stay, residency permits in three days, and tax rates about half the level of Belarus rates. Earlier this month, President Zelenskiy enshrined these perks in a special law. Ukraine's European Association of Software Engineering embellishes the recruiting pitch noting that member companies have 500 job openings and that IT salaries in Ukraine are generally higher than in Belarus.
With Lukashenko determined to cling to power, 45% of Belarussian startups surveyed by Imaguru say they plan to leave. One year ago, the IT industry in Belarus, employed 55,000 people, accounted for 22% of exports, and six percent of GDP. In addition to the police violence since the Aug. 9 presidential election, there have been regular Internet shutoffs, losses of service that cost the industry millions of dollars and several damage its reputation for reliability.
Meest, the cargo delivery company, is launching direct air cargo service between New York and Lviv, Rostislav Kisil, president of Meest Group, said at a welcoming ceremony for a LOT Polish Boeing 787-9 Dreamliner. The Lviv-based cargo company is working out frequencies and which air company will be the main carrier. Tatiana Romanovskaya, the airport director said: "From now on, Lviv airport is becoming not only a passenger, but also a cargo aviation hub." Before corona pandemic, the airport had a passenger route network of 50 destinations – three domestic and 47 international.
Starting today, 40 Ukrainian cities and regions enter the strictest 'red' quarantine zone, a nearly 60% increase. Kyiv remains 'orange.' Here are some 'red' cities : Boryspil, Chernihiv, Chernivtsi, Ivano-Frankivsk, Kharkiv, Khmelnytskyi, Mykolaiv, Poltava, Rivne, Sumy, and Ternopil. 'Red' means no mass events.' Nationwide, the Health Ministry registers 61% occupancy rate for hospital beds allocated for coronavirus patients. Most patients are treated at home.
On Friday, the number of registered new infections hit 7,517. Watching the numbers rise steadily, President Zelenskiy on Thursday moved his trigger level for a new quarantine to 15,000 cases, from 9,500 one week earlier.
Kyiv Mayor Vitali Klitschko announced that he tested positive for coronavirus on Saturday, the day before he faced voters in the mayoral race. "I feel good, but I must self-isolate," he wrote on his Telegram channel. "I will be working from home." Kyiv registered almost 600 new cases daily last week.
An exit poll by Ukraina 24 and Savik Shuster Studio, indicates that Klitschko won 46% of the vote yesterday, meaning he will have to take part in a ruff vote on Nov. 15. His challenger is not known. Of Ukraine's big five cities – Kyiv, Kharkiv, Odesa, Dnipro and Lviv – only Kharkiv Mayor Hennady Kernes is believed to have won an outright victory yesterday.
Editor's Note: Boring does not make news. But only a small slice of yesterday's local elections is captured in today's Kyiv Post stories: Local election violations: Fake polling stations, missing booths, naked Femen activist and Zelensky's election day opinion poll marred by poor planning, chaos. As a favor to a friend, I am an international observer down here in Kherson, where I (delusionally) think I am escaping Covid. Outfitted with an observer card, stamped with an impressive Tryzub, and aided by Victoria, an equally impressive trilingual interpreter, I visited four random polling stations yesterday. At each station, the poll director was polite and professional. Political party pollwatchers looked bored. The biggest problem was a universal one: elderly voters who arrived without their reading glasses. With Best Regards, Jim Brooke.