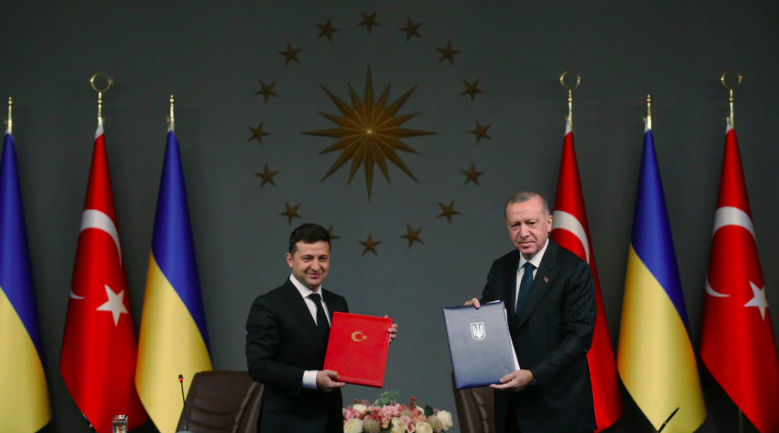 A free trade pact between Turkey and Ukraine should be completed "as soon as possible," Turkish Recep Tayyip Erdoğan and Ukrainian President Zelenskiy said Friday in a joint statement. Noting that talks restarted last month, Zelenskiy told Turkish news agency Demirören about the deal: "We are already at the finish line. I hope that the Agreement will be signed as soon as possible."
Despite the corona recession, bilateral trade during the first half of this year grew by 1.7% yoy hitting $2.3 billion. The Presidents said they want to see the trade his $10 billion. Such a doubling would pole vault Turkey from Ukraine's 5th largest trading partner to second place, after China.
Arms deals were the concrete points of agreement. "Engine construction, development of air defense systems, joint production of a "corvette" class ship — the potential for cooperation is huge," Zelenskiy told Demirören. "We are definitely interested in joint production," he said of Turkey's military drones. "We are buying these products. Ukraine, in turn, produces engines for drones. So launching a joint venture is a natural step."  Defense Ministry official accompanying Zelenskiy visited Baykar Savunma, Turkey's main military drone producer.
The two sides also discussed joint production of Ukraine's AN-178 short range military transport aircraft. Oleksandr Los, head of Antonov visited Turkey in August. "As for the Antonov aircraft, we are certainly pleased with the interest in this enterprise," Zelenskiy told Demirören. "It is just as logical that in the field of aircraft construction, we can do a lot together with our Turkish friends." Turkey pledged to provide $26 million to help Ukraine meet military needs.
With Ukraine planning to privatize several more regional power plans next year, Batu Aksoy, CEO of Aksoy Ventures met Friday with officials from Ukraine's Economic Development Ministry. Aksoy's unit Turcas Petrol and Germany's RWE AG own and operate a 800 MW natural gas fired power plant.
On Saturday, President Erdoğan announced that Turkey's giant Black Sea gas field is 405 billion cubic meters, enough to make Turkey a gas exporter. Located off the coast of Ereğli, 200 km east of Istanbul, the Sakarya field is Turkey's largest gas discovery. The new estimate makes the Sakarya gas field one quarter larger than when it was first announced, two months ago.
In Istanbul on Friday, President Zelenskiy stressed the geopolitical significance of this find. He told Demirören: "I would like to congratulate the Turkish people on the confirmation of large reserves of natural gas in the Black Sea. The development of this field will significantly change the balance of power in the region – for the benefit of the Republic of Turkey and your friends."
Hjort Knudsen, a major Danish furniture maker, announces it will build a plant in Rivne, with a initial €11 million investment designed to employ approximately 1,000 workers. Located a 3-hour drive from the Polish border, Rivne has extensive forests spreading north to the Belarus border. "Hjort Knudsen is one of the biggest suppliers of upholstered furniture to furniture stores in many European countries," the company says on its website. "All production takes place at Hjort Knudsen's own European manufacturing plants, and is performed by 2,300 skilled employees."
A fire has burned almost half of Europe's largest ski manufacturer, in Mukachevo, Zakarpattia. Tuesday's three-hour, pre-dawn fire, burned 9,000 square meters of the production facilities and warehouse of Fischer Sports GmbH, reports Industrialfireworld. Austria-based Fischer produced 85% of its skis at the Mukachevo plant. Fischer says it accounts for one quarter of the international ski market.
Il Dong Chang, the Ukraine representative of Hyundai Corp. discussed options for high speed trains with Infrastructure Minister Vladyslav Krykliy on Friday. Hyundai Rotem HRCS2 trains run on Ukrzaliznytsia's InterCity+ lines, routes where trains are to travel at a minimum of 90 km/hour.
Zaporizhia airport's new steel and glass airport terminal opens today, the culmination of a $40 million investment to become the leading airport of Ukraine's southeast. Flights to Kyiv start today and international flights start later this week. Before coronavirus, these airlines served Zaporizhia: LOT Polish, Motor Sich, Pegasus, SkyUp, Turkish, UIA and Wizz Air. The new 12,000 square meter terminal can serve 400 passengers an hour. Zaporizhia is in a race to win the loyalties of regional travelers. One hour to the north, rival Dnipro airport is starting a two-year project to build a new runway and terminal.
Iran and Ukraine start today three days of talks in Tehran to discuss compensation for Iran's downing of the UIA jet shortly after takeoff from Tehran airport on Jan. 8. An Islamic Revolutionary Guard Corps aid defense unit fired two missiles at the Boeing, killing all 176 aboard.
With cold weather forcing people inside and reduced ventilation, new coronavirus infections could jump to 10,000 a day in November, from today's daily average of 6,000, warns a new report by the Kyiv School of Economics. If coronavirus runs unchecked during the traditional flu season, Ukraine's cumulative death toll could quadruple, from 5,607 today, to 20,000 by the end of the year, warns Pavlo Kovtonyuk, head of the School's Health Economics Center.
To blunt this second wave, Ukraine should triple testing, to 100,000 a day, recommends Kovtonyuk. A coordinated two-week shutdown could brake the coronavirus spread.
In response, Kateryna Glazkova, executive director of the Union of Ukrainian Entrepreneurs, told Interfax-Ukaine: "A complete lockdown is not an option. It will not stop the incidence rate statistics, but it will kill the economy, which is already on its back. Many small and micro-businesses have already closed their doors. We have a huge 'Covid fund.' What is it spent on? On the roads. That is important, but now other priorities are hospitals and medicine It is necessary to provide free access for people to personal protective equipment."
Corona virus updates:
Medical students and recent graduates may be called up to help overworked doctors in coronavirus wards, Health Minister Maksym Stepanov said Saturday in a televised briefing. Saturday morning, a record 109 deaths were reported for the previous 24 hours.
Better red than dead. Defying the Health Ministry's 'red' label, Kharkiv, Poltava and Chernihiv mayors say they will not stop public transport or close restaurants and cafes.
Mykola Tyschchenko, Deputy Chairman of the Servant of the People faction of the Rada, has fallen ill with coronavirus, he wrote on Facebook Friday. With many members battling coronavirus, it is unclear when the Rada will resume is plenary sessions.
Dmitriy Stuzhuk, a 33-year-old fitness coach and social media influencer who belittled Covid-19, has died of the virus. Before he died, he wrote his 1 million followers: "I was one who thought that Covid does not exist. Until I got sick."
Editor's Note: Investment opportunities shaping up for the Ukraine in the 2020s will be the topic of a one-hour webinar today at 8 am Washington time and 3 pm Kyiv time. Discussants will be: James Brooke, editor of the Ukraine Business News (me), Aura Sabadus, expert on the free market changes in Ukraine's gas market, and Dmytro Sennychenko who runs Ukraine's privatization drive as head of the State Property Fund. John Herbst, director of the Atlantic Council's Eurasia Center, will moderate. To tune in, register here. With Best Regards, Jim Brooke