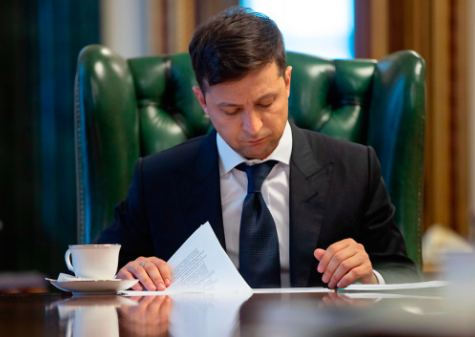 Monday, October 14
Zelenskiy Signs New Investment Laws…Shadow Economy Half of GDP…E-residence Plus Digital State…Motor Sich is the National Interest…Ukrposhta Bids for Bankin…Small Coins to Disappear…Debt-to-GDP Ratio Drops...Boryspil Traffic Booms…SkyUp to Sri Lanka
Zelenskiy signed new laws promoting investment and abolishing some taxes on investment. The legislation is aimed at closing loopholes, introducing new legal instruments that protect property rights, and eliminating taxes on investment in infrastructure.  Reports the presidential press service: "The laws aim to improve the investment climate in our country in specific areas, which were chosen based on a comprehensive assessment of the compliance of Ukrainian legislation with the best world practices described by the World Bank Group in its Doing Business rating methodology."
Ukraine's shadow economy was the equivalent of 47.2% of the official GDP in 2018, 1.5% higher than in 2017, according to EU-backed research published by Kyiv International Institute of Sociology. The country's retail and construction industries the biggest culprits. Tax evasion continued to be pervasive, with the main schemes being underreporting business income, hiding the real number of employees, and under-the-table pay. The study suggests one-third of company employees in 2018 were not officially employed.
Ukraine's national bank forecasts a reduction in the debt to GDP ratio to 55%, Dmytro Sologub, deputy governor of the National Bank of Ukraine tells RBC-Ukraine. "Due to the strengthening of the hryvnia this year, the ratio of government debt to GDP will be less than 55%. In a country where it was more than 80%."
The government will implement an "electronic residence" system, announces Minister of Digital Transformation Mykhailo Fedorov. Zelenskiy's administration is working on digitizing all current services for citizen and business services. There is to be high-speed mobile internet availability in all parts of the country. "We understand that the development of the digital state requires access to the Internet. There are different data on access. We are now developing a single map of the whole country to properly allocate resources, understand where the problem really exists," said Fedorov. A Digital Transformation Committee has been set up in Parliament. Each ministry has a deputy minister for digitization.
Keeping Motor Sich up and running is in Ukraine's national interest, Zelenskiy said during Thursday's press marathon. In August, Washington warned Kyiv about selling Motor Sich, the Zaporizhia-based aircraft engine manufacturer, to China. "I know that both the Antimonopoly Committee and Abromavičius at Ukroboronprom and law enforcement are investigating this matter….Our priority is to keep our company, to study, and then resolve the issue with our Chinese partners … We must keep the company, no matter how many shares we have, to keep Motor Sich in Zaporizhia because it is a real threat to leave more than 20,000 people without jobs."
Ukrposhta's bid for a limited banking license is "in progress," company Director-General Ihor Smelyansky tells Interfax Ukraine. Ukrposhta hopes to offer banking services to large swathes of the population without convenient access. With over 11,000 branches, the state-owned enterprise offers post services in all of Ukraine. The National Bank is opposed, arguing that there are already four large state-owned banks in the market.
Naftogaz executive director Yuriy Vitrenko says his experience will help him in his additional post on the Ukroboronprom Supervisory Board. He writes on Facebook: "Appointing me as a member of the supervisory board of Ukroboronprom gives me a task … my experience in corporate reform and time at Naftogaz, my knowledge and skills can be helpful in accomplishing this task."
The Council of Europe and the EU Delegation to Ukraine are implementing a €500,000 joint anti-money laundering program, reports Ukrinform. The project will be implemented between 2019 and 2022 and seeks to strengthen Ukraine's institutional capabilities and regulatory framework in line with the Council of Europe and other international standards.
DTEK is accused of "blocking electricity imports from Europe" by the National Commission for State Regulation in the Fields of Energy and Public Utilities, the commission reports on its website. "According to market information, individual traders (suppliers) that are part of vertically integrated companies, using a monopoly position, by their actions block the possibility of importing electricity from countries – members of the Energy Community, in particular from Slovakia. We are talking about the activity of DTEK Zahidenergo JSC."
Over 5 million small-denomination coins will be withdrawn from circulation in October, reports the National Bank. Physical cash hand decreased by 2.3% in 2019 as advanced non-cash payments become more popular in Ukraine.
Nova Poshta launches commercial air delivery service, the company reports. A standard package will be charged 30 UAH per kilogram, about $1.25. Packages have a maximum weight limit of 30 kilograms. The new service is aimed at providing speedy delivery service between western and eastern Ukraine
Kyiv's Boryspil Airport saw 24.2% more traffic in August 2019, making it the second-fastest-growing airport in Europe, only behind Milan Malpensa, reports  on Facebook Georgy Zubko, Boryspil's director for commercial and strategic development.
Ukrainian budget carrier SkyUp Airlines launches seasonal flights from Kyiv to Colombo, Sri Lanka, with a refueling stop in the UAE. Flights will run from Oct. 27 through March.
SkyUp's fleet grows to nine aircraft after another jet was delivered by Boeing, reports the Center for Transportation Strategies, citing information from co-owner Alexander Alba. "Now the 9th SkyUp plane — a Boeing 737-900 ER, tail number UR-SQI — is flying from London to Ukraine. This is the largest product in Boeing's next-generation family, and it has 215 seats in our configuration."