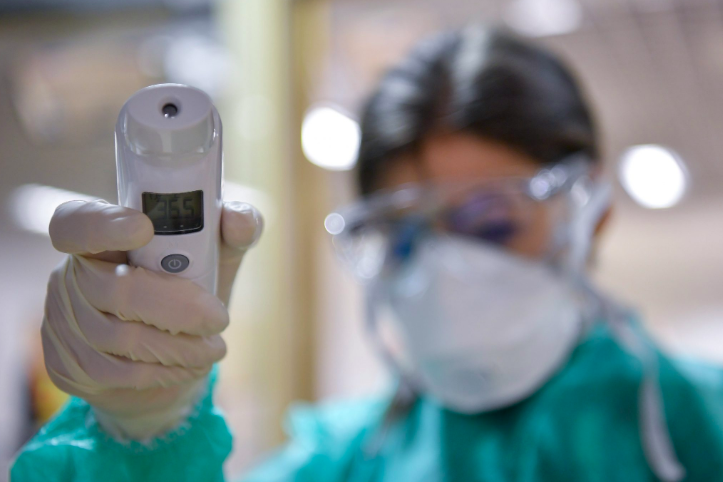 Monday, October 12
Covid Upsurge Means More Controls, More Recession...Wheat Prices Jump 15%...Late Rains Help Farmers...EBRD to Loan €450 Million for Kyiv-Odesa Highway, Lviv Bypass...World Bank Loans $65 Million for Luhansk Roads...Chornobyl Trees Block New $300 million Nuclear Spent Fuel Storage Facility
With Kyiv city recording 500 new Covid-19 infections a day, the city moves today to the stricter "orange" quarantine level and adds new hospital beds.  After Kyiv region reported that 152 students and 169 teachers are sick with Covid, acting Education Minister Serhiy Shkarlet asked school authorities around the nation to prepare to shift to distance learning in coming days. In the latest high profile infection, Ihor Smelyansky, CEO of Ukrposhta, the state postal company, wrote Saturday on Facebook that he returned from Brussels last week with Covid.
On Friday and Saturday, new infections nationwide averaged 5,766 a day. On Saturday morning, the reported daily death toll hit 108. In Kharkiv Region, hospitals are full, says Oleksiy Kucher, the regional head. With 900 new hospitalizations a day, Health Minister Maksym Stepanov told TSN TV news service: "We are now starting to prepare for deploying makeshift hospitals for coronavirus patients. The situation is more serious than ever since the beginning of the epidemic."
With local elections taking place in two weeks, local officials are reluctant to reimpose a severe quarantine. "The suspension of enterprises and the closure of the city will finally finish off the economy of Poltava and the country as a whole," Poltava's Acting Mayor Oleksandr Shamota said addressing a protest by small business owners. Poltava is not alone as The New York Times reports in an overview of Europe: "As Virus Surges in Europe, Resistance to New Restrictions Also Grows."
With the Covid-recession extending across Europe, Ukraine is suffering from economic contagion, the EBRD reports in its most recent regional report. The EBRD's now predicts Ukraine's GDP will shrink this year by 5.5%, a worse drop than the 4.5% the bank predicted in May.
The pandemic is effecting city finances in Ukraine, warns Fitch Ratings, which rates the bonds of eight Ukrainian cities. "Fitch estimates that the operating revenue of rated Ukrainian cities will be impacted by lower collection of personal income tax – their major revenue source," the agency wrote. "We believe the pandemic will cause capital market conditions to tighten; this includes impaired access to financing amid undermined growth prospects and high refinancing pressure on the sovereign."
On Friday, the day the Nobel Committee gave the Peace Price to the United Nations World Food Program, the Wall Street Journal reported: "Wheat Prices Skyrocket After Dry Weather, Coronavirus Lockdowns." Chicago wheat futures have risen 15% since Aug.1, to their highest level in 15 years. Tightening world wheat supplies, harvests are down in Argentina, Canada, Ukraine and the U.S, Russia plans to announce an export quota starting January, and China is raising its imports by 7% this marketing year. With prices of corn, Ukraine's largest export, also ticking up, the United Nations' gauge of global food prices rose 2.1% in September.
Rising world grain prices are partially fueled by disappointing harvests in Ukraine, one of the world's top five grain producers. As of Friday, Ukraine's grain exports were 13 million tons, down 12% yoy for the period since the July 1 start of the marketing year. Accounting for 16% of global grain exports, Ukraine exported 57.2 million tons during the last marketing year. With drought cutting this year's overall grain harvest by 9%, to 68 million tons, the government predicts that exports could decline this marketing year by 17%, to 47.4 million tons.
Thanks to recent rains, autumn sowing has picked up, easing worries about a poor harvest next summer, reports APK-Inform consultancy. "Sufficiently heavy rains in the last days of September and early October ended the long-term air-soil drought in most regions of Ukraine and improved conditions for sowing and the development of winter crops," APK says. After the slowest start in a decade, farmers have sowed 3.86 million hectares with winter crops, 47% of the planned area, reports the Economic Development, Trade and Agriculture Ministry.
Capping a decade of lobbying by the Ukrainian Seed Association, the European Parliament voted last week to import Ukrainian seeds, agreeing that their quality meets EU standards. Romain Desthieux, chairman of the Seed Association, predicts that exporting seeds to the EU could become a $100 million a year business.
The EBRD is preparing a soft loan of €450 million to Ukravtodor to build a northern bypass highway around Lviv and to help fund the rebuilding the southern two thirds of the 475 km Kyiv-Odesa highway. Ukraine's highway agency is to contribute €247 million to the two projects, which have a total cost of €1.1 billion. In December, the EBRD Board is to vote on the loan, which is packaged as upgrading two key trade corridors in the Trans-European Transport Network.
The World Bank will loan $65 million to rebuild 183 km of roads in the government-controlled portion of Luhansk,  Ukravtodor reports on Facebook. Three road sections have be chosen to have the maximum impact on the reviving the region's economy by easing the export of local crops. At the same time, the World Bank will loan $35 million for farming promotion projects – a food safety laboratory and a logistics hub — undertaken by the Ministry of Reintegration of the Temporarily Occupied Territories. Separately, Ukravtodor is negotiating with the European Investment Bank a $100 million loan for additional road projects in Luhansk and Donetsk.
Ukraine's $300 million, largely US-financed storage facility for spent nuclear fuel will be completed by the end of this year, Petr Kotin, acting head of Energoatom, assured reporters Friday. Scheduled to open next spring, the storage facility is to save Ukraine $150-200 million a year in payments to Russia, the current destination for Ukraine's spent fuel. Of the total cost, $250 million is financed by a loan from the United States International Development Finance Corporation, formerly known as the Overseas Private Investment Corp.
Using the dry storage technology of Holtec International, a Florida-based firm, the facility near Chornobyl, in northern Kyiv region, to take the fuel by rail from nine commercial reactors in three power plants – Rivne, Khmelnytskyi, and Yuzhnukrainska in Mykolaiv. Zaporizhzhia nuclear power plant, the largest in Europe with six reactors at 5,700 mw capacity, has stored its spent fuel on site with dry storage since 2001.
The one hitch is that 40 km of access railroad track have not been cleared of trees by Severnaya Pushcha (Northern Forest) State Enterprise, a unit of the Chornobyl Exclusion Zone Management Agency. This east-west section runs from Vilcha, Zhytomyr region, to Yaniv, the storage site. The track was abandoned after the 1986 nuclear disaster. Once railbed is cleared, Ukrzaliznytsia will have to lay new rails. Conditions of the abandoned line and its 11 shuttered stations are detailed on this website: Radioactive Railroad.
Editor's Note: Understandably, the 250,000 employees of Ukrzaliznytsia would rather not spend this winter cutting trees inside the Chornobyl Exclusion Zone. So, here is a cool solution: market 10-day, all-inclusive Soviet reenactment adventures to young Moscow-loving Ukrainians nostalgic for the USSR they never knew. They would get to reenact a shock worker brigade. Unlike some reenactment adventures, they would get to cut down real trees and clear real brush. Just like in the old days, they would be issued foot wraps, great coats and flasks of samagon to keep warm in the snow. At night, they would bond around campfires telling ghost stories about Chornobyl's mutant wolves. Later, in their cozy winter tents, they could listen to real wolves baying at the moon. By day, in addition to chain saws and axes, their kit would include real pistols with real bullets. These would be for dealing with lovesick 100 kg tusked boars prone to blindly charging large warm mammals during the mating season. For these USSR reenactment adventurers, no need to clarify that Chornobyl's 'Red Forest' is…um…'Red' for a different reason. With Best Regards, Jim Brooke