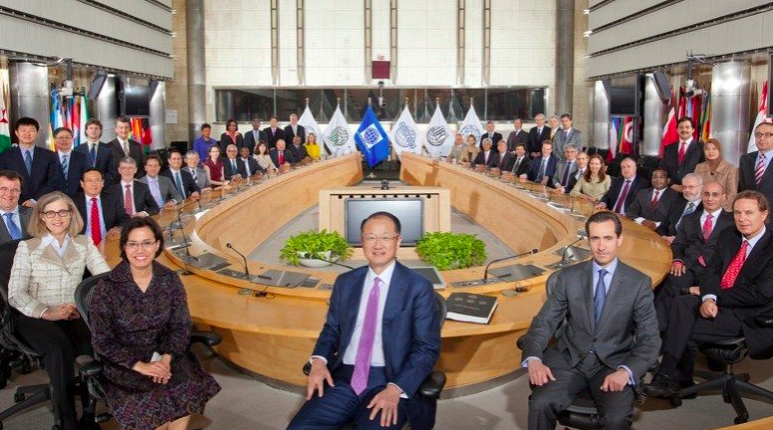 The World Bank will loan $100 million to rebuild roads and to promote farming and small business investment in the government-controlled half of Luhansk region, the Bank Board voted Friday. "Thousands of people in conflict-affected communities will benefit from Reconnect, Recover, Revitalize project investments," said Arup Banerji, World Bank Regional Director. Implying that more Donbas lending will follow, he said: "This is the first loan in the World Bank's portfolio, targeted to help the Government of Ukraine deliver on its commitment to outreach and development support for conflict-affected populations."
Tweeting from Luhansk region on Saturday, President Zelenskiy thanked the World Bank "for supporting Ukraine's territorial integrity." In Luhansk, Zelenskiy inspected a new checkpoint at Shchastia that is to open tomorrow, along with another at Zolote. Both of the new Luhansk check points have Oschadbank branches and Ukrainian government centers that offer "88 administrative services," the President said. He added: "People who come from the temporarily occupied territories can see what Ukraine is like: modern, asphalted, peaceful and safe." Next year, similar service hubs are to open at all of Ukraine's checkpoints with the Donbas and Crimea, said Oleksiy Reznikov, Minister for Reintegration of the Temporarily Occupied Territories.
In the 103 days of ceasefire in the Donbas, "the number of attacks has decreased 5.5-fold [year over year] and the number of killed Ukrainian servicepersons has decreased 10-fold," Zelenskiy told a group of Western ambassadors accompanying him Saturday to the Shchastia checkpoint.
The government is elaborating a Donbas economic development strategy document to submit next spring to the Rada, along with implementing legislation, said Reznikov who is a Deputy Prime Minister. Development will be based on private investment, government spending and international aid. Citing road, rail, energy and drinking water projects, he said: "Economic development of Donbas is impossible without the development of communities, which, in particular, are in direct contact with the territories being temporarily beyond government control." The government wants to create two free economic zones – one in the Donbas and one in Western Ukraine, Andriy Yermak, presidential chief of staff told 1+1 TV's VIP project show on Friday.
Ukraine's 'lost decade' of economic growth cost the nation $1 trillion in GDP, Prime Minister Shmyhal told the Rada Friday. Presenting a national 'economic audit,' he said: "Ukrainian citizens lost one trillion — due to constant changes in vectors [priorities], incomplete reforms, absence of long-term economic strategy, corruption, inefficient governance." Last year, Ukraine's GDP was $155 million.
Drawing on a new document, National Economic Strategy 2030, the Prime Minister targeted these areas for growth in the 2020s:
Minerals, oil and gas — $400 billion. He said only one third of 12,000 known deposits are being developed.
Water resources – hydropower, irrigation, fisheries and river navigation — $12 billion. He called for increasing river cargo to 20 million by 2025, double last year's level.
Farm land — $85 billion. He said the introduction of a broad farm land market would increase the price of land five-fold, to $5,000 per hectare by the end of the decade.
Forestry — $40 billion. A priority should be to add value inside Ukraine, through such activities as furniture making.
Tourism — increase the annual flow of foreign tourists to 30 million people, domestic to 60 million, increasing the tourism share in GDP from 1% today to 10% in 2030.
Airline travel – increase the number of air passengers in Ukraine to 71 million, triple last year's level.
Development goals are interesting, but more useful is the path to achieve them, says Igor Burakovsky, head of Kyiv's Institute for Economic Research and Political Consulting. He tells Interfax-Ukraine: ""The key question that needs to be answered is why these problems were not solved earlier and how they can actually be solved in practice today. Therefore, purely in practical terms, it is the future Action Strategy that is of greatest interest."
President Volodymyr Zelensky has congratulated Joe Biden on his projected victory in the U.S. presidential election. "Congratulations to Joe Biden and Kamala Harris! Ukraine is optimistic about the future of the strategic partnership with the United States," he tweeted Saturday. Earlier, former president Poroshenko greeted to the re-election of Rep Marcy Kaptur and other members of the bi-partisan Congressional Ukrainian Caucus. Poroshenko predicted: "We can prevent the [economic] reforms from being stopped and receive funding…as it is written in the Constitution at my suggestion, until full membership in the European Union, NATO, Euro-Atlantic integration."
Kyrylo Shevchenko, Governor of the National Bank of Ukraine, is in Washington all week, meeting with IMF and World Bank officials, the Central Bank posted on Facebook. Five months after the signing of the 18-month Stand-By Agreement last June, the IMF has not sent a review mission to Kyiv, a needed step for release of a second tranche in the $5 billion deal.
"Spat between Zelenskiy and Ukraine's top court concerns EU," headlines a Deutsche Welle story highlighting the threat to IMF and Western aid posed by Ukraine's Constitutional Court moves to scrap anti-corruption laws. "The International Monetary Fund — Ukraine's primary lender — had made this a condition for loans," reports Germany's state-funded broadcaster. "And the European Union had demanded greater transparency as a condition for signing the 2014 Association Agreement." DW quotes Foreign Minister Dmytro Kuleba saying: "We will lose the support of our partners if we fail to address this problem soon."
Vitali Klitschko has been re-elected for a third term as mayor of Kyiv, the local election commission announced. Friday. In the Oct. 25 election, Klitschko won 50.5%, or 365,161 votes, escaping a runoff.
Pro-EU parties won most of the votes in the Kyiv City Council election. The ranking was: European Solidarity — 20.5%;  Klitschko's UDAR — 20%; Unity — 9%; Pro-Russia Opposition Platform – For Life — 8%; Zelenskiy's Servant of the People — 7.5%; Yulia Tymoshenko's Batkivschyna — 7.5%, and Golos — 6%.
With the number of Ukraine's new coronavirus cases now averaging 10,000 a day, the Rada approved on Friday a law empowering police to issue fines of $6 to 9 to people who do not wear masks in enclosed public spaces. A previous, cumbersome fine system involving the courts resulted in only 3-5% of fines being levied, Health Minister Maksym Stepanov said before the vote in parliament. With all of Ukraine now in an 'orange' or 'red' zone, new restrictions on indoor restaurant dining may come this week, Viktor Lyashko, Ukraine's Chief Sanitary Doctor, told reporters Friday.
Starting today, Slovakia is restricting crossing at its two border checkpoints with Ukraine, citing high coronavirus rates on both sides of the border. Cargo trucks are to cross unimpeded. For similar reasons, UIA is suspending for the next month its flights between Tel Aviv and Lviv and between Tel Aviv and Kharkiv.
Editor's Note: The Supreme Court follows the election returns. I would not be surprised if that 1901 American saying applies Ukraine's Constitutional Court in 2021. At the end of October, when Washington was 100% distracted by the presidential election, the pro-Russian majority on Ukraine's Court made their move. Thinking they could act with impunity, the Court moved to dismantle five years of pro-European legislation in one judicial season. But by Thursday, as a Biden victory became increasingly clear, the Court started to backpedal, dropping from its agenda 'reviews' of laws on: language, the farm land market and the bank clean up. As Vice President, Joe Biden visited Ukraine six times, five times since Russia's 2014 annexation of Crimea. As President, he is expected to focus closely on Ukraine and on keeping Ukraine in the Western, free market camp. There is a precedent: it was a Democratic President, Harry Truman, who in 1947, after two years of drift, adopted the Marshall Plan and Containment policy to stop Moscow's westward expansionism. With Best Regards, Jim Brooke