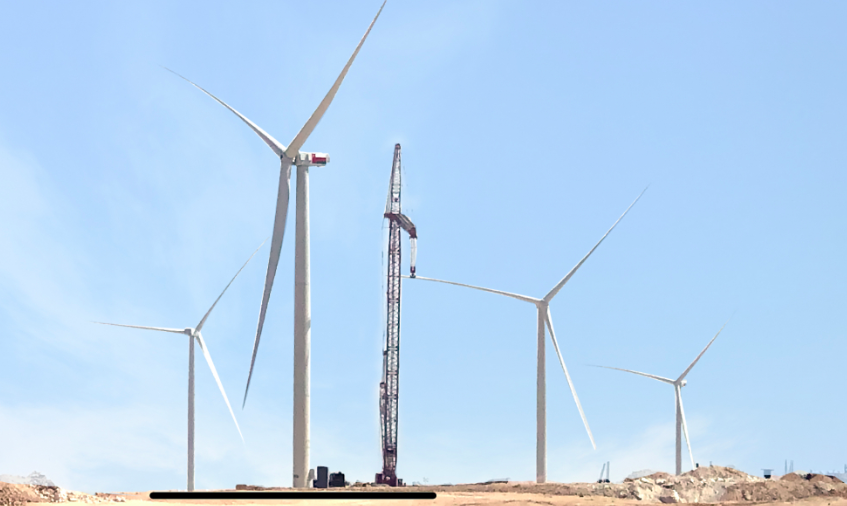 Monday, November 4
Wind Turbines Taller than Kyiv's Motherland Monument March Across Azov...Wind/Solar Investors Fight to Freeze Rules of Game...Trump Flubs Nord Stream 2 Sanctions...Privatizers Win Control of 500 State Ag Companies, Including Distilleries and  Horse Breeding Farm...Salaries up 35% in Dollars.
One year after construction started, DTEK inaugurated Friday a 100 MW wind power plant in southern Zaporizhia Oblast, completing the €321 million, 200 MW Primorsk project. Marching across farmland on north shore of the Azov, 26 steel towers, each topped with a GE wind turbine, stand taller than Kyiv's Motherland statue. Foundations for each tower go down 16-24 meters, below than the average 14-meter depth of the nearby Azov.
DTEK rushed construction to take advantage of 'green tariffs' and tax breaks on imports of wind and solar equipment. "We have already invested more than 1 billion euros in the construction of 1 GW of solar and wind power plants," said Maksim Timchenko, DTEK CEO. With Friday's inauguration of the Primorska, or 'Seaside', DTEK now has 500 MW of wind power capacity. With Thursday's inauguration of the Pokrovska solar power plant, DTEK has 450 MW of solar power in southern Ukraine.
The inaugurations come as wind and solar investors fight to retain the tariff regime that drew them to invest in Ukraine. The Rada's Energy Committee has approved a bill that would relieve Ukrenergo of its obligation to buy power from projects larger than 150 MW.
"Any retrospective decision by the Ukrainian authorities on renewable energy sources will have a negative impact on the confidence of international investors in Ukraine," US Chamber of Commerce in Ukraine said Saturday after meeting with Prime Minister Honcharuk and other officials. "The confidence of international investors is a prerequisite not only for the renewable energy sector but also for ensuring a successful privatization process in the short term, launching concession projects to restore Ukraine's infrastructure and attracting $50 billion in foreign direct investment."
Similarly, five foreign investors in Ukraine wind energy projects warned in a letter last week to President Zelenskiy: "Any retroactive changes to current legislation for renewable energy would certainly put existing projects with leading international bank financings into default…will not only lead to large losses for investors but will unavoidably lead to foreign investors exiting the market." The letter was signed by executives of NBT, Vindkraft Ukraine, LongWing Energy, Greenworx Holding, and Akuo Energy.
In a setback for Trump Administration foreign policy, legislation to block construction of Nord Stream 2 "has stalled on Capitol Hill," The Wall Street Journal reports from Washington. Last summer, then-US Energy Secretary, Rick Perry vowed to block the Russia-Germany gas pipeline, seeking to curtail EU dependence on Russian gas and to open markets for American LNG. But after Denmark's approval last week of the last section, Gazprom says the pipeline will be finished by year's end. The Journal reports that German officials lobbied the US House of Representatives, "cautioning Democrats against emulating Mr. Trump's alleged anti-Europeanism in thwarting the pipeline."
Without a new, 10-year gas transit contract with Russia, the National Bank of Ukraine estimates gas transit will decrease from 90 billion cubic meters this year, to 50 bcm next year and to 30 bcm in 2021. The resulting loss in transit fees would shave 0.6% off the GDP next year and 0.9% of GDP in 2021. As part of a quarterly inflation forecast, the central bank writes: "Russia is actively putting into operation bypass pipelines that by total capacity are able to completely replace the Ukrainian gas pipeline in the coming years."
Russia and Hungary have signed the first settlement over compensation for tainted oil shipped to seven European countries last April, Reuters reports from Moscow. The amount was not made public. Russia's state oil pipeline monopoly Transneft has promised to reimburse all affected companies in the importing countries: Belarus, Ukraine, Czech Republic, Slovakia, Hungary, Poland, and Germany.
With an eye to privatization and foreign investment in the alcohol industry, Ukrspirt, the monopoly state alcohol producer was transferred over the weekend to the Ministry of Economic Development, Trade, and Agriculture, a political bastion for privatization. In advance, President Zelenskiy said that "criminal organizations" control 55% of the state companies' output. Government officials charging that only 17 of Ukrspirt's 84 companies actually function and that tax evasion reaches hundreds of millions of dollars a year. This month, an independent audit is being performed. Next month, the Rada is to pass a bill ending the state monopoly and allowing private companies to produce alcohol.
In a victory for privatizers, Economy Minister Tymofiy Milovanov writes on Facebook that his ministry has won control of 500 state agriculture companies. These include the State Food and Grain Corporation, an international grain trader; Artemsol, the state salt mine in Donetsk Oblast; and Koniarstvo Ukrayiny, the State Horse Breeding Agency. With no functioning race tracks in Ukraine and horsepower largely replaced by tractors, it is not clear what this agency does.
Thanks to the hryvnia appreciation against the dollar, Ukrainian wages are up 35% this year in dollar terms, calculates Oleksiy Blinov, Alfa-Ukraine research head. The hryvnia trades at 25 to the dollar, up 11% from its Jan. 11 levels of 28 to the dollar. Hryvnia wages – in inflation-adjusted terms – are up 10% y-o-y. According to the State Statistics Service, the average wage in September was UAH 10,537, or $432.
Steel output fell to 50,400 tons in October, the lowest level in post-Independence Ukraine, reports UkrMetalurgProm, the steel producers association. The 12.7% y-o-y drop was attributed partly to higher iron prices that made it more profitable for some vertically integrated companies to export iron ore, rather than refine it in Ukraine.
Ukraine had an $8.5 billion deficit in goods and services for the first three quarters, 5% higher than the deficit for the same nine months of last year, according to the National Bank of Ukraine. The deficit in goods increased by 9%, to $9.7 billion. The surplus in services increased by 50%, to $1.2 billion. In September, exports were up 10% y-o-y, propelled by a 29% surge in food sales. Imports were down 2.4%, largely due to falling prices of oil and gas.
September imports of machinery were up 16% y-o-y, to $365 million. But an Alfa-Ukraine analysis sees feeble industrial investment. Cars accounted for one third. Solar panels and wind power turbines accounted for another third. Refrigerators accounted for $6 million. Only $27 million – or 7% — went to machinery for oil and gas drilling, seed crushing and wood processing.
From the Editor: With developers drooling over shuttered race tracks in Odesa and Kyiv, maybe it is time to sell the state horse-breeding farm. But the real fireworks may happen with auctioning off of the state alcohol monopoly, a company that President Zelenskiy says is controlled by criminal gangs. Just imagine Economy Minister Milovanov furiously paddling his canoe past the moonshiners of Ternopil. Best regards Jim Brooke jbrooke@ubn.news