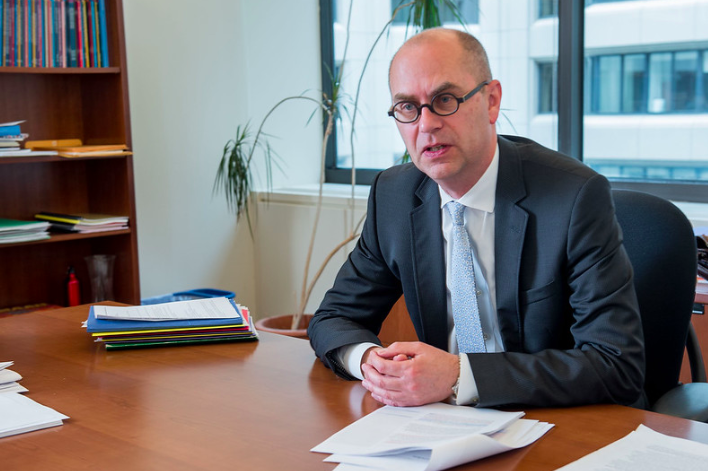 Monday, November 25
IMF Talks Go to December...Wanted: Bakhmatyuk...World Steel Crisis Drags Down Ukraine Steel...$1 Billion for Kyiv-Odesa Highway, Lviv Bypass...Odesa: Crashing Planes, a Sinking Ship, and Police Raids...Polish Permit Squeeze Creates Truck Jam in Uzhgorod
The IMF will continue negotiations with Ukraine into December, the Fund mission leader said after a one-week-long visit here. Ron von Rooden, the leader, said: "The IMF staff team had constructive and productive discussions with the Ukrainian authorities and commended them on the considerable progress made during the last few months in advancing reforms and continuing with sound economic policies."
Government officials do not appear overly concerned. "We have had constructive negotiations," Prime Minister Honcharuk said. "We are continuing to work on the new program in close cooperation." Finance Minister Oksana Markarova wrote on Facebook: "Significant progress has been made and many parameters of the future program have been agreed upon."
The IMF may be waiting for a Dec. 19 ruling by a Kyiv court on the legality of the 2016 nationalization of Ukraine's largest bank, PrivatBank. Speaking on Friday morning at London's Chatham House, Honcharuk said Friday: "We have a very clear understanding: I, the President, the government. The case of PrivatBank is indicative of Ukraine in the whole world. Therefore, of course, we stand on the fact that neither this bank nor the funds from it, should be returned to previous shareholders."
A few hours earlier, the Kyiv Post published comments by Ihor Kolomoisky, half owner of PrivatBank before it was nationalized. "The International Monetary Fund knows PrivatBank will be returned (to me) in the near future," he asserted. He also intimated that workers from his Nikopol Ferroalloy Plant could storm PrivatBank's Dnipro headquarters.
Timothy Ash writes: "Ultimately it was PrivatBank which blew up chances of an early IMF deal…The nightmare for the Fund is to agree with a program now — only for just around the time of the IMF board meeting in December to have the Ukrainian courts to rule against the PrivatBank nationalization…So all this will be pushed out to 2020."
PrivatBank, Ukraine's largest bank, recorded the hryvnia equivalent of $1.7 billion in profit in the first 10 months of this year, double the level during the same period last year. After the bank was nationalized, the state had to inject $5.5 billion into the bank to stabilize it. According to new central bank numbers, Ukraine's solvent banks recorded $2.2 billion in profit through October, three times the level of the same period last year.
Oleg Bakhmatyuk, the agricultural tycoon and suspect in a $49 million embezzlement case, has been placed on a wanted list by the National Anti-Corruption Bureau, or NABU. The National Bank of Ukraine, says Bakhmatyuk owes the state $1 billion
"A Warning for Investors Rushing Into Ukraine: Foreigners lapping up Ukraine's debt may get stuck in downturn," Bloomberg warns in an article blaming "an underdeveloped secondary market." ICU analyst Taras Kotovych says: "It could be a problem to sell bonds to locals with an attractive price in a short period of time." Although posted Friday, the article did not mention the plan announced Thursday by the National Bank of Ukraine to expand the secondary market in 2020. Year to date, trading of the Ukraine government hryvnia bond on the secondary market is up almost 70% y-o-y, to $2.7 billion.
Moody's has changed Ukraine's bond outlook from stable to positive. The long-term foreign debt ratings now are: Moody's — Caa1, positive; Fitch – B, positive; and S&P – B, stable.
The world steel crisis has hit Ukraine, dragging steel production in October down 12% y-o-y. Steel's fall pulled Ukraine's overall industrial production in October down 5% y-o-y. Sergey Belenky, chair of the Federation of Metallurgists, listed in a Channel 24 interview steel cuts around the world: ArcelorMittal South Africa cuts 2,000 workers; U.S. Steel cuts 1,800 workers; Germany's Thyssenkrupp to cut 6,000 workers Jan. 1, and British Steel is on verge of bankruptcy, with 25,000 jobs at stake. In Ukraine, he said, steelmakers seek to keep their labor force intact by minimizing cuts and increasing the average monthly wage to $800.
Prime Minister Honcharuk signed documents Friday for nearly $1 billion in loans to fully rebuild the Kyiv-Odesa highway and to build a northern bypass highway around Lviv. "In three years, the Kyiv-Odesa highway will become [Ukraine's] first European-level motorway along its entire length!" Honcharuk wrote after the signing ceremony in London. The money is to come in two €450 million loans, one from the European Investment Bank, and the other from the European Bank for Reconstruction and Development.
Otherwise, Friday was a bad infrastructure day for Odesa.
The airport was closed all day on Friday after two accidents on Thursday. First, a Gulfstream business jet broke its landing gear, aborting a takeoff for Dubai. Then, a crosswind hit a Turkish Airlines Boeing 737 arriving from Istanbul, pushing it off the runway and breaking its landing gear. No one was injured in either accident. Faced with a long delay, SkyUp bused its Egypt-bound passengers to Kherson, a 3-hour drive. Odesa airport is building a replacement runway, a slow-motion project that may be completed next year.
Frustrated by the airport closing, Andrei Stavnitser, co-owner of one of the most efficient cargo terminals in Pivdennii port, wrote on Facebook: "I'll buy/take control/concession of Odesa Airport. I'll quickly put things in order. It will be like TIS." Two months ago, his company, TIS, opened the Neptune grain terminal in partnership with Cargill Corporation.
Meanwhile, divers on Friday rescued the three-member crew of a drifting oil tanker. Two days earlier, the captain of the Delfi sent out a distress call saying the Moldovan flag vessel had lost its engine and was dragging its mooring. In a heavy storm, tugboats were unable to bring the ship under control. Now Odesa has a new tourist attraction: a rusting oil tanker run aground several hundred meters off Dolphin Beach, a centerpiece of the city's coastal "Health Trail."
Elsewhere in Odesa on Friday, prosecutors and officers of the State Security Service, or SBU, raided city offices and the seaport in three embezzlement cases.  Prosecutor General Ruslan Riaboshapka cited three criminal investigations – theft of $4 million state funds by city council officials, theft of $2.2 million by Odesa Seaport officials, and extortion of money and land in Zatoka, a resort town of 60 km west of Odesa.
With Poland refusing to issue sufficient transit permits, Ukrainian trucks backed up for kilometers last weekend, waiting to enter the EU through Ukraine's Uzhgorod checkpoint with Slovakia. Ukrainian officials argue the Polish permit squeeze violates Ukraine's free trade pact with the EU. Ukrainian drivers say Poland is pressuring them to move to Poland to work for Polish companies, which are short of drivers. Inside Ukraine, truck transport in October was up 22% y-o-y, largely to move grain to the seaports.
From the Editor: After reading Kolomoisky's huffing and puffing to the English-language press, Anders Aslund, Russia-Ukraine observer for three decades, made this thought-provoking comparison: "Kolomoisky reminds me of Boris Berezovsky." In the 1990s, Berezovsky, the name-dropping, journalist-courting oligarch, fancied himself as Moscow's indispensable kingmaker. But Putin, the real czar, quickly tired of him. In 2000, Berezovsky fled into exile in London. In 2013, he was found dead in his bathroom with unexplained marks around his neck. Best regards Jim Brooke jbrooke@ubn.news.