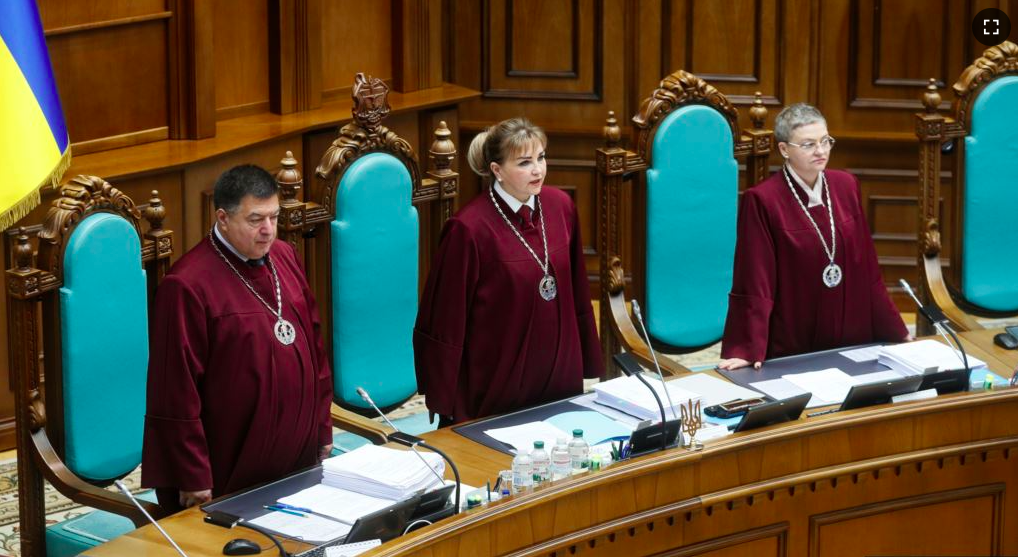 Monday, November 2
Showdown in Rada Tomorrow Over Anti-Corruption Agencies...Power China Signs $1 billion Deal for Donetsk Wind Farm...Ukraine Weathers Corona-Recession Better Than Expected...Health Minister Wants $9 million for Corona Field Hospitals in Kyiv
With Western support hanging in the balance, the Rada is to debate a bill tomorrow to dismiss all 15 judges of the Constitutional Court and to annul their ruling last Tuesday that shut down the online registry of assets belonging to high officials. President Zelenskiy ordered the registry reopened on Thursday and registered the bill to purge the court. The Court's ruling stripped most power from the National Agency for Preventing Corruption, an entity that was investigating five judges, or one third of Constitutional Court.
On registering the bill, Zelenskiy warned of the consequences of failure: "We will not have money. We will not have support. Projects on which agreement was reached will be cancelled, as well as World Bank support. We will have a big hole in the budget."
"Ukraine is under attack — not just at its borders, but also at the heart of its democratic institutions," President Zelenskiy wrote in an essay posted Saturday in the Financial Times. "This process is an attempt to destroy an essential part of the anti-corruption achievements of the 2014 Revolution of Dignity, built by Ukrainian civil society with the active support of our western partners… As President of Ukraine, I will never allow these dark forces to succeed in their attempt at a counter-revolution."
The IMF sees restoring the anti-corruption agencies as key to compliance with $5 billion Stand-By Arrangement signed last June, an IMF spokesman tells Ukrinform. "The launch of a comprehensive electronic system for asset and income disclosure by high-level officials in 2016 was, and remains, a critical step forward in anti-corruption efforts and should not be dismantled…Maintaining and enhancing the effectiveness of all of Ukraine's anti-corruption institutions is key to unlocking stronger and more equitable growth and is therefore an essential commitment under the IMF-supported program."
Without restoration of the corruption fighting agencies, "not only visa-free travel will be affected," Foreign Minister Dmytro Kuleba warned Friday night Savik Shuster's Freedom of Speech TV program. "We will lose the support of the countries with which we have the largest trade turnover, which support Ukrainian reforms the most, which support us the most in the fight against Russian aggression."
Foreign investment in Ukrainian government hryvnia bonds has dropped by almost one third since the start of the year, according to the National Bank of Ukraine. Foreigners currently hold UAH 78.6 billion, the equivalent of $2.7 billion, down 32% since January.
Power China and WindFarm signed a contract Friday for the construction of an 800 MW, $1 billion wind farm 25 km west of Mariupol, Donetsk Region. The continuation of a project originally developed by DTEK Renewables, the wind farm would stretch over the Manhush and Nikolske districts of Donetsk, becoming the largest land-based wind farm in Europe. WindFarm reports that the project will be undertaken without the benefit of a green tariff. The release did not mention where financing will come from.
Ukraine's IT companies posted 6,000 vacancies in September, a record figure for the last three years, according to a study by GlobalLogic. "The IT market began to recover," Denis Balatsko, vice president of GlobalLogic, told Tech.Liga.Net news site. "GlobalLogic alone opened more than 600 positions in Ukraine in September." In the last two months, an estimated 2,000 Belarusians fled police violence at home and took jobs in Ukraine.
Signs that Ukraine is weathering the corona depression better than expected.
Through September, construction is up 0.2%, reports the State Statistics Service. While residential housing construction plummeted by 19%, infrastructure – largely roads – was up 8% and commercial construction held steady at 0%.
Taxes on sales of electronic and household appliances could be up by one quarter in hryvnia this year, reports the Statistics Service. With the January-September sales taxes figures just below the level for all of last year, the Service expects that about $425 million will collect.
Exports in September were up 2.9% yoy, hitting $4.2 billion, reports the National Bank of Ukraine. Q3 exports were $12 billion, up 14% over Q2.
Ukrzaliznytsia carried a record 895,000 tons of cargo on Friday, reports Volodomyr Zhmak, CEO of the state railroad. "We are confidently moving towards the level of a million tons," he said Saturday.
Real wages have been growing since May, hitting 6% yoy in September. "This indicates that job redundancies have been limited and some of them have been recouped," writes Alfa-Bank Ukraine. "Layoffs now are concentrated in rather small sectors like HoReCa [hotel, restaurant and café].
The Radisson Blu Hotel in Kyiv's Podil lost $1.8 million January-September this year, compared to a $100,000 profit last year, according to the company's statement to National Securities and Stock Market Commission. The 173-room hotel is owned by Veon Plus, a company owned by Sergiy Tigipko.
A Ukrainian has successfully declared bankruptcy for the first time, according to a Ukrainska Pravda report on a decision last summer by Kyiv's Economic Court. Previously only a legal entity or sole proprietor could declare bankruptcy. After a new law on bankruptcy came into effect one year ago, 142 individuals have filed for bankruptcy. The pioneer sought to reschedule a foreign currency mortgage.  "The court created a precedent according to which the Ukrainians were able to settle their financial problems — the debtor can pay off debts on a comfortable schedule and not lose his property," said Georgy Grigoryan, co-founder of the law firm BezBorgiv [Without Debts]. "Ukrainians now have a legal opportunity to zero their debt. Previously, only legal entities and private entrepreneurs could go bankrupt in Ukraine."
Health Minister Maksym Stepanov asked the government Friday for $9 million to create temporary corona wards in  Kyiv's Palace of Sports and city exhibition centers. With Kyiv reporting 700 new infections daily, the city's corona hospital wards are now at 69% of capacity. The Minister is asking the Rada to approve this week a 4-month-old bill to provide for $8 fines not wearing masks in public buildings.
Over the last three days, Ukraine has reported an average of 8,341 new cases. Ukraine's infection rate doubled in October, tracking similar upsurges this fall in the EU and Russia. On Saturday, Poland reports 21,897 new cases. Poland and Ukraine have about the same population – 37 million.
Daniel Tonkopiy, co-founder of Ukrainian electric bicycle company Delfast, writes on Facebook that President Zelenskiy promises to support his plan to build an electric bike factory, probably in the Kyiv Region. The President and the Kyiv-based entrepreneur met last week. Tonkopiy, who says he has tens of thousands of orders from around the world, said Zelenskiy told him: "My team will help."Editor's
Editors Note: The best way to kill a frog is pop him in a big pot of warm water. In recent months, Ukraine Frog has been happily swimming back and forth, doing back strokes and breast strokes. Meanwhile, Master Chef Putin fiddled with the gas, turning down the heat on the Eastern Front, turning up the heat with the three Ukrainian TV networks he controls. Hmm, the water is getting pretty warm, thinks Ukraine Frog. Maybe it's climate change. Maybe it's time for a little snooze. Zzzzz. For a little spice, Chef Putin pulls off the shelf his reserve Rada members…and Voila! A favorite dish for the Kremlin cafeteria – Ukraine à la russe! With Best Regards, Jim Brooke