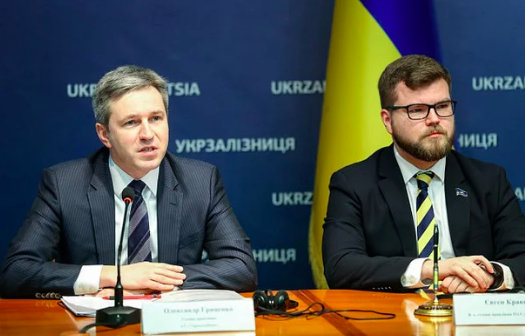 Monday, November 18
SBU Agents Grab One Banking Chairman off Kyiv Street...Second Bank Chair Gets Bail... From Calgary to Kyiv: Natural Gas?...DTEK Hits Target of 1G in Solar, Wind Power...US Pundits Counter Trump's Negativity on Ukraine...Kyiv Pundits Caught With Their Pessimism Showing
Oleksandr Hrytsenko, chairman of Ukreximbank, was grabbed off a Kyiv sidewalk Saturday morning and bundled into a black van in what his wife thought was a kidnapping. It later turned out that it was an arrest by Security Service agents fulfilling a Prosecutor General's warrant on charges of creating a criminal organization, embezzlement, and money laundering. It is unclear why SBU agents used a Hollywood method to arrest the chairman of one of the nation's top three state-owned banks. Timothy Ash writes from London: "Hrytsenko was very close to Poroshenko…someone in the Zelenskiy administration just declared war on former President Poroshenko. The gloves are now off."
The chairman of Raiffeisen Bank Aval went back to work Friday after the Austrian-based bank paid $208,000 bail in a case stemming from a bank failure five years ago. Oleksandr Pysaruk had been issued a notice of suspicion in a case dating to 2015 when he was first deputy governor of the National Bank of Ukraine. He participated in the $49 million central bank bailout of VAB bank. The bank collapsed the following month. "The most important thing is that I continue to perform my duties as the head of Raiffeisen Bank Aval," Pysaruk told reporters on leaving the High Anti-Corruption Court. "I personally was pleased to make sure that in Ukraine there is still a court that hears arguments."
Martin Grühl, CFO of Raiffeisen Bank International, said from Vienna: "Alexander Pisaruk will continue to serve as Chairman of the Board of Raiffeisen Bank Aval. We are convinced that all suspicions of misconduct will be lifted from Mr. Pisaruk in the near future and that he has always adhered to the highest professional and ethical standards, working for both Raiffeisen Bank Aval and for many years at the IMF and other international institutions."
In a first step toward privatizing one of Ukraine's big four state banks, the World Bank's International Finance Corporation has approved extending to Ukrgasbank a 5-year, €30 million loan. At IFC discretion, the loan could be convertible into shares, up to 20%  of the bank's equity. The IFC has been working with Ukrgasbank for the last two years to prepare it for privatization. The Finance Ministry is publicly committed to fulling selling the bank, which currently has $4 billion in assets.
A ship carrying US liquefied natural gas destined for Ukraine docks tomorrow at Świnoujście, Poland's LNG landing terminal on the Baltic. Brokered by ERU, an American company working in Kyiv since 2016, the liquid cargo will total 90 million cubic meters after regasification. Dale Perry, ERU managing partner, tells the UBN that gas shipments from Poland to Ukraine could increase 5-fold, to 5 billion cubic meters, if about $200 million were invested in expanding capacity on 200 km stretch of pipeline between eastern Poland and Western Ukraine. The work – doubling an existing pipeline and adding compressors – could be done in one construction season.
GNL Quebec representatives met last week with Ukrainian energy officials last week to explore the possibility of delivering Western Canada gas to Ukraine via LNG tankers to Poland. Under the planned US$5.5 billion Énergie Saguenay Project, a 700 km northeast extension to the TransCanada pipeline would bring gas to Port Saguenay, a deep water port near the Saint Lawrence River. Using the cheap electricity of Hydro-Québec, GNL would liquefy gas for shipping across the North Atlantic. From Saguenay to Świnoujście is 3,400 nautical miles, half the distance from Qatar to Świnoujście. It is two thirds the distance of New Orleans-Świnoujście.
PGNiG, Poland's state-controlled oil and gas company, formally gave notice last week to Gazprom that it will not renew its Russia gas supply contract after it expires in Dec. 2022. Maciej Wozniak, PGNiG vice president for commercial affairs, says Poland will replace Russian gas with Norwegian gas from a new trans-Baltic pipeline and with LNG from Qatar, US and, potentially, Canada. President of Ukraine Volodymyr Zelensky has signed a law on the unbundling of Naftogaz of Ukraine.
With Russia-EU-Ukraine gas transit talks to take place next week in Brussels, President Zelenskiy has signed a law separating Naftogaz production and pipelines. Known as 'unbundling' the creation of a new pipeline company was needed to comply with EU laws. In advance of a new round of talks, President Putin says a new transit contract should be part of a 'package' where Naftogaz would renounce all legal claims against Gazprom. As Ukraine's state oil and gas company starts winning Gazprom assets in court cases around the world, Gazprom last week canceled a planned placement of Eurobonds in Swiss francs for fear of losing the money to Naftogaz, reports Russian Interfax.
With the inauguration Friday of a 100 MW wind power plant on the windblown north coast of the Sea of Azov, DTEK has reached its goal of investing €1 billion to create nearly 1 gigawatt of renewable energy capacity in Ukraine by the end of this year. DTEK now has 500 MW of wind power, all on the north coast of the Azov: Orlivska – 100 MW; Primorska – 200 MW; and Botievska – 200 MW. In Zaporizhia and adjoining Dnipropetrovsk regions, DTEK has three solar stations: Nikopolska – 200 MW;  Pokrovska –240MW; and Tryfanovska — 10 MW. "We have invested more than €1 billion euros in the renewable energy sector of Ukraine," says Maxim Timchenko, DTEK CEO. "We are confident that Ukraine can become a leader of decarbonization in Europe, providing our country with homegrown clean energy."
"Don't Believe the Trump Administration's Lies About Ukrainian Corruption" headlines a 1,400-word Foreign Policy essay by veteran Ukraine observers Adrian Karatnycky and Alexander Motyl. After reviewing two opinion polls and two performance rankings, the authors conclude: "Ukrainians…tended to overstate the amount of corruption in their country. They also tended to say they saw it in the highest levels of government, about which their knowledge came primarily from the endless exposés that the Ukrainian media loves to indulge in. In reality, government corruption has declined markedly."
"Under Zelenskiy, Max Nefyodov, Ukraine's hipster IT genius who created ProZorro, is tackling corruption in the customs service," continues the Foreign Policy piece. "The country now has an active National Anti-Corruption Bureau, a new anti-corruption court, and one of the world's most transparent annual income declaration systems, in which nearly 2 million government officials are required to disclose all their holdings in an online database open to the public and to detail all their assets as well as personal possessions valued above $3,000… the popular impression of a nation drowning in graft is more a reflection of Trump's lawyer Rudy Giuliani's associations with dodgy oligarchs and ex-pat intermediaries…than of Ukrainians' lived reality."
"Instead, citizens are enjoying an economy growing at around an annual 4 percent clip, a stabilized currency, declining unemployment, growing real wages, improving infrastructure, and booming IT, agriculture, and alternative energy sectors," the authors write. "A small but dynamic middle class has emerged and is playing an active role in Ukrainian civil society. Villages, towns, and regions are finding new life thanks to the decentralization of power and increases in local budgets. Ukrainian culture, whether film, books, music, or theater, is thriving in a way it hasn't since the 1920s."
Kyiv economic pundits caught with their pessimism showing: After the 4.6% GDP growth in Q2, the Kyiv consensus, as measured by Bloomberg, predicted Q3 growth of 3.7%. It came on Thursday at 4.2%. "It is a positive surprise,"Olena Bilan, Dragon Capital's chief economist told Bloomberg Friday. Concorde Capital's Evgeniya Akhtyrko wrote: "The preliminary indicator of 4.2% yoy growth came as a big surprise." Bank of America Merrill has upgraded its 2019 GDP growth forecast for Ukraine to 3.8%.
From the Editor: Farming is the biggest sector of Ukraine's economy. CEOs of Ukraine's biggest agro companies will participate tomorrow in the annual Ukrainian Agribusiness Forum at the Premier Palace Hotel. Executives of Astarta, Kernel, Nibulon, ViOil, AgroGeneration, and Continental Farmers will talk on panels alongside representatives of the new government. Ukraine Business News is proud to be a media sponsor. The latest agenda and registration information is available here. See you at the Forum!  Best regards Jim Brooke jbrooke@ubn.news.