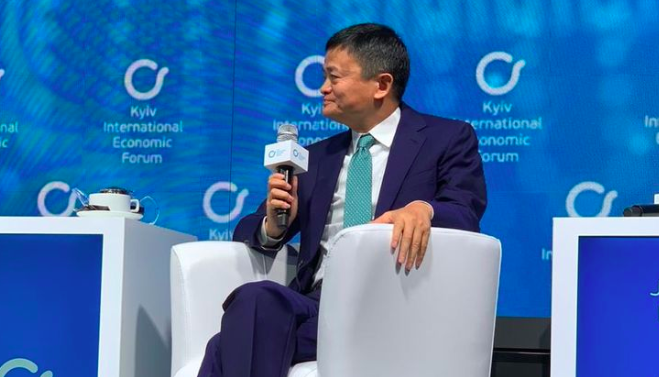 Monday, November 11
From Car Parts to Skis, EU Investors Build Factories in Ukraine...Tech Skills Impress China's Jack Ma...Dropping Inflation to Pull Down Interest Rates...No Longer a Fluke: This Year's Harvest to Top Last Year's Record...Free Market Voices Prevail at Kyiv International Economic Forum
Moving jobs from to Ukraine from the EU, Swiss-based Calyx Capital Advisers is doubling its Ukraine production plants, to four. Next year, it moves a home appliance control panel factory from Poland to Ivano-Frankivsk, where it will employ up to 1,000 workers. Also next year, Calyx breaks ground in Bila Tserkva's new industrial park for a car parts factory, eventually moving 450 jobs from Germany.
Longer-term, the company is studying taking over 25,000 square meters of the massive ZAZ or Zaporizhia Automobile Building Plant, to create an EU-oriented parts and service 'business campus' that would employ 5,000 people. Tobias Hundertmark, the managing partner of Calyx, told the UBN at the Kyiv International Economic Forum: "Ukraine can be the big manufacturing center for the future. Poland — you can't find the people. Hungary is too expensive. Of the big countries, there is only Romania and Ukraine."
Head N.V., the sports equipment manufacturer, is building its largest manufacturing plant in the world in Vinnytsia. The $100 million factory should employ 1,000 people by 2025. "Ukraine offers by far the best prospects for future manufacturing," Johan Eliasch, CEO of Head, told the UBN at the Economic Forum. "Eastern European labor costs have gone up almost to the level of Western Europe – there are now only two places: Ukraine and Bulgaria," he said, noting the labor-intensive process of making skis, boots and bindings. Eliasch said Head scouts looked at Zakarpattia, where Fischer, their Austrian rival, makes skis. But he said: "There are no workers left."
A foreign investor is sought for the sale next year of Centrenergo, the nation's largest coal-fired electricity producer, Prime Minister Honcharuk told the Economic Forum. State-controlled Centrenergo draws on three plants – one in Kyiv, one in Kharkiv and one Donetsk – to produce 7,600 mw of power. "Centrenergo is the top priority for privatization. And I want this company to be privatized by an external, real player. And the government will do everything for a strong player to come here." Last month, Dmytro Sennichenko, the new head of the State Property Fund, said a new court decision has cleared the way for the sale of the massive power company.
Jack Ma, often seen as a global ambassador for Chinese business, said on a visit to Kyiv that he will invite his business partners to visit Ukraine. Considered China's richest man, Ma, co-founder of Alibaba Group, told the Economic Forum he was impressed by the tech skills he saw during his meetings at Kyiv and Kharkiv universities. Noting, Ukraine's young, free-market government he said: "Such a wonderful combination like this cannot fail."
President Zelenskiy invited Ma to open in Ukraine an Alibaba R&D center oriented toward the EU. Zelenskiy said: "We want to completely reboot Ukraine so that people like you appear in the country." Later, Ma visited Kyiv's Unit.City innovation park, home to several R&D centers. In the last decade, foreign companies have opened 100 R&D centers in Ukraine. These companies include Boeing, Ericsson, Huawei, Oracle, Samsung, and Siemens.
For foreigners at the forum, Zelenskiy gave a 10-second pep talk on Ukrainian brainpower: "It was Ukrainians who provided humanity with the first helicopter, rocket engine, artificial satellite, made prototypes of the X-ray and the CD, invented a Zip Code, electric tram technology, built the world's largest aircraft, and created PayPal and WhatsApp services."
Measures will be taken to boost Ukraine's oil and gas production, Oleksiy Orzhel, the new Energy and Environment minister, promised the Forum. Ukraine produces only 1.2-1.4% of its confirmed reserves each year – less than one third the European average of 4-5%, he said. Through September, Ukraine produced 15.3 billion cubic meters of gas, up 0.6% y-o-y.
Inflation fell in October to 6.5% y-o-y, down from 7.5% in September. ICU writes: "Inflation goes down fast, so will the NBU rate…We expect CPI growth to go below 6% y-o-y in November and slash our end-year CPI forecast to 5.6% y-o-y… We expect a 100 bps cut on the next NBU [Central Bank] Board monetary meeting on Dec. 12, to 15.5% per annum."
ICU predicts this year's grain harvest will be 75 million tons – 7% above last year's bumper harvest of 70 million tons. In the mix, Corn remains king, dropping only 1% from last year's record harvest, hitting 35.3 million tons. The dynamic crops are: Barley — +23% to 9 million tons; and Wheat — +14% to 28.2 million tons.
Heard at the Kyiv International Economic Forum:
"Ukraine has good Internet, because we don't have a Ministry of Internet," said Prime Minister Oleksiy Honcharuk. "We want to take down business restrictions on labor and land. The role of the state in the economy has to decrease…Our government is not afraid and ready to make decisions – to remove barriers and restrictions. Restrictions on the right to dispose of their land, to the movement of capital, severe restrictions to regulate the labor market — this definitely has no place in the future."
"Ukraine is overtaking Turkey this year to become the top market for the EBRD," said Matteo Patrone, EBRD regional managing director. He expects new EBRD lending to Ukraine to hit €1.1-1.2 billion by the end of December. Noting that Ukraine does not have a natural resource bonanza to create a "Red Bull economy," he said: "All they can do is hard work, structural reforms, rule of law, de-monopolization, and de-regulation – all anchored to an accord with the IMF."
"What I heard most was 'opportunistic' – they are searching the globe, looking for niches of growth," Tomas Fiala, CEO of Dragon Capital, said of views of attendees at Dragon's recent annual investor meeting in Kyiv.
"I am going back in the market sooner rather than later – the opportunities here are very strong – IT, food tech, bio tech, e-commerce," said Lenna Koszarny, CEO of Horizon Capital. She noted that Horizon's current $200 million growth equity fund "is almost wrapped up," with nine done deals and three in the pipeline.
"An international court of arbitration – we think that is a good idea," said Koszarny, speaking as Chair of AmCham Ukraine. In a recent poll of AmCham members, 74% cited Ukraine's courts as the top obstacle to business – a finding that drew applause from Forum attendees Saturday morning.
"In a few months you will see a new Labor Code" said Economy Minister Timofiy Milovanov, referring to the existing code, which was first adopted in 1971. Calling for liberalization, the new government often says it is easier to get divorced in Ukraine than to fire an employee.
From the Editor:  This was my fourth Kyiv International Economic Forum. At previous ones, attendees seemed to come by taxi or metro. This time, many faces in the crowd came by jet. Tobias Hundertmark, managing partner of Calyx, flew in from Tokyo, via Frankfurt. Johan Eliasch, CEO of Head, flew in from London. Chady El Tannir, President of Ernest Airlines, flew in from Milan. The KIEF is starting to live up to the 'I' in its name. Best regards Jim Brooke jbrooke@ubn.news.