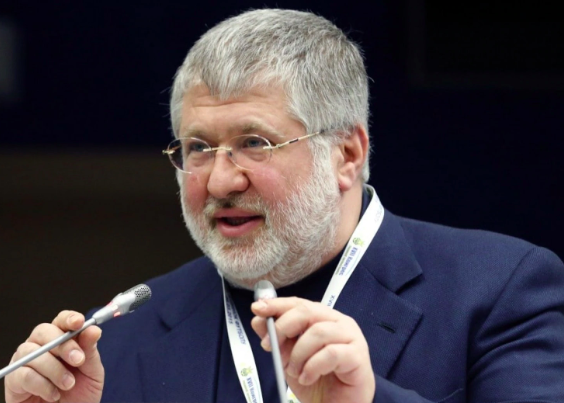 Monday, May 27
Kolomoisky to IMF: Drop Dead...Dnipro Oligarch Wants 25% of PrivatBank...Zelenskiy: Friday with Central Bank Chief, Tomorrow With IMF...Foreign Bankers Named to State Bank Boards...Industrial Output Jumps 5%...As IT Eats Up Kyiv Office Space, Plans Unveiled for $50 Million Business Center
Igor Kolomoisky, the oligarch media backer of President Zelenskiy, says Ukraine's new government should break with the IMF program and default on its foreign debt. "In my opinion, we should treat our creditors the way Greece does…That's an example for Ukraine," the Dnipro-based industrialist tells the Financial Times in an interview. "How many times has Argentina defaulted?" he asked Max Seddon, a visiting Moscow-based reporter. "So what? They restructured it. It's fine." Addressing the West, he said Zelenskiy can play a geopolitical trump card: "This is your game, your geopolitics…You don't care about Ukraine. You want to hurt Russia, and Ukraine is just an excuse."
Kolmoisky told the FT he has not met Zelenskiy in over a year, limiting himself to giving advice over the telephone to the comedian turned politician. On Tuesday, Zelenskiy appointed as his chief of staff Andriy Bohdan, one of Kolomoisky's main lawyers.
Separately, Kolomoisky told Reuters Friday that he hopes Rothschild bank will help broker an out-of-court deal with Ukrainian authorities to end lawsuits over the 2015 nationalization of his bank, PrivatBank. "Give us then our 25% and keep 75%, we will have a joint-stock company," he said, referring to the nation's largest bank which was bailed out in 2016 with a $5.5 billion injection of state funds. Kolomoisky has a history of using minority ownership to control companies. On Tuesday, PrivatBank, now state-controlled, filed a lawsuit in a US court charging the Kolomoisky and his partners stole hundreds of millions of dollars and then laundered the money in the US through investments in commercial real estate in 12 states.
Kolomoisky's comments to the FT are irresponsible and "raise a catastrophic threat to our economy and even, as a consequence, the risk of a loss of statehood," Hanna Hopko, head of the Rada's foreign affairs committee, wrote Sunday on Facebook. A default would send the exchange rate over 50 hryvnia to the dollar and would send the economy into "the deepest hole for a long time." Unlike Greece which was bailed out by the EU, and unlike Argentina, which is often bailed out by the US, the only country that would "extend the hand to help" Ukraine would be Russia, she said.
Projecting policy continuity, President Zelenskiy met Friday with Yakiv Smoliy, governor of the National Bank of Ukraine. After posing for photos, Smoliy posted on Twitter that he and the new president discussed "the need for cooperation with the IMF and the importance of NBU independence." Tomorrow, Zelenskiy is to meet with the visiting IMF review team.
Stressing that compliance with the IMF is essential for continued World Bank funding, Satu Kahkonen, the bank's regional director, told reporters Thursday: "The IMF program is an excellent defense for maintaining macroeconomic stability in the country. We consider it critical to continue cooperation with the IMF in the next three years. We urge the new president to maintain this cooperation."
The European Investment Bank is loaning €200 million for the restoration of key infrastructure in government-controlled parts of Donetsk and Luhansk, Jean-Erik De Zagon, the bank's Ukraine representative, tells reporters. The government has selected 293 projects totaling €110 million, largely for the repair of hospitals, clinics, schools, kindergartens, and apartment buildings. Loaned at concessional low interest, long term rates, the loan is part of the bank's total Ukraine loan portfolio of €5.8 billion.
Veteran bankers from Citibank, ING, EBRD and BNP Group are among the foreigners appointed to supervisory boards of three state-owned banks – Oschadbank, Ukreximbank and PrivatBank. Steven Fisher, formerly Citi's Ukraine director, and Dominique Menu, formerly of BNP, have been named for Ukreximbank. Sevki Acuner, former EBRD director for Ukraine, and Peter Briggs, formerly of ING Group, go to  Oschadbank. For the full list, click here.
After Gazprom, Ukraine came in second in the 2019 GlobalCapital Bond Awards for the category "Most impressive Russian, CIS and former CIS issuer." Chosen by polling international capital market participants, the award was presented last week at a ceremony in London. "Despite the fact that the past year was very difficult for emerging markets, Ukraine managed to place bonds worth $2 billion," said Finance Minister Oksana Markarova. "We remain a responsible borrower and demonstrate success in public debt management." Yuriy Butsa, Ukraine's Representative for Public Debt Management since August, was voted third "Most Impressive Central and Eastern Europe Funding Official."
Starting today, Clearstream allows desktop traders around the world to buy and sell Ukraine hrynia bonds. To familiarize foreign traders with the Ukraine market, Clearstream, the international securities depository of Deutsche Börse Group, posts on its website a new market profile for Ukraine.
In what would be President Zelenskiy's international debut, he has been invited to Toronto for the July 2 opening of three-day Ukraine Reform Conference, Canada's Ambassador to Ukraine Roman Waschuk tells RFE/RL. Zelenskiy, an advocate of strengthening ties with Ukraine's diaspora, could score points with Ukrainian-Canadians by arriving on July 1, Canada Day.
Industrial output unexpectedly jumped by 5.2% y-o-y in April, the biggest increase in over two years, reports the State Statistics Service. The locomotive was construction, growing by 30% y-o-y. While residential construction was almost flat, infrastructure construction was up 45% and the commercial was up 41%. Other hot spots identified by Alfa Bank are: food processing up 6.6% y-o-y; steel up 9.9%; maching building up 10.8% and chemical production up 14.7%.
Kyiv's tightening office real estate market is prompting Alexander Yaroslavsky's DCH Group to revive a $50 million business center project at the northern end of Podol's Mezhyhirska street. With construction planned for next year, the Class A office center would have 40,000 square meters of leasable space. The business center would be a 5-minute drive from Sergei Tigipko's planned $600 million Rybalsky Peninsula 'Lipki Island City Resort.' This complex is to have 36 buildings with 6,200 apartments, 43,500 square meters of office space and 33,300 square meters of retail space.
Both projects are to benefit from the Podolsko-Voskresensky Bridge which is to open for road traffic next year, according to Kyiv Mayor Vitali Klitschko. Under construction since 1993, the two-level, 7 km bridge is designed to carry 60,000 cars a day between Podol and the Left Bank.  "Podolsko-Voskresensky is the largest arched bridge in Europe and will be one of the most durable in terms of loads," Klitschko writes on Facebook. "It will be equipped with six lanes for automobile traffic and two railway tracks."
With a major bottleneck removed for EU-Ukraine rail traffic, the number of freight trains passing through the new Beskyd tunnel was up almost 19% in the first quarter of this year, compared to the same January-March period last year. Since the two-track tunnel opened under a Carpathian mountain ridge one year ago, on May 24, 10,500 freight trains with more than 500,000 cars have passed through, reports Yevhen Kravtsov, CEO of Ukrzaliznytsia.
Note from the Editor: BCP Securities, the U.S.-based global Emerging Markets investment bank, will have its annual Ukraine corporate bond conference on Tuesday, June 4 at the Hyatt Regency Kyiv. Eight corporate bond issuers will present. For sign ups or more information, contact Janna Anikina at: janikina@bcpsecurities.com