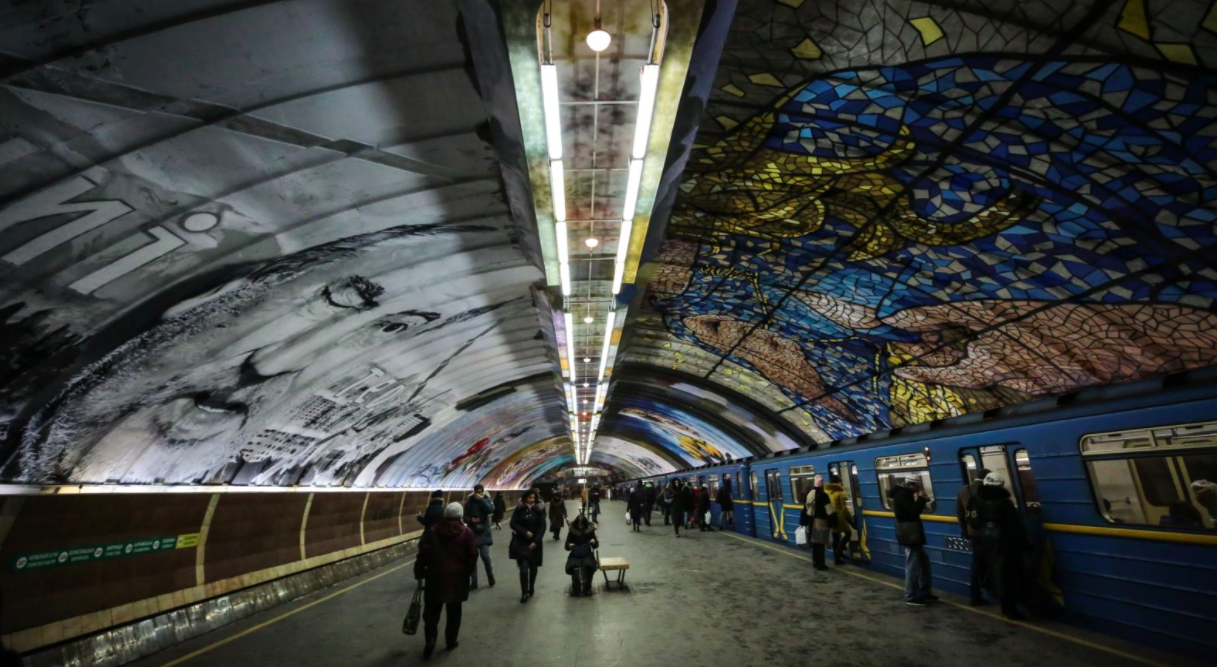 Ukraine's three underground metro rail systems — Kyiv, Kharkiv and Dnipro — reopen this morning — 10 weeks after closing to slow the spread of coronavirus. Passengers on all three systems will be required to wear masks, and when, possible to keep their distance from others. There will be random temperature checks. Mayors have asked residents to only use the metro when necessary, primarily for work.
 When crowds form, police may close metro entrances and escalators. Trains and stations are to be cleaned every three hours. The Kyiv metro system handles 1 million riders a day and is a transportation pillar for the economy. If the metro reopening goes well, Ukrzaliznytsia plans to resume limited inter-regional train service next Monday.
Six of Ukraine's 24 regions failed to win Health Ministry approval to reopen mass transit — bus, minibus and tram systems. Regions deemed to have too high rates of infection are Kyiv and five in the west: Chernivtsi, Lviv, Rivne, Volyn and Zakarpattia.
Since March 13, Ukraine has registered 617 deaths attributable to coronavirus — 8.5 a day. As of yesterday, Ukraine has conducted 285,626 tests, identifying 20,986 cases. About one quarter of cases require hospitalization.
Shifting employees to working at home — either  partially or fully — is being considered by 62% of directors at 105 member companies of the European Business Association.  In a survey completed Thursday most respondents said they were willing to allow up to 50% of the staff to work remotely. To recover to pre-crisis levels of business, 20% of the directors said it would take six months, 39% said one year, and 17% said two year.
Ukraine's industrial output dropped 16.2% in April y-o-y, the strongest decline since mid-2015. This followed a 7.7% y-o-y drop in March, reports the State Statistics Service.
In April, the year-over-year drops were: mining — 6%; food processing — 6.5%;  electricity —  8%; retail sales — 14.9%; railroad freight — 17.5%; and overall freight — 27%.
Despite April's sharp drop in retail, sales for the first four months of the year were up 3% y-o-y. In the first quarter, sales were up 6% y-o-y. Concorde Capital's  Evgeniya Akhtyrko writes: "April's retail plunge was significant, but not devastating."
Steel production fell 31% in April, to 1.4 million tons, lowering Ukraine from 12th to 15th place in the ranking of the World Steel Association. Adding up the steel output of the world's 64 largest steel producing nations, the Association said world steel production fell in April by 13% y-o-y, to 137 million tons.
Russia's nominal GDP fell 28% in April y-o-y, RBC writes drawing on the monthly report of Russia's Finance Ministry. In April, the average price of Russian Urals oil was $18 a barrel, one quarter the $71.50 price of April 2019. Evgenia Sleptsova, senior economist at Oxford Economics, calculates that the coronavirus quarantine caused just as much economic damage as the ultra-low oil price.
Ukraine's consumer demand, electricity production and demand for workers increased in the second week of May, "indicating a gradual resumption of economic activity following the easing of quarantine restrictions," reports the National Bank of Ukraine. Released Friday, the regular weekly report, in a 19-slide powerpoint is readable here.
Household gas prices in May will be half the levels of January, reports Naftogaz. Benefitting from regional prices falling to 10-years lows, consumers will pay in May $87/1,000 cubic meters — 21% less than in April.
With gas prices low for the foreseeable future, Naftogaz will lose "hundreds of millions of dollars" next fall and winter when it sells gas in storage, Yuriy Vitrenko, the state energy company's outgoing director of business development, tells the UBN in an interview.  The gas was bought at higher prices last summer and fall to boost reserves to 17.5 billion cubic meters in advance of negotiating a renewal of the gas transit contract with Russia's Gazprom. The sales price inside Ukraine is set by the Cabinet of Ministers, largely drawing on regional prices.
In early June, the IMF executives and Board are to review the $5 billion, 18-month Standby Arrangement reached at a staff level. The IMF's new Ukraine mission chief Ivanna Vladkova Hollar said in a statement Friday that the new deal aims to provide balance of payments and budget support and "will ensure that Ukraine is well poised to return to growth and resume broader reform efforts when the crisis ends."
Turning to the Eurobond market this summer is the next logical step, writes Timothy Ash, a strategist at BlueBay Asset Management. In an email to investors, he writes: "I would be surprised if the Ministry of Finance did not use the current improvement in credit conditions to tap global markets on the back of this news."  Writing from London, he notes: "Only a month or so back, Eurobond yields had pushed close to 12%, now they are below 8% and much more palatable for the Ministry. It's a really uncertain world — it would be a mistake for the MOF to wait to see if yields drop back to earlier year levels of 5-6%."
Inspired by US President Dwight Eisenhower's Interstate Highway System, launched in 1956, Ukraine's 'Great Construction' program aims to repave or rebuild 24,000 km of major roads over five years, Oleksandr Kubrakov, head of Ukravtodor, the state highway agency, writes in an Atlantic Council UkraineAlert blog. "If successful, it will create hundreds of thousands of jobs, energize the Ukrainian economy, and bring the entire country closer together," Kubrakov writes of the program which has a $3.7 billion budget this year.
Highlights include: completing Ukraine's highest and most expensive bridge, over the Dnipro, at Zaporizhia; building the modern Ukraine's first concrete highway, between Kyiv and Dnipro; and upgrading roads connecting government-controlled Donbas with the rest of the country. Kubrakov writes: "Anticipated benefits include intensified economic interaction between Ukrainian regions, greater industrial development, improved tourism infrastructure, and the rise of large-scale suburbanization across the country."
In time for the summer beach season, Ukravtodor is repairing key sections of the 140 km R-57 road in Kherson. This north-south road connects the Oleshky Sands, a National Nature Park, often called the largest desert in Europe, with the Black Sea port of Skadovsk, a resort town on a quiet gulf 50 km west of Crimea. Skadovsk has no rail access or airport.
In an aggressive bet on domestic air travel, Windrose airlines plans offer three flights a day from Kyiv Boryspil to each of Ukraine's next four largest cities — Kharkiv, Dnipro, Lviv and Odesa. This service is to launch on June 15, the end of the government's 3-month embargo on air travel. On July 15, Windrose plans to launch daily service from Boryspil to Mykolaiv. To promote domestic air travel, Windrose plans to sell vouchers valid for one intercity flight, irrespective of seasonal demand. To carry out the flights, Windrose plans to add eight ATR-72 turboprop aircraft starting in June.
Kazakhstan fully restores domestic air travel today. On May 1, flights resumed between Almaty, the business capital and  Nur-Sultan, the government capital, formerly known as Astana. Kazakhstan's Covid-19 mortality rate is 2/million people, far below Ukraine's 16/million.
From the Editor: Finally, Kyiv's metro reopens today. Snubbed by some, it is the lifeblood for the capital, a region that accounts for 10% of Ukraine's population and 20% of the nation's GDP. Ideally, this will be a teaching moment. On the escalators, riders may adopt that pre-1917 bourgeois politesse of covering one's mouth when coughing. With Best Regards Jim Brooke jbrooke@ubn.news