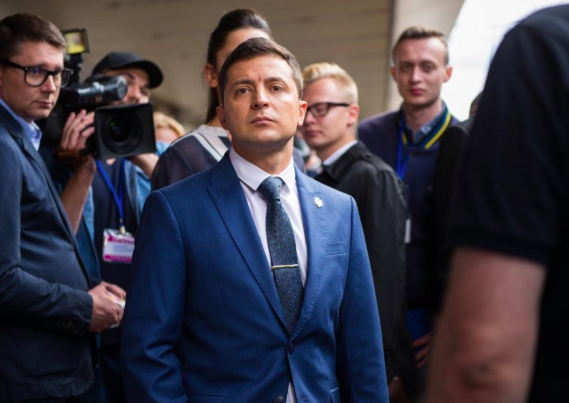 With Volodymyr Zelenskiy to be inaugurated this morning at the Rada, cautious praise comes from one observer of Ukrainian leaders for the last 30 years. "He is pro business, pro market, and pro Western," writes Timothy Ash, senior sovereign analyst for Blue Bay Asset Management in London. Drawing on interviews in Kyiv last week, he writes: "The consensus from those that have had any interaction with the President-elect is that he is clever, business-savvy, a quick learner, that he genuinely has the good of the country at heart and does want to deliver change, which is really what his electorate voted for. He is a joker, but certainly no fool."
While predicting that Zelenskiy will succeed in dissolving the Rada and holding parliamentary elections this summer, Ash said the major threat to the new government will be efforts by Igor Kolomoisky, Zelenskiy's main media backer, to win back PrivatBank. While some in Kyiv say "Zelensky is his own man, knows the issues and problems and will box off Kolomoisky," Ash writes, "his presidency will likely stand or fall on this very issue." Given the question mark hanging over PrivatBank, the IMF is unlikely to disburse the second tranche, $1.3 billion, until this fall, Ash writes in his widely circulated email.
In parting public comments, President Poroshenko said Saturday that he is proud that Ukraine's trade with the EU has more than doubled since the free trade zone went into effect on Jan. 1, 2016. Speaking on Europe Day, he also said that 2 million Ukrainians have traveled to the EU since the new 90-day visa-free regime started June 11, 2017. "More and more flights are opening, airports and terminals that have not worked for years have reopened," he said. "I am proud that during the period of my presidency, Ukraine and the EU have become closer than ever before in history."
5G mobile service should start next year in Ukraine, according to a decree signed Friday by President Poroshenko. The decree sets a schedule for releasing the necessary frequencies. Separately, Oleksandr Zhyvotovsky, head of the National Commission for Communications Regulation, writes on Facebook that this work will be done by fall. The Rada will have to pass implementing legislation.
Given Ukrainians' low cell phone bills, construction of 5G would take "decades" to pay off, warns Oleksandr Kohut, director of regulator support for Kyivstar, the nation's biggest mobile phone company. "Implementation of 5G could require the purchase of a large number of frequencies, the costs of which, given the subscriber's low mobile check and investment risks, could be paid back in decades," he tells Interfax-Ukraine. "It is necessary to create conditions for improving the country's economy, reducing tax pressure on the industry and adapting it to European regulatory practices."
One year after the launch of 4G, about half of Ukrainians have access to the fast service, according to separate reports from the nation's two largest mobile phone companies, Kyivstar and Vodaphone. Kyivstar, which has 26.4 million subscribers of all levels of service, plans to invest about $110 million a year through 2022 to expand 4G service, Alexander Komarov, company president, told reporters recently. By comparison, Vodaphone has about 20 million subscribers of all service levels.
Tenders for Ukraine's first two big public-private partnerships – Kherson and Olvia Ports – are to be launched by the end of June, reports the Infrastructure Ministry. Both ports are located 15 km from the Black Sea – Kherson on the right bank of the Dnipro, and Olvia on the left bank of the Dnipro-Bug estuary.
The winner of the 35-year concession at Olvia is expected to invest $650 million to develop of the port, starting with construction of a grain terminal capable of handling 2 million tons a year, reports InfraPPP news site. The 30-year concession of Kherson requires investment of $53 million. The EBRD, World Bank and International Finance Corporation have worked with Ukraine to write feasibility studies for international standard public-private partnerhips.
Looking ahead, Infrastructure Minister Volodymyr Omelyan is working with the International Finance Corporation to develop concessions to manage airports – possibly Kyiv Boryspil or Lviv, with two or three regional airports. In addition, the government is talking about concessions for management of rail stations and for construction of highways. If there are no early Rada elections, most current ministers are expected to remain in place until the end of this year.
Omelyan is asking the Rada to put an additional $2 billion in the government's 2020 budget to continue systematic repair and rebuilding of major roads connecting the 24 regional capitals. Noting increased roadwork this year, he said: "It is possible to repair 10,000 kilometers a year." Prime Minister Groysman has set a national goal of connecting all regional capitals with 'high-quality' roads by the end of 2021.
Ukrtransnafta is to resume pumping Russian oil today, ending a weekend suspension caused by lack of storage tanks for dirty Russian oil in Ukraine's pipelines. In the month since Belarus discovered the contaminated oil, Ukraine has only pumped oil west to the EU from May 11 to 17. Belarus has not been able to pump oil to Poland for one month.
In a filing with a Danish regulatory agency, Nord Stream 2 warns the €9 billion gas line across the Baltic might be completed in the second half of 2020 – well after the Dec. 2019 completion target. Rosbalt, the Russian news agency, blames the delay on Denmark's recent request for a third route option through Danish waters.
An average of 1.1 million crossings was recorded in March and April at Ukraine's five Donbas checkpoints with the Russia-controlled section, reports the United Nations Office for the Coordination of Humanitarian Affairs. Crossings through the Donetsk and Luhansk checkpoints are expected to peak in the summer as residents check on relatives and apartments in the Russia-controlled areas. There is speculation that as part of a wider détente deal, President Zelenskiy may allow pensioners in Russia-controlled areas to receive their pensions at home without having to cross the front lines.
From the Editor: This Thursday, the annual Sweden-Ukraine Business Forum will take place at Parkovy Business Center. With over 180 organizations participating, the Forum gathers representatives from: Atlas Copco, Beetroot Academy, Electrolux, Essity, Llentab, SEB, the Stockholm Chamber's Arbitration Institute, Volvo and Westinghouse. I have been to the last three forums and have found them very useful. For details, visit www.subf.com.ua. For comments or news items for the Ukraine Business News, contact me, James Brooke, at: jbrooke@ubn.news.