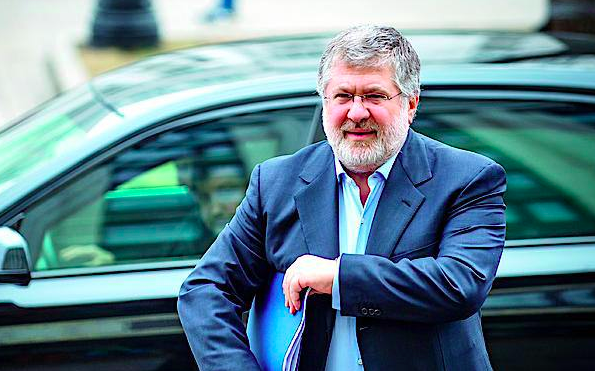 Monday, May 13
Zelenskiy Goal: Double Economy...USDA: Ukraine To Match Last Year's Record Grain Harvest...Marketers Needed to Promote Processed Food on World Markets...Russia's Dirty Oil Fiasco Runs Up Big Bills...Black Hawks Up: Ukraine's Antonovs Fly US Choppers to Afghanistan...China-Ukraine Jets Fly Full
President-elect Zelenskiy aims to double Ukraine's economy in five years, Igor Kolomoisky, his primary financial backer, tells RBK-Ukraine. Seen as the grey eminence of a Zelenskiy administration, Kolomoisky says in an interview in Tel Aviv that he backs retaining Yakiv Smolii as chairmen of the National Bank of Ukraine. Kolomoisky, owner of 1+1 TV, favors advancing the Rada election from the current Oct. 27 date, referring to Zelenskiy's 73% vote tally in the April 21 presidential runoff: "To put it simply, there is a momentary rating that needs to be converted into the maximum possible number of deputies."
Separately, former Finance Minister and current Zelenskiy advisor Oleksandr Danylyuk tells Liga.net that top priorities of Zelenskiy's first 100 days will be to "restart the anti-corruption bodies" and "restart the recruitment and certification of judges." Other priorities will be to reform the State Security Service, or SBU, to eliminate the Tax Police, and to create the Financial Investigation Service.
Turning to the parliament, Danylyuk says: "A non-working [Rada] just needs to go." Looking to Rada elections, he warns: "It is possible to make their low trust turn into their loss in the next elections."
Judging by spring plantings and favorable weather, Ukraine will export slightly more grain next year than its forecast record 50.4 million tons of exports for this year, predicts the US Department of Agriculture. Bolstered by a record harvest last fall, Ukraine exported 43.5 million tons of grain and legumes as of Friday – 25% more than this time last year. The marketing year ends at the end of next month.
Looking at this year's harvest, the USDA predicts that wheat exports will be up 15%, to 19 million tons. Corn exports will recede 8.5% from their record level, to 27 million tons next year. Barley exports will be 4.5 million tons, almost the same as this year. Overall, grain exports will be 50.7 million tons, 300,000 tons over this year. The harvest will slightly surpass last year's record, hitting 72.1 million tons, up 3% over last year, the USDA says.
With the EU predicting its lowest harvest of rapeseed in five years, Ukraine's strong crop could fill the gap, Bloomberg reports. Known for fields of bright yellow flowers at this time of year, rapeseed is crushed for cooking oil and marketed as canola. The EU has cut its official production forecast to 19.2 million tons. But one British oilseeds trader interviewed by Bloomberg predicts EU production will fall below 18 million tons. Ukraine and Australia will fill the EU production shortfall, the USDA predicts.
To shift from global breadbasket to global supermarket, Ukraine has to train world class marketers and open its promised Export Credit Agency to provide risk insurance for processed food exports, according to analysis by Yelizaveta Dorontseva of UNIAN. Last year, commodities accounted for 80% of Ukraine's $19 billion in food exports, according to the Ukrainian Club of Agrarian Business.
Butter, honey, and soybean oil offer the best prospects for export as processed, pre-packaged products. With food exports growing every year since 2015, Ukraine has done a good job in diversifying from its historic reliance on Russia, UNIAN says. Since 2014, Ukraine's food exports to China have increased nearly seven times. Last year, Ukrainian producers opened 85 new foreign markets for their products.
Oleh Bakhmatiuk owner of Avangard Holding, one of Ukraine's largest egg producers, tells UNIAN that after losing assets in Crimea, Donetsk and Luhansk in 2014: "We decided to reorient ourselves to foreign markets. We export our products to Iraq, the UAE, Qatar, Saudi Arabia, Bahrain, Kuwait, and Hong Kong. Now we plan to enter the market of Singapore, and about 20 African countries."
Norway's Baltic Pipe gas link to Poland will be ready in the fall of 2022, in time to allow Poland to drop its gas supply contract with Russia's Gazprom, Poland's Foreign Minister Jacek Czaputowicz tells reporters in Oslo. Built via Denmark, the pipeline will ship 10 billion cubic meters of gas a year, enough to fully replace Poland's imports from Russia.
Ukrtransnafta resumed shipping Russian oil to EU via the Druzhba pipeline on Saturday, ending a 16-day suspension due to dirty oil from Russia. Before the suspension, Russia shipped an estimated 5 million tons of contaminated oil to the West. Today, over 10 tankers are filled with the oil, unmarketable because of heavy contamination with organochlorides.
Estimates of hundreds of millions of dollars of damage to Belarus' two refineries and oil pipelines "are not far from the truth," Belarus President Alexander Lukashenko told reporters Saturday in Minsk, according to Belta news agency. He blamed "laxity and laxity on the territory of Russia." Russia's Transneft was slow to detect the problem and failed to communicate with customers, Reuters reports. Russia's state pipeline company says a criminal case has started with the detention of four company heads in the Samara region, about 1,700 km east of Belarus's Mazyr refinery.
Russia's June 1 restrictions on exports of light oil product and energy coal do not pose "any problems at all," Prime Minister Groysman said Saturday. While alternative suppliers are lined up, coking coal, diesel and gasoline present more problems, he said. Last year, Russia supplied 70% of Ukraine's imported coal. Ukraine imported 15 million ton of coal from Russia, paying $1.8 billion. Russia supplied 39% of Ukraine's oil products imports. Ukraine imported 3.2 million tons, paying $2 billion.
Ukrainian An-124s are flying Black Hawk UH-60 helicopters from Huntsville, Alabama to Afghanistan. Under a 3-year contract that started Jan. 1 with NATO's Strategic Airlift Interim Solution program, Antonov is using two of its massive Ruslan military transports to ferry NATO military equipment around the world. The Blacks Hawks are part of a $7 billion US program to supply 159 US-made helicopters to the Afghan Air Force, replacing Russian-made Mi-17s.
More than two million Ukrainians have traveled to Europe without visas since the visa-free regime between Ukraine and the EU came into force almost two years ago, announcesUkraine's Mission to the EU. Launched on June 11, 2017, the visa-free regimes allows Ukrainianians to visit visa-free for 90 days the 26 EU members of the Schengen zone and the four countries scheduled to join. This visa-free regime does not apply to Britain and Ireland.
UIA's Kyiv-Beijing flight makes a 4-hour detour around Russia, costing Ukraine's flag carrier $120,000 extra for each flight, says Pavel Ryakivin, general director of Kyiv Boryspil, UIA's hub. Infrastructure Minister Volodymyr Omelyan tells Interfax-Ukraine he is looking for a 'non-discriminatory mechanism' to compensate Ukrainian carriers hurt by Russia's overflight ban.
The daily Kyiv-Beijing flight run at 95% occupancy and SkyUp's new flight from Kyiv Boryspil to China's Hainan resort island runs at 97% occupancy, Omelyan's deputy, Viktor Dovhan, writes in the Kyiv Post. He says China-Ukraine air passengers traffic hit 200,000 last year, double the level of 2015. With Chinese now eligible for Ukraine's e-visas, air passenger growth with Ukraine is expected to keep growing at 25% a year.
From the Editor: Ukraine Business News is now fully searchable. Check out the 250,000-word archive at www.ubn.news. Best regards Jim Brooke – jbrooke@ubn.news