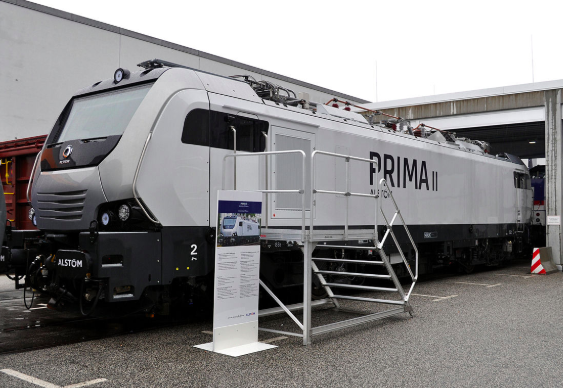 France's Alstom is prepared to supply 500 train locomotives to Ukraine, Henri Poupart-Lafarge, the company CEO tells the Center for Transportation Strategies. Alstom is proposing to Ukrzalinystia a package that would include French technology, French financing and a degree of Ukrainian production. Asked about the degree of localization, he responded: "We need to balance our desire to localize production in Ukraine, which will benefit the Ukrainian economy, with the demand of the French side for localization in France."
Prime Minister Groysman told the Alstom CEO about a locomotive deal: "The issue of localization is very important to us. We are interested not only in maintenance but also in full-scale production."  The French CEO responded: "You have every opportunity to become a production base of European scale. We are, of course, aware of the amount of work that we have ahead, but we came to strive for a strong and lasting partnership." According to the Center for Transportation Technologies, Alstom has interview 50 potential parts supplier and five potential locomotive manufacturers.
Ukrzaliznytsia plans to spend $1.85 billion through 2025 to buy 310 new locomotives, Alexander Bogdanov, deputy director of the state railroad's locomotive department, said at a recent railway conference in Kyiv. The average Ukrzaliznytsia locomotive has used up 84% of its expected working life. By the end of this month, all 30 GE locomotives imported from the US since last fall are to be released for service on the tracks.
China's Xian Electric Engineering Co. has signed a €19.4 million contract to rebuild a Ukrenergo substation serving the Boryspil, Brovary and Baryshivka regions of Kyiv's region's left bank. Ukraine's state electricity distribution company says that 11 companies from eight countries participated in a tender under rules set by the European Investment Bank, the primary source of project finance. The Chinese bid cut the expected price by 25%. Xian is to complete upgrading the 330 kV Brovarska substation by the end of 2021.
Ukrainians are returning from Slovakia to work in steel plants at home, President Poroshenko asserted on a visit to Mariupol, where he inaugurated a new continuous casting machine at the Mariupol Metallurgical Plant, part of Metinvest. Noting that "wages rose sharply" in the second half of last year to $666 a month, he said: "Ukrainians are returning from metallurgical plants in Slovakia, and today they are working here."
The SCM group, owner of Metinvest, invested $1.3 billion in its Ukraine companies in 2018, Natalia Yemchenko, SCM spokeswoman, writes on Facebook. SCM is owned by Rinat Akhmetov.
The EU plans to spend €50 million to improve road and rail access to Mariupol and Ukraine's Sea of Azov, President Poroshenko told the Odesa Regional Development Council on Saturday. By electrifying rail lines, he said, EU aid could extend Intercity rail service from Zaporizhia to Mariupol. "We will bring Mariupol closer through Intercity. For me, this is a fundamental thing and a challenge: we must reduce the distances."
President Poroshenko promises to submit a public-private concessions bill as an "urgent bill" to the Rada. "Deputies are still adopting the relevant laws," the president said in Odesa, referring to the parliament's work in an election month. Concessions "can give a powerful powerful impetus to attract foreign investments into our economy, as well as recognition of Ukraine as a favorable logistic center of Europe." At a meeting of Odesa Region's Development Council, Maxim Shirokov, general manager for the terminal of Risoil S.A, a Swiss company, said that Risoil has invested $70 million Chornomorsk port since 2014.
Volodymyr Zelenskiy, the leading presidential candidate in opinion polls, met on Feb. 23 with representatives of the IMF and the World Bank and with French Ambassador Isabelle Dumont. Aivaras Abromavicius, former minister of economy and trade, set up the meetings. He later told RFE/RL: "In those three meetings on Saturday he did well." Without providing details, he said Zelenskiy "took pressing questions basically head-on" and gave "impressive answers."
On April 1, three weeks before the expected second round of Presidential elections, all front line soldiers will receive bonuses. Front line soldiers will receive the hryvnia equivalent of $74, down payment on a $444 annual bonus. Rearguard soldiers will receive a $37 payment, advance on an annual payment of $204. Navy personnel in the Azov will receive front line bonuses. Active duty soldiers are allowed to vote.
In another injection of cash into hands of voters, the government will pay $211 million in housing, heating, and communal subsidies directly to homeowners in cash this month. Andrei Reva, Social Policy Minister said payments could be as high as $888, and will average $62. The payments, to be repeated in April, will go to 3,378,807 households.
An IMF team arrives in Kyiv tomorrow for a week-long review visit. In December, Ukraine received a first $1.4 billion tranche of a 14-month $3.9 billion program. Progress toward implementing anti-corruption conditions is needed for release of a second tranche, expected to be $1.3 billion in May.
Ukraine has received a second loan, for €529 million, under a World Bank guarantee, reports the Finance Ministry. Funds were provided in two tranches – €240 million with a maturity of four years, and €289 million with a maturity of 10 years. The loan was arranged and provided by Deutsche Bank. Since December, a World Bank guarantee of $750 million has allowed Ukraine to attract about $1 billion from international markets.
Ukrainians and Georgians can visit each other's countries using only their national ID cards, or internal passports, under an agreement that went into effect on Friday. Ukraine and Turkey have a similar passport-free, 90-day visit agreement. Last year, 177,000 Ukrainians visited Georgia. Four airlines fly from Kyiv to Tbilisi: Georgian Airways, SkyUp, UIA and Yanair.  In May, SkyUp starts flights to Batumi. This summer, Yanair will fly to Batumi from Kyiv Sikorsky, Lviv, and Odesa.
Kharkiv, Ukraine's second largest city, gets more international flights this spring. On Saturday, SkyUp started flights to Sharjah, UAE. On March 25, Ernest Airlines starts a flight to Rome and Milan-Malpensa. On May 3, Buta Airways launches flights to Baku.
Lviv airport's passenger traffic increased by 50% y-o-y in January and February, maintaining the strong 48% growth of last year. Of the 108,400 passengers in February, 89% flew internationally. On Sunday, Wizz Air started flights to Copenhagen. Confirmed new flights this season are Motor Sich to Uzhgorod on March 15, airBaltic to Riga on April 1 and SkyUp to Odesa on June 2. This year, Lviv is expected to win a flight to Doha on Qatar Airways.