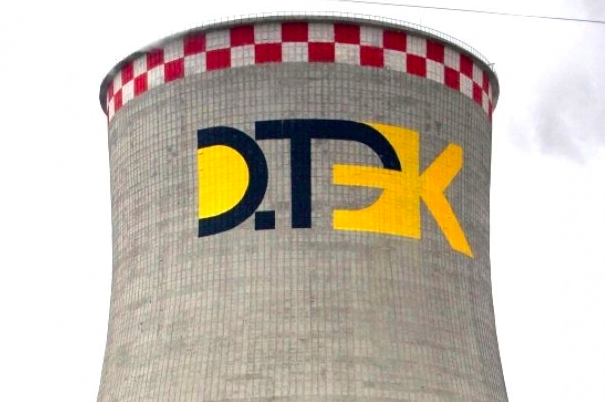 Monday, March 30
DTEK To Miss Debt, Bond Payments...Rada Meets Today on Free Market Bills Needed for IMF Deal...Corona Quarantine Threatens Millions with Unemployment...Kyiv Commercial Landlords Give Corona Rent Breaks...Land Borders Closing in Russia, Ukraine...and Vinnytsia?
DTEK Energy, Ukraine's largest private electricity and coal producer, seeks to restructure bank debt and its 2024 Eurobond. Bank debt payments are due tomorrow. A bond coupon is due Wednesday. DTEK Energy CEO Dmitry Sakharuk told Interfax-Ukraine: "Restructuring is not a default, it is a forced change in the order and timing of payments to creditors." In the first half of 2019 report, DTEK Energy reported company debt of almost $2 billion – $1.2 billion in Eurobonds, and $711 million in bank debt.
On the need for restructuring, the company blamed: "Increasing concerns around the Covid-19 pandemic, unprecedented financial markets deterioration and commodity prices collapse, and their combined impact on the group's financial position and operations." UkrEnergo predicted last week that Ukraine's electricity consumption will fall by 8.2% in March y-o-y. On Wednesday, DTEK Energo will suspend operations at three underperforming coal mines and put 6,500 miners on paid leave.
With billions of dollars flooding out of Emerging Markets in recent weeks, Interfax-Ukraine reports: "DTEK Energy's Eurobonds fell from 104% of the nominal to 60%, and their yield rose from less than 10% per annum to more than 25% per annum." IMF Managing Director Kristalina Georgieva said last week: "Investors have already removed US$83 billion from emerging markets since the beginning of the crisis, the largest capital outflow ever recorded."
With a special Rada session to start this morning, President Zelenskiy urges parliament to pass "two vital laws." In a 10-minute national video address, he did not identify the laws – a bill to create a private farmland market and a bill to prevent the return of PrivatBank to Ihor Kolomoisky. Without mentioning the IMF by name, he adds: "After that, we will receive support from our international financial partners in the amount of at least $10 billion… A failure [to pass] these laws would lead to economic downturn and even the threat of default."
Noting that members of parliament will wear protective masks, he warns: "Although tomorrow you will all be wearing masks, it will become clear to people who is who. Society will understand whether you are servants of the people or servants of others' interests."
On Friday, Zelenskiy told reporters if the Rada passes the two bills, the IMF could release a quick $2 billion tranche within 15 days. He said: "I think that it will be $2 billion, and it will go immediately to the state budget of Ukraine."
Aware that oligarchs are lobbying against the bank bill, IMF Managing Director Georgieva dangled more aid money Thursday: "This last week, very good progress has been made in the discussions with the Ukrainian authorities on the new Extended Fund Facility arrangement. Adoption of legislation to improve the bank resolution framework and on land reform would allow moving forward quickly with finalizing the parameters of the new arrangement, with larger access than previously envisaged."
A top Ukrainian negotiator with the IMF, Kateryna Rozhkova, first deputy governor of the central bank, told reporters Friday: "The chances are great, but the last step is ours. In fact, it is the Verkhovna Rada that must adopt two bills, which are the so-called prior actions. This is the land bill and the bill about banks."
The farmland market bill appears to have been watered down again. The latest version sees a July 2021 launch of a market that would only allow sales by individuals, allowing land holdings to  total only  100 hectares. In 2023, holdings of 10,000 hectares would be allowed, Yevhenia Kravchuk, deputy head of the ruling Servant of the People parliamentary faction, told Ukraine 24 TV.
In the Rada session, members may also vote on making Serhiy Marchenko Finance Minister, several media outlets reported last night. Marchenko served as deputy finance minister in 2016-2018 under then-Finance Minister Oleksandr Danylyuk and then as deputy head of President Poroshenko's administration. He would replace Ihor Umanskyi who has had the post since March 4.
The first two weeks of quarantine threw 500,000 to 700,000 Ukrainians out of work, estimates Gennadiy Chizhikov, president of the Chamber of Commerce and Industry of Ukraine. With 650,000 small and medium businesses employing up to 4 million people, he warns the figure of newly unemployed could jump 5-fold in coming weeks. Noting that small businesses prepared two weeks ago to make it to April 4, he said: "[With] the continuation of the emergency situation until April 24, many businesses are asking themselves: how can they make money during a quarantine? Most of them have a margin of safety until mid-late April."
Kyiv City Council is giving 50% 'quarantine' discounts on rents paid by the 6,000 small and medium enterprises that lease almost 1 million square meters of city property. The discounts are valid from March 11 to the end of July. Separately, the owners of Dream Town, the shopping and entertainment center in Obolon, will not charge rent for the duration of the quarantine. Exceptions are food markets which remain open. Alexander Melamud, co-owner of Dream Town, writes tenants: "The events of recent days have shown that we all must survive one more test and get out of it with minimal losses, with dignity."
As of Sunday, Ukraine has 475 publicly confirmed cases of Covid-19, a 7-fold increase in one week. Of the total, 20% are in Kyiv City, home to 10% of Ukraine's population. The other major cluster is composed of three Western oblasts: Ivano-Frankivsk 41; Ternopil – 57; and Chernivtsi – 59. So far, 10 Ukrainians have died in Ukraine of complications from the virus.
Many Ukrainians suspect the real number of cases is higher. Five Rada members are known to have been tested positive for Covid-19.  Also diagnosed as positive are Kyiv police chief Andriy Kryshchenko and Naftogaz production chief Andriy Favorov. Over the weekend, Oleg Mishchenko, a diabetes sufferer, died of Covid-19.
Last night, police and health officials started to perform temperature checks on people driving into Vinnytsia Region. There are 18 cases in Vinnytsia City.
Russia closes its land borders today to all passenger transport – cars, buses and trains.
Ukraine closed its land borders Friday night for crossings by bus, car and train. On Friday afternoon, thousands of Ukrainians backed up at Polish border points, waiting to cross into Ukraine. Many feared the border could be closed for longer than one month, reports Reuters. In the two weeks since President Zelenskiy asked Ukrainians to come home, more than half a million have made the trip, estimates the President's office.
Concorde Capital's Zenon Zawada asks: "How long will Ukrainians tolerate such conditions?…being at home, without work, having left a better paying job abroad…We see big political problems for the president if this severe quarantine is extended beyond the May holidays…A long quarantine will only promote dissatisfaction,  political activity and protests."
With its 35 jets parked at Boryspil through April 24, UIA, the national flag carrier, plans to ask the government for a $60 million stabilization loan, UIA president Evgeny Dykhne, tells Liga.Business. After losing $100 million last year, the airline cut unprofitable routes and reduced its fleet, aiming to break even this year. Now it is losing $14.5 million a month, Dykhne says. Separately, the International Air Transport Association recently doubled its coronavirus-related losses for world airlines this year — to $260 billion.
Best Regards, Jim Brooke jbrooke@ubn.news