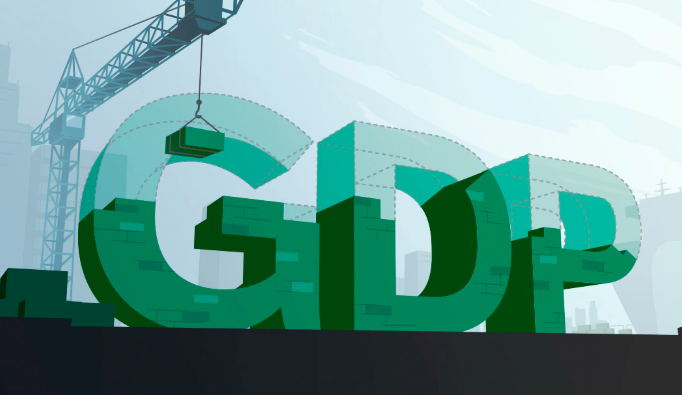 Ukraine's GDP grew by 3.3% last year, the highest level since 2011, reports the State Statistics Service.  This year, economists forecast Ukraine will see a fourth consecutive year of growth, although at a lower level than 2018. Forecasts are: National Bank of Ukraine + 2.5%; IMF + 2.7%; World Bank + 2.9%; Cabinet of Ministers +3%.
Main growth drivers last year were: investment +14.3%; private consumption +8.9%; agriculture +7.8%; and construction +7/2%. Laggards were: manufacturing +0.6% and exports – 1.6%. Surprising economists, economic growth accelerated in the fourth quarter to 3.5%, compared to 2.8% in the third quarter. Dragon Capital writes: "Quarterly dynamics suggest Russia's military aggression in the Sea of Azov in Nov. 2018 and Ukraine's ensuing temporary imposition of martial law had limited negative impact on economic activity and was fully offset by an upsurge in agricultural production."
Retail trade grew by 6.8% in January-February y-o-y. Adjusted for inflation, the high growth areas were: Zakarpattia +15%; Kyiv +14%; Vinnytsia +10%: and Lviv +9.5%. With real salaries up 9.5%, election season pension hikes, and continued wage remittances, analysts predict that retail sales will be up 6-7% this year. Dragon Capital calls household consumption "the major driver of 2019E GDP growth of 2.5%."
Decathlon, the world's largest sports goods retailer, opened its first store in Ukraine, the French chain's 50th country. The store opened Saturday at Retail Park Petrivka on Stepan Bandera Avenue, near Pochaina metro station on the Blue Line. Decathlon follows other major global retailers into Ukraine. Last year, H&M opened its first two Ukraine stores. This fall, IKEA is to open in Kyiv.
Preparing for a possible shutoff of Russian gas through Ukraine next January, Hungary, and Gazprom concluded an agreement Friday to fill to capacity Hungary's newly expanded 6.3 billion cubic meter storage reservoirs. "A situation might arise when Russia will no longer supply gas to the European continent via Ukraine — we have to prepare for this scenario," Péter Szijjártó, Hungary's Foreign and Trade Minister, said after meeting in Moscow with Alexei Miller. "Today, the CEO of Gazprom and I have concluded an agreement that Gazprom will ensure gas supplies to Hungary, regardless of whether a transit agreement is concluded between Russia and Ukraine."
Almost all of Russia's gas to Central Europe goes through Ukraine in three pipelines: Friendship, Brotherhood and Soyuz. The alternative is a long, northern route: Belarus-Poland-Germany-Czech Republic-Austria. By stocking up this year, Hungary hopes to get through next winter in time for construction of a 600 km northwestern extension of TurkStream. This would bring Russian gas from Turkey through Bulgaria to Niš, Serbia. There, an existing gas line connects to Hungary. Also preparing for a Russian gas cutoff, Andriy Kobolev, CEO of Naftogaz, said last week that Ukraine will raise its gas stocks this year by 18%, to 20 billion cubic meters, to ensure supplies for next winter.
Preparing to place Eurobonds later this year, Naftogaz is posting an international tender for auditing services. Last October, the Cabinet of Ministers approved the issuance of up to $1 billion in Naftogaz Eurobonds. But in November, negative fallout from Russia's Kerch Strait attack and the declaration of martial law prompted Ukraine's state oil and gas company to suspend the launch. The audit is expected to cost $250,000. ProZorro will hold the auction May 29.
Hungary traded more last year with Ukraine than with Russia, Hungary's ambassador to Ukraine tells Focus magazine. "Ukraine is our greatest neighbor," says Amb. István Iyardto. "Despite the cool relations between the two countries, our trade turnover with Ukraine in 2018 was €4 billion." To boost bilateral trade, Hungary is working on two north-south road projects with Zakarpattia. Hungary is paying to repair the 40 km road section from the border to Berhove and on to Mukachevo. Nearby, Hungary is completing a highway north to Ukraine's border town of Chop. "Obviously, the Chop Bridge cannot cope with the flow of traffic," Iyardto said of the Soviet-era bridge over the Tisa River. With cargo projected to grow, Hungary is negotiating with Ukraine to build a second bridge.
The EU is prepared to help improve road and rail access to Mariupol, Infrastructure Minister Volodymyr Omelyan said Friday after meeting with EU Ambassador to Ukraine Hugues Mingarelli. With an eye to attracting financing from the European Investment Bank, the Ukrainian side will prepare feasibility studies for two upgrades. One is the 500 km east-west highway between Mariupol and the port of Mykolaiv, currently an 8-hour drive. The other is to improve the 375 km rail link between Mariupol and Zaporizhia, a 7-hour journey. Reportedly, the EU has budgeted €50 million for the work.
This year, the Infrastructure Ministry is spending €4.5 million to double the last stretch of single track on the rail line and is spending $37 million to upgrade the road to Zaporizhia. With Russian forces harassing shipping in and out of Mariupol, protesters last year demanded road repairs, calling it 'the road of life.'
To preserve cargo flows through Mariupol and Berdyansk, Ukrzaliznytsia is preparing to offer discounts on cargo bound for Ukraine's Sea of Azov ports. At Mariupol, the larger port, ship calls, and cargo were down about 15% in January and February y-o-y. As of March 22, volumes and ship calls were the same as during the first three weeks of March. Since the start of the year, Mariupol has handled 1 million tons of cargo, the port says.
UIA, Ukraine's flag carrier, lost $100 million last year, almost nine times the net loss of 2017, Interfax-Ukraine reports, citing a filing to the National Securities and Stock Market Commission. Compared to 2017, Ukraine International Airlines performed 9% more flights – 61,500 – and carried 15% more passengers – 8 million. Seat occupancy was 81%. Transfer passengers accounted for 53%.
Expansion by low-cost airlines from Kyiv to 62 European cities is driving UIA's losses. This spring, at UIA's Boryspil hub, newcomer SkyUp is launching flights to 13 cities, largely in Europe. By this fall, Ryanair plans to fly from Boryspil to 21 EU cities – only one year after launching flights from Ukraine. At Kyiv Sikorsky, Wizz Air adds three new cities this spring, for a total of 28 EU cities. Tomorrow, Ryanair holds a press conference at Kharkiv Airport, reportedly to announce the launching of flights from Kharkiv.