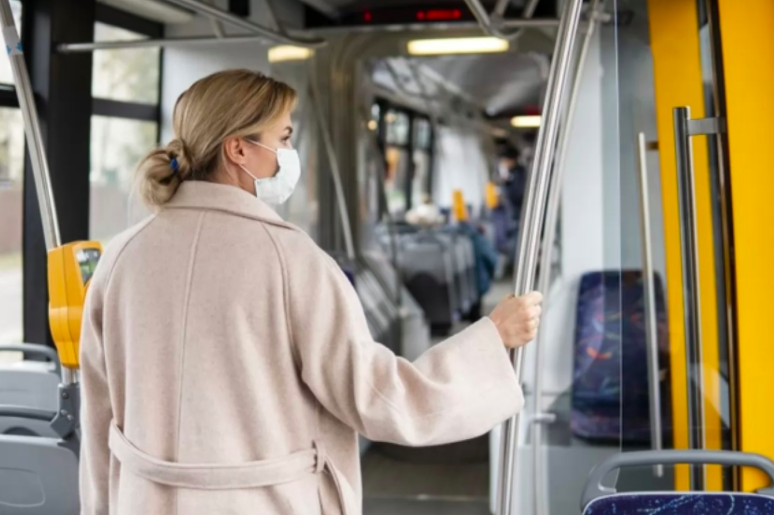 Monday, March 23
Ukraine Moves into 'Total Full Quarantine'...Metro Will Be Out for One Month...US Veers into Recession...Rada Fiddles While Rome Burns...Plummeting Oil and Gas Prices Cut Ukraine's Energy Import Bill in Half...Central Bank Sells $2 billion, Holding Hryvnia Devaluation to 11% in Two Weeks
Starting this morning, Kyiv buses can be used only by 'essential personnel' wearing masks and displaying special passes. With the metro closed since Tuesday, private cars and taxi are the only transport available in Ukraine's political and business capital, a city of 3.7 million people. Judging by scheduled maintenance work, the metro will be closed for a full month, through April 17, reports Apostrophe.
Justifying a 'total full quarantine' of Ukraine, Interior Minister Arsen Avakov writes on Facebook: "Only critically necessary business entities should work in the country, regardless of the form of ownership!…the rest should be closed, and people should be quarantined at home…we will count losses and think about compensations later, when we survive!" On Wednesday, military police and National Guard members will help municipal police enforce restrictions designed to slow – and even stop – coronavirus in Ukraine.
New restrictions include bans on using playground equipment and keeping a density of one person per 10 square meters in supermarkets, pharmacies and bank branches. With this policy, lines often form outside food stores. Last week, authorities closed restaurants, bars, gyms, salons, shopping malls, schools, trains, domestic air travel and the nation's three metro systems. In the Donbas, crossings were halted yesterday between the Russia-controlled and Ukraine-controlled sections. On highways radiating out of Kyiv, police checkpoints are enforcing limits of 10 passengers per bus.
As of Sunday night, there were 63 publicly confirmed coronavirus cases in Ukraine, including at least six in Kyiv, Ihor Kuzin, acting director of Ukraine's Public Health Center, tells Ukraine 24's Real Politics TV talk show. Three people have died in Ukraine. Three Ukrainian women, both in their early 60s, have died in northern Italy.
The United States economy is entering a recession, writes Michelle Meyer, chief US Economist at BofA Merrill Lynch "We officially declare that the economy has entered a recession…joining the rest of the world. It's a deep leap down," she writes. Meyer predicts the US economy will shrink by 12% in the second quarter, and the US GDP will decline by 0.8% this year.
"The Ukrainian government must act fast to avoid a repeat of the 15% GDP contraction the country experienced in 2009," Yuriy Gorodnichenko warns in an Atlantic Council essay titled "Saving Ukraine's Economy from the Coronavirus Crash. "During panics, investors typically liquidate their risky positions in countries like Ukraine and move their funds to safe havens such as US government debt," writes Gorodnichenko, a Ukrainian who teaches economics at the University of California, Berkeley. "It is safe to assume that the IMF and other international institutions such as the World Bank and European Commission will be the only affordable sources of foreign currency."
Ukraine is negotiating an emergency package from the IMF to contain the economic fallout from coronavirus, Yakiv Smoliy, governor of the National Bank of Ukraine, confirmed Friday. He said it is too early to say how large the aid would be. Conditions would be separate from the $5.5 billion deal agreed last December.
World markets may be melting down, but Ukraine's Rada is taking a 3-week break before considering two bills designed to unlock the $5.5 billion in IMF aid. For fear of coronavirus, the parliament is ignoring President Zelenskiy's March 16 call for rapid approval. It will only pick up the bills, in committees, after April 7, reports the Kyiv Post. The Rada does not want to meet as a group to avoid contagion by coronavirus, the Post reports in a story titled: "Crucial laws stalled in parliament as lawmakers self-isolate from work." Last week, a Rada 'source' suggested in an Ekonomischeska Pravda story that it would be simpler if the IMF give the money first, then wait for Rada approval of the bills.
The coronavirus pandemic is not expected to greatly cut prices for Ukraine's top export – food. Dmytro Sologub, deputy governor of the National Bank of Ukraine, tells reporters: "As we understand it, even in a crisis, especially when sitting at home, people will consume food. This is the last thing they will refuse."
Ukraine does not plan to limit food exports, Taras Vysotsky, deputy minister for Development of Economy, Trade and Agriculture, tells Interfax-Ukraine. He says supermarket chains are fully stocked. Last week, President Zelenskiy proposed the Cabinet of Minister draw up a list of products restricted from export.
Plummeting oil and gas prices are expected to cut in half Ukraine's bill for energy imports this year, Sologub calculates. The energy bill could be $6 billion – half of last year's $12 billion. After a mild winter, European natural gas prices are at decade lows. The price of Brent oil has fallen in half this year, to $27 a barrel. With Russia and Saudi Arabia locked in war over market share, Citibank and Goldman Sachs predict that oil could fall to $20 a barrel in coming weeks. Energy last year accounted for 20% of Ukraine's imports.
The Cabinet of Ministers has approved extending the contract of Naftogaz CEO Andriy Kobolyev for another four years, to March 2024. UNIAN reports that Kobolyev's salary was cut in half. It is unclear if Kobolyev is to receive his commission for winning the $2.9 billion arbitration settlement from Gazprom last December.
Andriy Favorov, head of gas production and sales at Naftogaz, is self-isolated at home in Kyiv after returning from the US with a mild case of COVID-19, reports his father, Mykhailo, an Atlanta-based epidemiologist. Andriy Favorov says in a video posted on Facebook Friday: "I feel great, but I'm bored."
The central bank sold $2 billion in foreign exchange in the last two weeks, limiting the hryvnia devaluation to 11%. Currently reserves are $24 billion, reports the National Bank of Ukraine. Last week, the Bank sold $1.038 billion. The week of March 10-13, the bank sold $982 million. Oleh Churiy, a deputy governor of the bank, noted to reporters that some regional currencies have devalued by even more. Russia's Ruble has lost 25% since Feb. 22.
Today's official rate is 27.74 UAH/USD, six kopiyky stronger than Friday's rate. The street exchange rate has hovered around 28.50 since Wednesday.
The central bank will sell dollar banknotes this week, says Churiy, of the National Bank of Ukraine. After coronavirus restrictions disrupted normal logistics, an airplane is to arrive with a load of the US currency.
Banks are prohibited from refusing to give depositors their money, Yakiv Smoliy told reporters Friday. "We forbade banks to introduce any restrictions on deposits whose term has expired," said the Governor of the National Bank of Ukraine. "That is, if your deposit has expired, you can do anything with it: extend, withdraw. There are no restrictions." He said there has been virtually no outflow of deposits this month.
To deepen the market for Ukraine government bonds, PrivatBank's web version – Privat24 – now allows customers to buy and sell of bonds online. Customers who open an online trading account can also see online the PrivatBank's current quotes for the sale of government bonds.

From the Editor: One year ago, candidate Zelenskiy promised the 'state in the smartphone.' Now, we have a chance for a road test. Rada members do not want to meet for three weeks for fear of coronavirus contagion. Here are two options. They could walk 400 meters through Mariyinskiy Park and convene in Dinamo Stadium. With sunshine forecast every day this week, the 424 members could sit, hygienically spaced two meters apart, and use wireless microphones to conduct debates. Or they could take into a step into the digital future and use Ukraine's vaunted IT: teleconferencing and remote voting. What will it be? Roman Senate? Or Estonia? With Best Regards, Jim Brooke jbrooke@ubn.news