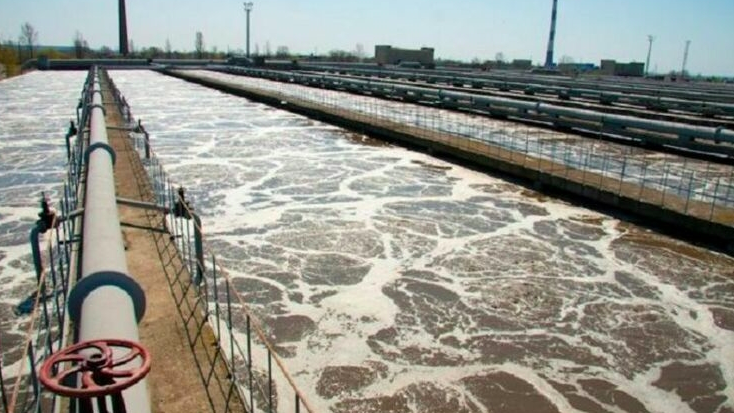 Kyivvodocanal is posting an international tender for a five year, $1 billion, Japanese-funded project to upgrade Kyiv's sole sewage plant to treat the waste of 5 million people, about 12% of Ukraine's total population. Located on the Left Bank, near the southeastern limits of the capital, the Bortnychny Sewage Treatment plant was built in three phases in the Soviet era. Work started in 1965 when greater Kyiv's population was one third the size of today. Fed by 2,662 km of sewer pipes, Bortnychny's three units handle up to 1 million cubic meters of water a day. The 272 hectares of sludge fields contain 10 million cubic meters of sediment.
Under tender terms released Friday, Japan International Cooperation Agency, or JICA, represents Japan for a 40-year loan, granted at 0.1% per annum with a grace period of 10 years. Of the 108 billion yen –or $971 million — loan, 30% of construction is reserved for Japanese goods. Two months ago, Kyivvodocanal, the city water company, started working with a new design and consulting joint venture composed of: Nippon Koei Co., TEC International Co., and Nihon Suiko Sekkei Co.
"JP Morgan stuns market with Ukraine tap," Reuters headlines from London about the US bank's move last week to buy Ukraine's entire placement of $350 million in Eurobonds. Sudip Roy an editor at Reuters' International Financing Review, writes: "The trade was a testament to JP Morgan's belief that Ukraine is heading in the right direction, despite the huge challenges facing the country, and its willingness to put its balance sheet at risk."
Thousands of Ukrainian SMEs are to benefit from a €60 million EU-oriented credit line launched Friday by the EBRD and EU4Business. Available for privately owned businesses with less than 250 employees, the credit line is to help small and medium businesses export to the EU. Initially, €10 million will be administered by OTP Leasing Ukraine and €22 million by UkrEximBank. Matteo Patrone, EBRD regional director, said the line "provides local SMEs, which create almost 80% of jobs in the country but currently are responsible for only about 40% of GDP, with additional access to finance so they can develop further, become more competitive and comply with EU standards."
Two weeks before the presidential election, Prime Minister Groysman told the Rada Friday that he is asking Naftogaz talk with the IMF to prevent future hikes in household gas tariffs. Last November's hike, a step toward reaching regional market prices, was extremely unpopular in Ukraine, one of Europe's lowest income countries. Through billboards, presidential candidates are promising to cut gas bills by 50-75%.
A blockchain startup CEO is missing after being kidnapped in Kyiv one week ago. CCN, a crypto news site, reports that Gregory Kucherkov, CEO of Cornerstone, was shoved into a van with tinted windows on March 10 and has not been seen since. The cornerstone was preparing to launch an initial coin offering that would fund real estate investments through the sale of blockchain tokens
Opened in 1794, Odesa, Ukraine's world-renowned Black Sea port, is being overtaken by its once junior satellites, Yuzhne and Chornomorsk, according to new cargo statistics from the Sea Ports Authority. Forty km south of Odesa, Yuzhne saw its cargo traffic jump by one quarter in January-February y-o-y, to 7.4 million tons, affirming its position as Ukraine's busiest port. Forty km north of Odesa, cargo volumes at Chornomorsk increased by 27%, to 3.993 million tons. This pushed Odesa down to fourth place. Odesa's cargo volumes increased by only 7%, to 3.971 million tons. Outside of Odesa region, Mykolaiv retained the second place spot, with a 26% increase, to 5 million tons.
Fewer ships handle more cargo at Ukraine's seaports. During the first two months of this year, cargo was up 12.5% y-o-y to 23 million tons, but port calls were down 7%, to 1,726 vessels. As last fall's bumper harvest moved through the ports, exports rose 21.5%, while imports fell by 5%. For export, the ships carried 35.5% more grain and 26% more metals than during the same period last year.
Container traffic grew by 17% in January-February, compared to the same period last year. With dedicated container trains fanning out from Odesa, Odesa port handles 62% of the 145,000 units. Yuzhne saw its container traffic triple, to account for 24% of the nation's total. In third place was Chornomorsk with 14%.
Freight service is suspended on almost 10% of Ukrzaliznytsia's 20,000 km rail network due to lack of maintenance, calculates the Center for Transportation Technologies. Fearing derailments, state railroad officials increased speed warnings by one-third last year – from 251 track sections in 2017 to 339 track sections today. Track reconstruction is overdue on 2,432 km, including the 1,857 km where train traffic is suspended. Two weeks ago, the state railroad posted a blacklist of 301 freight stations that are a candidate for closure due to low cargo volumes – 2.4 wagons or less a day during the fall harvest season.
Twenty percent of trucks selected to drive through new weigh stations in Dnipro last week were overloaded, reports Interfax-Ukraine. The truckers were fined. Operated by Ukrtransbezopasnost, the State Service for Traffic Safety, the weigh stations are not popular with truckers. On the Dnipro-Kryvyi Rih highway, truckers drove over weigh station signs. One driver blocked the weigh station entrance for two hours 'to change a wheel.'
Reopening regional airports like beer bottles, Infrastructure Ministry officials welcomed the restoration of air service between Kyiv and Uzhgorod on Friday and approved the first scheduled flight in years for Rivne.
To Uzhgorod, Motor Sich now flies a 50-seater Antonov 24 turbojet on a twice-weekly route: Kyiv Sikorsky-Lviv-Uzhgorod. The flight from Kyiv takes three hours, but the alternatives are a 10-hour drive or a 14-hour train ride. Enabling restoration of air service after a three-year gap, the European Aviation Safety Agency certified in December that Uzhgorod airport fully complies with EU air safety standards. With the runway ending at the Slovak border, all takeoffs and landings pass through EU air space.
Welcoming the flight, President Poroshenko said: "We should bring tourists to Zakarpattia region by airplanes and trains in order to increase the potential of the region." In re-election campaign mode, the President told Zakarpattia reporters that Kyiv is spending a record $32 million to repair the region's roads. To greet the President, residents placed flower pots in potholes along the expected route of his motorcade.
This Saturday, Bukovyna Airlines and tour operator Join Upstart a weekly flights from Rivne airport to Sharm El Sheikh, Egypt. With a leased McDonnell Douglas MD-83 passenger jet, Bukovyna and JoinUp also are studying starting a Rivne-Antalya, Turkey flight. Located a three-hour drive from Lviv airport, Rivne can draw passengers from northwest Ukraine and from southwest Belarus, also a three-hour drive. Starting last December, Eleron, a new Kyiv-based air cargo company, is basing three AN-26 turboprop transport planes at Rivne.