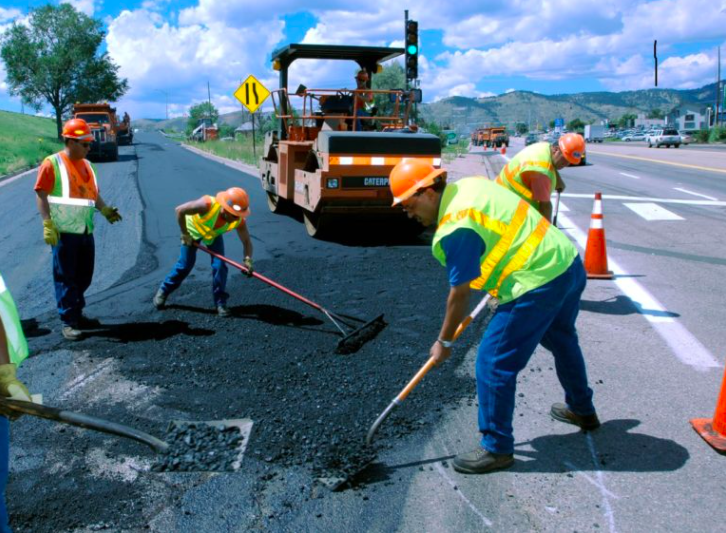 Monday, June 8
Corona Budget Raided for Roads...Ukraine is Big Organic Food Exporter to EU...'Mice' Eat 150,000 Tons of Grain...Watch Out Office Real Estate Investors: 1/3 of Workers Like Working at Home...Ze Drives Down Interest Rates...Exchange Rate, Reserves and Bank Branches Return to Pre-Corona Levels
The Rada voted Friday to allow money from the $2.4 billion coronavirus fund to be used to pave roads. Arguing that the health crisis is now a social crisis, the government says the Big Construction road paving project will directly employ 13,000 people and provide work for 50,000 more. On April 13, the Rada voted to create the fund to fight coronavirus.
As of two weeks ago, only 20% of the coronavirus emergency money had been spent, reports the Kyiv School of Economics, drawing on Finance Ministry data. That leaves $1.9 billion for spending this summer. On Thursday, Alexander Kurbakov, head of Ukavtodor, the state highways agency, said the bill "will allow the state to direct funds from the COVID-19 special fund to roads, provided their non-use for other measures to counter the pandemic."
Since March 13, 788 people have died from coronavirus-related complications in Ukraine. With testing up, about 450 new cases are being detected daily, most of them not requiring hospitalization. On Saturday night, Health Minister Maksym Stepanov blamed the steady number of new cases on people's "frivolous attitude" toward quarantine restrictions. "I understand that everyone is tired of the quarantine and wants to get back to normal life as soon as possible," he wrote on Facebook. "But we have no choice. The war with the virus has not been won yet."
Use of metallurgical slag and ash to replaced crushed stone during road construction could save Ukraine up to $18 million each paving season, calculates Olga Boyko, leader of the European Business Association's Ecology and Sustainable Development Committee. In the EU, up to 90% of slag and 43% of ash from steelmaking are used in road construction. Ukraine's Cabinet of Ministers approved the use of this industrial waste and Donets region started using slag and ash on a road project the next month.
Ukraine was second only to China as the EU's top source of organic food imports last year, according to a European Commission agro report for 2019. Ukraine supplied 10% of the EU's 3.2 million tons of organic imports, compared to China's 13%. Selling wheat, oilseeds, soybeans, fresh fruit and juices, Ukraine increased its organic exports to the EU by 27%. Ukraine's overall food exports to the EU increased last year by 21%.
Opening the door for more Ukrainian food exports to China, Bloomberg reports there is 'zero chance' that China will fulfill its promise to buy $36.5 billion worth of American food this year. The USDA forecasts US food sales to China will hit $8 billion in September. Washington's Peterson Institute calculates U.S exports to China of agricultural products run at 38% of the pace set in the February trade deal. Last year, China became Ukraine's single largest trading partner, partly on the strength of Ukrainian food sales to China.
Mice are to blame for 150,000 tons of grain missing from Ukraine's State Reserve, jokes Mykhailo Apostol, an adviser to the Minister of Internal Affairs of Ukraine. Mice, who "have names, job titles and must be brought to account in line with the law," he clarifies in a BBC story. Entrepreneur Roman Grabezhov calculates it would take "almost a billion mice" to eat that much grain. The first phase of a national audit – a check of warehouses in five of Ukraine's 24 oblasts – found 18,000 tons missing from one, 20,000 tons missing from another, and 112,000 tons missing from a third. BBC calculates that is $30 million worth of missing grain.
In an attitude shift that could impact office real estate, shopping and commuting patterns, 37% of respondents to a job agency survey would like to continue working from home after the quarantine is lifted. In the grc.ua survey, 48% of participants want the option to work at home until the coronavirus situation is completely under control, and 38% say companies should provide transport so workers do not take crowded minibuses or the Metro.
Almost half of Ukrainians think that their country is developing — and the other half believe it is stagnating, according to a survey conducted by Kyiv International Institute of Sociology. "Forty-seven percent of respondents believe that Ukraine is developing slowly and turning into a developed country," Anton Hrushetsky, deputy director of the Institute, told reporters Friday. "At the same time, 46% chose the opposite view that Ukraine is stagnating and life is becoming increasingly unbearable." In a telephone poll of 1,500 people taken in the last week of April, at the height of the lockdown, 49% said the nation's top priority is to develop the economy, while 30% said the top priority is to win the war.
Looking ahead, 46% of adults polled say Ukraine should join the EU, and 42% say Ukraine should join NATO. By contrast, 13% say Ukraine should join the Moscow-led Eurasian Economic Union and 12% say Ukraine should join Moscow's Collective Security Treaty Organization. If offered a foreign passport, 11% say they would move to the US or the EU. Only 6% said they would move to Russia. Offered a hypothetical moving 'bonus' of $100,000, the portion agreeing to move to Russia rose to 11%.
Tax registration of new entrepreneurs and new companies have returned to pre-coronavirus crisis levels, Prime Ministery Shmygal writes on his Facebook page. Noting the 5,000 entrepreneurs, or 'FOPs' and 1,000 new businesses registered, he writes: "The government's anti-crisis measures are yielding the first results." The Rada is reviewing a bill to create the "New Money" program which would give small businesses loans at 3% a year.
Last week, President Zelenskiy said "we will pressure lenders" so that borrowing rates will be "maximum 5-6%." This Thursday, the National Bank of Ukraine is expected to lower Ukraine's 8% prime rate, probably to 7%.
Concorde Capital's Alexander Paraschiy writes: "Zelenskiy's latest political stunt may feed his positive image and improve his popularity…[but] Zelenskiy's professed goal of banks offering individual loans at 5-6% does not look feasible, given the central bank's mid-term expectation of a key rate of 7% and its mid-term inflation target of 5%. As the government is borrowing today at 10%-11% in local currency, bank loans at 6% are possible only under state subsidies to the banks."
With the purchase of $411 million on the interbank foreign exchange market last week the National Bank of Ukraine zeroed out the impact of its big sales in March to defend the hryvnia. Since the start of this year, the central bank has bought $347.5 million more than it sold. "By this way, this week we blocked the result of 'black' March and entered the plus for foreign exchange interventions," the bank reported. Reserves are back to $25.4 billion.
The hryvnia trades at 26.70 to the dollar, 5.5% stronger than its crisis low of 28.27 on March 26. In May, Ukrainians sold $909 million through the banking system, or $49 million more in foreign currency than they bought, the central bank reports.
Ukraine's banks have opened 89% of their branches, up from 75% one month ago. The National Bank of Ukraine reports on its Facebook page: "Banks, along with the whole country, are gradually returning to normal life."
About 100 flights a day flew in Ukraine's airspace in May, down 89% year over year, reports UkSATSE, the national air traffic control agency. Next Monday, after a 3-month suspension, international flights are to be re-started in and out of Ukraine. Last Friday, domestic flights started from Kyiv Boryspil to Odesa and Dnipro. But UkSATSE reports: "Experts estimate that a return to the volume of pre-crisis flights can last up to two years."
From the Editor:  On Saturday, I took my family to the Zoo. We found people crowding to pet the goats, to snap selfies with the swans, and to wait in long lines under the blazing sun for hot dogs. Only the people who worked there wore masks. I hope my pet theory proves correct: that fresh air and sunshine burn away the virus. With Best Regards Jim Brooke jbrooke@ubn.news