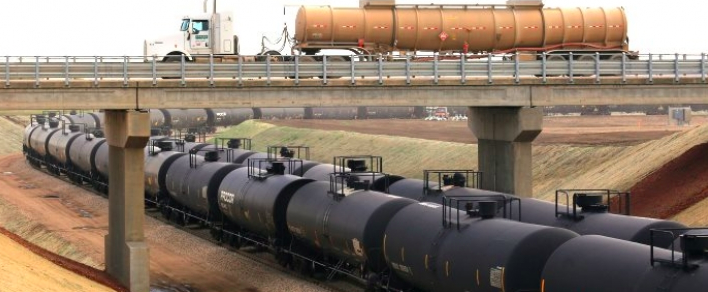 Diesel and butane prices are to rise this week in the wake of Russia's June 1 bans on energy exports to Ukraine. Last week, Ukrainian producers of liquefied petroleum gas increased their prices by 30%, Sergei Fedorenko, commercial director of UkrGazVydobuvannya, writes on Facebook. Kazakhstan's Tengizchevroil had to suspend shipments of LPG to Ukraine last week after Russia refused to allow transit. The company accounts for about 15% of Ukraine's LPG.
 With Russia and Belarus – a transit country – supplying about 80% of Ukraine's petroleum imports, consumers should prepare for price hikes and price gouging warns Ukraine's Antimonopoly Committee.
Truckers and weekend barbecuers should prepare for shortages and higher prices, Oleskandr Danylyuk told reporters on Saturday. "Diversification options exist," says Danyluk, the new secretary of the National Security and Defense Council. "Some may take time, some simply lead to an increase in the cost of the product, such as gasoline." Easing pressure on Ukraine, the price of Brent crude oil fell to the lowest level in three months, about $65 a barrel.
Burisma Group plans to build a $25 million plant capable of producing 50,000 tons of liquefied petroleum gas a year, reports Nefterynok. The natural gas would come from Burisma's field in the Kharkiv region.
After no foreign energy companies bid for oil and gas licenses at two auctions this spring, five Western companies are among the 13 bidders for the 50-year oil and gas production sharing agreements. With bidding closed, the foreign bidders are Vermilion of Alberta, Canada; Aspect Energy of Denver, Colorado; SigmaBleyzer, of Houston, Texas; Nafta of Slovakia; and EPH, or Energetický a průmyslový holding, a.s., of the Czech Republic. WorldOil.com reports that Ukraine's Intergovernmental Commission is to evaluate bids in June and make its recommendations for winners to the Cabinet of Ministers.
Russia's Transneft pipeline firm says it shipped west 'only' 3 million tons of contaminated oil, not the 5 million estimated by Belarus, Moscow's Kommersant newspaper reports. Sergei Andronov, vice-president of Transneft, says the pipeline cleanup should be completed by the end of this year. Because of the dirty oil problem, Russia's oil output fell to 11.1 million barrels per day in May, the lowest level in a year, reports Reuters.
"Tainted Russian oil threatens to pollute politics of gas" headlines a Financial Times opinion piece. "The crisis has undermined the notion that Moscow is a reliable and dependable supplier," writes Henry Foy, the newspaper's Moscow bureau chief. "The PR impact and blow to Russia's reputation has spread further than the contaminated supplies ever got, at a critical time for Moscow's image."
Alibaba and other large Chinese companies are interested in taking part in possible privatization of Ukrposhta, Igor Smelyansky, CEO of the national postal operator, writes on Facebook. "Alibaba warehouses and its logistics are being built in Russia, Belgium, Latvia, Estonia (and soon in Africa), but not here," Smelyansky writes of the world's largest retailer and e-commerce company. "Alibaba likes to work through partners and share risks with them. But they want certainty, understandable strategies and clear rules at customs."
During the first four months of this year, Ukraine's agricultural exports increased by 19% to $7.1 billion. Sales were up $1.1 billion from January-April of last year. With farm products the nation's top export item, the main destinations were: Asia – 42%; EU 33.5%; Africa – 16%; and former Soviet Union – 7%.
Dragon Capital's Ukraine real estate fund earned a net profit of $3.17 million last year, turning around a 2017 net loss of $4.85 million. According to a filing on the London Stock Exchange, net asset value fell by 15%, to $36.2 million, due to a distribution of $9.8 million to shareholders of the Ukrainian Real Estate Investment Fund Dragon Ukrainian Properties and Development Plc. Dragon Capital Investments owns 61% of the fund.
Ukraine is fighting two wars – with Russia and with corruption, President Zelenskiy told US Senator Robert Portman on Thursday. "We have two wars – a war with Russia and a war with corruption within the country, which is a threat, first of all, for the economy of Ukraine," Zelenskiy told the visiting senator, a Republican from Ohio. The next day, Zelensky with heads of two key anti-graft agencies and demanded "tangible results of the investigation into high-profile corruption in the next three months. " He met with Artem Sytnyk, head of the National Anti-Corruption Bureau of Ukraine, and Nazar Kholodnytsky, head of the Specialized Anti-Corruption Prosecutor's Office.
Kristina Kvien, the U.S. new acting ambassador, or Charge d'Affaires, starts work in Kyiv this week. Moving from Paris, where she had the number two job at the US embassy, Kvien has served as an economic counselor at the US embassies in Paris, London, and Bangkok. She has served at the US embassy in Moscow and has an MS in Strategic Studies from the U.S. Army War College.
President Zelenskiy visits Brussels tomorrow and Wednesday for talks with EU and NATO officials. He also has been invited to visit Paris, Washington, and Toronto this summer.
Bolstered by a surge in 'e-Residents' of Estonia, the Ukrainian-Estonian Chamber of Commerce has opened in Tallinn. Aimed at IT entrepreneurs, the e-Residency program gives non-Estonians access to Estonian services such as banking, company formation, and payment processing. To date, 3,431 Ukrainians are e-Residents of Estonia, the third largest group of foreigners. Ukrainian e-Residents have founded 729 companies, the largest for any nationality. Wizz Air flies to Tallinn from Kyiv Sikorsky and Estonia's Nordica flies from Kyiv Boryspil.
Lviv Airport handled 51% more passengers during the first five months of this year than during the same January-May last year. With 90% of passengers flying on international routes, the airport served 722,300 passengers. For comparison, the airport handled 708,000 for all of 2013. Lviv now has direct flights to 32 foreign cities, largely in the EU. On June 14, Earnest launches a Lviv-Venice flight. On July 21, Jonica launches a Lviv-Athens flight.
Ukraine's longest internal flight – from Kyiv Sikorsky to Uzhgorod – resumes today. Motor Sich will make the 625 km direct flight on Mondays, Wednesdays, and Friday. For comparison, this flight is almost as long as a Paris-Marseille flight. Motor Sich is using Yak-40 regional jets to make the two-hour flight.
Flixbus, Europe's largest bus operator, plans to announce next week the major expansion of its bus service between Ukraine and the EU. Based in Germany, Flixbus operates in 28 countries, serving 2,000 cities. In 2017, it started several routes to Ukraine. Last year, it opened in the United States, largely serving American border states from Los Angeles.
Editor's Note: UBN is a media sponsor for the Ukrainian ID conference next week in Kaniv, Cherkasy region. Known as the "Ukrainian Davos," the conference runs June 7-8 with the theme "The Revolution of Values." Last summer, I participated in this intellectual retreat and found it highly worthwhile. For more information or to register, visit ukr-id.com/en/#about_forum – best regards Jim Brooke – jbrooke@ubn.news.