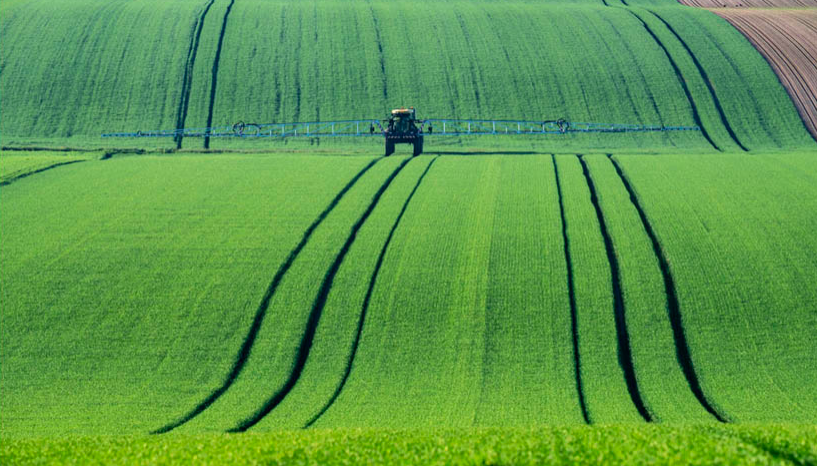 The World Bank approved a $350 million to Ukraine Friday to support the creation of a private farmland market, to help state banks dispose non-performing loans, break up the monopoly in gas distribution and to strengthen the social safety next for elderly during the Covid-19 pandemic. This Development Policy Loan is designed to be the first of two. It comes in addition to two loans totaling $285 million recently approved by the Bank.
In Ukraine's first major infrastructure concession, a Georgian-Swiss consortium signed papers Friday to run Kherson Sea Port for 30 years as public private partnership. Shota Hadzhishvili, founder of Risoil SA., one of the partners, said: "We plan to use all the possibilities of shipping on the Dnipro, including the acquisition and construction of modern vessels." Located near the mouth of the Dnipro, the river port can load ships capable of delivering grain throughout the Mediterranean.
President Zelenskiy promised on Facebook: "This is only the first such agreement. There will be more to come!" Infrastructure Minister Vladyslav Krikliy said final papers for the Olvia port concession will be signed in July. He said the next port concession will be Chornomorsk, Ukraine's third largest commercial port. The IFC, lead advisor on the concession, said: "Ukrainian seaports operate at only about half of their potential capacity due to many years of underinvestment and significant degradation of the country's infrastructure."
IFC, a unit of the World Bank Group, is working on more than five pilot concession projects to mobilize private sector investment in roads, airports, railways, energy, and healthcare. Jason Pellmar, IFC regional manager, said: "IFC has a strong track record of structuring high-impact PPPs and concessions. This port project will help boost the development of Ukraine's infrastructure sector and bolster its agricultural exports.
The US, Hungary, and Sweden are offering aid to help Ukraine's Carpathian region recover from what the European Commission calls the area's worst floods in half a century. A tally prepared Saturday summarized the damage: flooding in 180 towns and villages in Ivano-Frankivsk, Chernivtsi, Lviv, and Ternopil regions; 202 km of roads and 94 bridges destroyed, and 620 km of roads and 259 bridges damaged.
A snap poll of participants at a European Business Association webinar last Thursday found that: 68% of companies have fully or partially returned to the office; 60% plan to keep the company's staff unchanged; 28% are thinking about downsizing; and 13% are looking for new employees. On salaries, 69% plan no change, 21% think about a reduction, and only 9% are mulling pay hikes.
The GDP 2020 Predictions Sweepstakes are underway –
ICU Investment Group's head of research Serhiy Nikolaichuk: Q2 down 10% yoy; 2020 down 6.7%, followed by a 5.7% rebound in 2021.
Dragon Capital's Tomas Fiala:  2020 down 7% yoy; 2021 up 4%. He tells a EBA conference: "The GDP is expected to drop by approximately 7% in 2020, while during the previous two crises the economic decline reached 15-16%…The economy will return to the level of early 2019 only by 2022."
IMF's Resident Representative in Ukraine Gösta Ljungman: "At the end of 2021, GDP will be about 6% lower than 2019. Ukraine will only return to pre-quarantine GDP level in 2024."
The central bank bought $424.5 million last week – almost four times the $110 million it bought the previous week. With these purchases, the hryvnia dollar exchange rate stayed little changed – 26.7 hryvnia/USD. In the first half of this year, the National Bank of Ukraine has bought a net $922 million.
Shipments from China to Ukraine by Alibaba's Cainiao Smart Logistics Network are up 74% yoy during the first five months of this year, reports Ukrposhta. Of the 665,000 kilos of goods, the most popular categories were: electronics, clothes, children, beauty, health, home and garden.
Ukrzaliznytsia is preparing to receive one container train a week from China this summer. In June, one train from Yantai arrived at Kyiv Liski on June 9. A second is to arrive this week from Wuhan. A third left Nanchang for Kyiv on Friday. "Container trains between China and Ukraine may become regular in the near future," Ukraine's state railroad said.  "Ukrzaliznytsia is ready to accept 5 or more such trains a month."
Separately, Ukrzaliznytsia hopes to attract the transit of EU-bound Chinese container trains by using two stretches of Soviet wide gauge track that reach into Poland. This would allow shippers to bypass the backlog of trains at the rail gauge break on Belarus' western border. This summer, Poland's state-owned railway company PKP is establishing a subsidiary to manage international traffic on a 30km stretch of dual gauge track from Poland's border with Volyn to Chelm. The Polish border crossing is 70 km west of Kovel, a western Ukrainian railroad junction city where tracks converge from five directions.
Recently, PKP made a test run with a Chinese container train through Ukraine on a longer, parallel line from Hrubieszów to Sławków. The goal is to use this 400 km line from the Volyn Region border to an industrial city near Krakow to bring containers halfway across Poland for final delivery by truck to Germany or the Czech Republic. January-May, the volume of rail traffic though Kazakhstan's two rail gauge breaks with China, increased by 28% yoy, to 8 million tons.
Ukraine's Health Ministry has updated its 'red list' of countries for coronavirus. Travelers from these countries face Covid test on arrival, or two weeks of self-isolation. The list, little change from a week ago, includes: US, UK, Canada, France, Spain, Russia, Belarus, and Moldova. The countries have infections above 40 active cases per 100,000 people. Ukraine has 50 cases per 100,000. By Wednesday, the EU is to announce its 'red list' of countries. The US and Russia are expected to be on the list. It is unclear about Ukraine.
This Saturday, Air Astana resumes flights between Almaty and Kyiv Boryspil. Flying three times a week, the flight are timed for transfer to onbound flights to Seoul. Each passenger is to pass a temperature check and show a recent certificate of a Covid test with a negative result.
On July 20, six months after the UIA flight out of Tehran was shot down, aviation experts are to start reading the flight recorders in France, Bloomberg reports, citing Iran's state-run Islamic Republic News Agency. "An Iranian aviation team will transfer the black boxes to France and data extraction will begin on July 20, if nothing happens out of the ordinary," Mohsen Baharvand, deputy foreign minister for legal and international affairs, told the agency. On Jan. 8, at the height of tensions with the US, an Islamic Revolutionary Guard Corps air defense unit fired two Russian-made Tor-M1 surface to air missiles at the Ukrainian International Airlines passenger jet, killing all 176 on board.
From the Editor: Today is Constitution Day, a holiday in Ukraine. Judging by the 20 km traffic jam of weekenders trying to get into Odesa Friday afternoon, the economy may not be doing as badly as the pundits prognosticate. In the comfort of whereever you are, you can watch UNIAN's probki porn. Keep in mind, the drive north this afternoon could be a rerun. With Best Regards Jim Brooke jbrooke@ubn.news