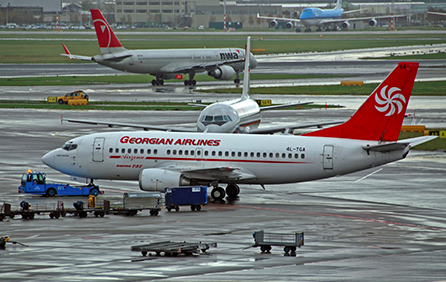 All flights between Russia and Georgia are to end two weeks from today, on July 8. In response to anti-Kremlin demonstrations in Tbilisi, President Putin on Friday ordered an end to sales of package tours to Georgia and an end to flights. On Saturday, Russia's transportation ministry banned Georgia's two airlines from flying to Russia. The bans affect six Russian airlines and effectively kills a fast-growing tourism industry that brought 1.4 million Russian tourists to Georgia last year, 16% of the total.
In response, Mamuka Khazaradze, founder of Georgia's TBC Bank, writes on Facebook: "I am ready to finance 10 charter flights of Georgian Airways for Ukrainian tourists from Kyiv to Tbilisi, in order to assist the Georgian tourism industry!" Georgia drew 177,000 tourists from Ukraine last year, the sixth largest nationality. Ukrainians and Georgians enjoy visa-free, passport-free travel, needing only to show their national ID cards to enter each other's country. Coincidentally, on Thursday, the day of the anti-Russia demonstrations in Tbilisi, Georgia opened an honorary consulate in Lviv.
With 'new blood' in the Rada, Zelenskiy will push for laws to create a farmland market, to strip members of parliament of immunity from prosecution and to crack down on officials using government jobs to get rich. In an interview with Reuters, Dmytro Razumkov, head of Zelenskiy's party, did not set a timetable for the land market.  He also implied that control of the Rada would give a Zelenskiy government the power to pass necessary free-market changes. "The IMF has recently begun to take a rather tough position because this organization is fed up when it is constantly being deceived," he said. "I can cite many examples when certain agreements were reached between Ukraine and the IMF, and then we did not fulfil our commitments."
 "It's Amateur Hour in Ukraine, and That's Good," headines a Bloomberg Opinion piece by Leonid Bershkidsky, a Russian émigré journalist who is often skeptical of Ukraine. "Zelenskiy gets a rare opportunity to drain Kyiv's post-Soviet swamp," Bershidsky writes from Berlin. Predicting that the July 21 Rada elections will give Zelenskiy enough seats for a working majority, he writes: "That's likely to mean a revolution in Ukrainian politics not seen since the country gained independence in 1991 — for the political class, bigger even than the upheavals of 2004 and 2014." Looking at the new faces expected in parliament, he writes: "The parties likely to govern Ukraine after next month's election have selected people who will try to build a new system from the ground up."
In "Understanding Ukraine's Jewish President," a Wall Street Journal opinion piece, Natalie Gryvnyak quotes a childhood friend of Zelenskiy, Vadik Pereverzev, saying "what Volodymyr took from his family as tradition is an enormous work ethic"— not a religious identity. Grynnyak writes from Kyiv: "The election proved that politicians with ultranationalist or explicitly ethnic agendas don't have broad support. Instead, voters care about enhancing the rule of law, turning around the economy, and protecting Ukraine's territorial integrity."
Restoration of rail traffic with the Russia-controlled parts of Donetsk and Luhansk would result in big cargo increases for Ukrzaliznytsia — 40% for coal; 30% for iron ore; and 15% for ferrous metals. The estimates are published in the state railroad's strategy for 2019-2030. Although no concrete moves have been taken, Zelenskiy has said normalized economic relations with the occupied would be a step toward peace and reconciliation.
Ten days before the grain marketing year ends on June 30, Ukraine has exported 48.9 million tons of grain – 22.5% more than during the entire 2017-2018 marketing year. Yevhen Kravtsov, CEO of Ukrzaliznytsia, tells the UBN that the railroad is ready for a repeat of last year's bumper harvest with 1,750 operational freight locomotives, including 100 standing by in reserve.
After Zelenskiy promised business leaders on Thursday to carry through 'big privatizations,' the head of the State Property Fund immediately appealed to the new president to unblock privatizations, saying they have been frozen by "dubious lawsuits" since last December. "Otherwise, it will be too difficult to break the oligarchic system of 'freezing' state companies," Vitaliy Trubarov, head of the Fund, writes on Facebook.
The US House of Representatives has approved bills appropriating $700 million in aid to Ukraine next year, including $250 million in military aid. It is now up to the US Senate to approve matching legislation and for President Trump to sign the bills into law.
In South Korea's first solar project in Ukraine, GS Engineering & Construction signed a $24 million deal last week to build two solar plants in Zakarpattia. In the deal with Kyiv's Helios Strategia, two solar plants – with a combined 24MW capacity — are to be built by April near Mukachevo.
Companies from the US, China, Romania, and Ukraine are finalists for a Naftogaz project to increase gas production from depleted deposits in western Ukraine, Naftogaz CEO Andriy Kobolyev writes on Facebook. The four qualifying companies are Baker Hughes, from the US; a consortium of Xinjiang Bucking Energy Engineering and Zhongshi Shenli Petroleum Engineering, from China; Expert Petroleum Solutions SRL, from Romania; and Poltava Petroleum Company, from Ukraine. Kobolyev said he was happy to see the tender drew "powerful international players." Under production sharing agreements, winning companies would provide the money and technology and would share gas production with Naftogaz, the owner of the fields.
With the Leopolis Jazz Fest expected to draw thousands of visitors to Lviv this weekend, Lviv Airport reopens Terminal 1 today for domestic Motor Sich flights from Kyiv Zhuliany. Closed since Terminal A opened for the 2012 Euro Cup, the 1955-era Terminal 1 now finds a new life as air passenger traffic to Lviv grows this year by 50%. This growth follows a 48% y-o-y growth in air traffic last year. The goal is for all of Lviv's domestic traffic to go Terminal 1 – UIA flights from Kyiv Boryspil, and, in October, SkyUp flights from Boryspil.
Last week, this growth prompted the airport to double parking rates to 80 hryvnia day. Lviv's boom started two years ago when Wizz Air returned to Lviv. Ryanair soon followed. This year, it plans to carry 235,000 passengers on its Lviv routes, or 10% of the airport's forecast 2019 total of 2.4 million. Today, Lviv has direct flights to 33 foreign airports, largely in the EU.
Note from the Editor: Over the last week, I have seen the new President's name spelled four different ways in Roman letters – Zelensky, Zelenskiy, Zelenskyy and Zelenskyi. Without further ado, I am reverting to what seems to be the most normal: Zelenskiy. Best Jim Brooke jbrooke@ubn.news.