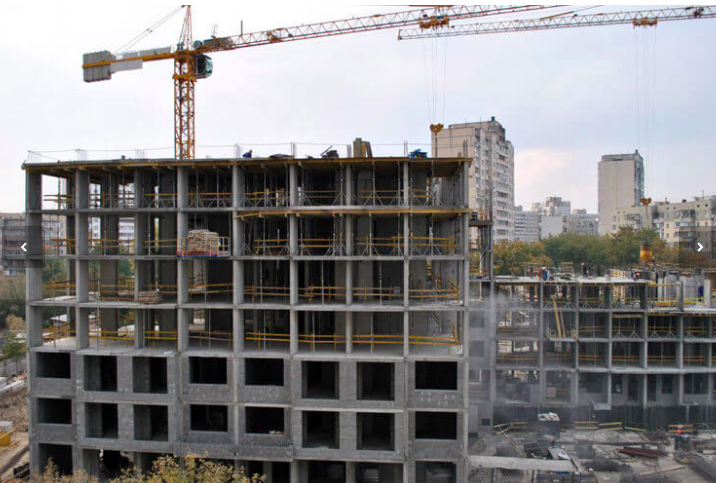 Monday, June 17
Construction Starts Double...Zelenskyy Wants Farm Land Market in 2020...Next Eurobonds: UZ and Naftogaz?...Investment Returns to Front Line Zone...Chernobyl HBO Series to Boost Foreign Tourism to Kyiv...Betting on Italy-Ukraine, Ernest Airlines Triples Investment
Construction starts doubled during the first quarter, compared to the same January-March period last year, reports the State Statistics Service. Nationwide, construction starts hit 2.7 million square meters, overwhelmingly residential apartment buildings. Growth champions are these cities: Kyiv up 3.3-fold to 1.1 million square meters; Lviv up 3.2-fold to 378,000 square meters; Odesa up 1.7-fold to 376,400 square meters; and Kharkiv up 1.6-fold to 231.300 square meters.
President Zelenskyy's party aims to create a private farmland market within "one year," Dmitriy Razumkov, head of the president's Servant of the People Party, tells Strana.ua news site. "The land market needs to be open — the moratorium is imposed from year to year because it is profitable," he said referring to a 'temporary' land sale ban that was imposed in 2001. To create a private land market, he said, it is necessary: to win a working majority in the July 21 Rada elections; to draw up law, and to prepare public opinion.
Ukraine's "successful" €1 billion Eurobond placement last week "opens a window for the potential placement of quasi-sovereign bonds, with the straightforward candidates for the new placements being Naftogaz (NAFTO) and Ukrainian Railway (RAILUA)," writes Concorde Capital's Alexander Paraschiy. He adds: "The deal is positive for the budget's and state debt's short-term sustainability."
The retail vacancy rate on Kyiv's Khreschatyk Street fell in May to 6%, reports Colliers International. The highest rent has not changed in two years: $83 per square meter. The mix of retail on Kyiv's premier street is: clothing – 31%; cafes and restaurants – 27%; and others — banks, pharmacies, jewelry stores, children stores, food and souvenir stores — 36%.
France's Air Liquide, the world's largest supplier of industrial gases, signed a $25 million deal with Metinvest Holding on Saturday to build an air separation plant at the Mariupol Metallurgical Combine. The plant is the first phase in a $78 million project that is to create 1,000 jobs. "This is a very important event for Ukraine as a whole," said President Zelenskyy, who attended the signing ceremony in the Donetsk region port with French ambassador Isabelle Dumont. "It will strengthen the faith of the western market in the stability of the country."
As investment returns to front line areas, Epicenter K opened on Saturday a two-story, 17,700 square meter shopping center in Kramatorsk, Donetsk region. "Despite the fact that the distance to the so-called 'delimitation line' is only 60-70 km, we decided to invest in the construction of a new shopping center in the Donetsk region and thus support the development of the eastern region," said Peter Mikhailishin, general director of the company, which has 52 shopping centers across Ukraine. "Today, it is the largest shopping center in the frontline zone." The center offers: 'Garden and Kitchen Garden,' 'Wood Products,' 'Sanitary Engineering,' a café, an entertainment center, and parking for 232 cars.
Holtec International, a New Jersey-based producer of small nuclear reactors, signed a partnership last week with Energoatom and the State Scientific and Technical Center for Nuclear and Radiation Safety to build in Ukraine six SMR-160 small modular reactors for deployment in 2026 at western Ukraine's Rivne Nuclear Power Plant. Using low-enriched uranium fuel, the reactor's core and nuclear steam supply system components would be underground. The design includes a passive cooling system that would operate indefinitely after shutdown. In Chernobyl and Fukushima, Japan, electric pump systems failed, leading to nuclear fires.
HBO's miniseries 'Chernobyl' is to boost Kyiv tourism this summer, drawing foreigners for 1-day, $100 tours of the site of the world's worst nuclear disaster. The 5-part series ended June 3 at the top of IMDb's list of top-rated television shows. This year, Chernobyl tour operators expect numbers to top 100,000, up from 72,000 last year. With foreigners accounting for 80% of visitors, leading nationalities are British, German, Polish, and American, Vitaly Petruk, head of the Exclusion Zone Management State Agency, tells Interfax-Ukraine.
Travel site Kayak found that flight search demand to Kyiv increased 18% since the show first aired last month. Travel app Hopper found an 8% increase in Kyiv searches. Chernobyl is a 2-hour, 140 km drive north of Kyiv. The HBO series sparked Chernobyl stories in The Atlantic, The New Yorker, The Daily Beast, Marie Claire, CNBC, CNN, Bloomberg, Reuters, and Buzzfeed.
For Kyiv's five licensed Chernobyl tour operators, there is a need to train more multi-lingual tour operators well versed in nuclear science and late Soviet history, Anna Romanova, head of the Rada subcommittee on tourism, resorts, and recreation, tells Interfax-Ukraine. Yaroslav Emelianenko, director of the Chernobyl Tour Operators Association, says: "We are urgently preparing new guides, preparing new locations." Predicting visitors will double this year to 150,000, he says: "We are also building new routes, including water and kayaks, and to other parts of the Chernobyl zone, which are now closed."
A binational Belarussian-Ukrainian team is surveying the navigable depths of the Pripyat River with the goal of running tourist boats and cargo barges through the exclusion zone, between Mazyr, Belarus and Kyiv. The State Exclusion Zone Management Agency is allocating $3 million this year to rebuild two road bridges in the zone. Petruk, the agency head, tells Ukrinform that solar stations will be built on Chernobyl's already degraded industrial land, not in the 'ecological biosphere reserve,' which accounts for 85% of the zone.
Nature tourism is a future draw for what now are the largest nature reserves of Belarus and Ukraine. Closed to human habitation for three decades, the zone now "is inhabited by brown bears, bisons, wolves, lynxes, Przewalski horses, and more than 200 bird species," Germán Orizaola, a researcher from the Universidad de Oviedo, writes an article for The Conservation, 'Chernobyl has become a refuge for wildlife 33 years after the nuclear accident." "[This] suggests that the pressures generated by human activities would be more negative for wildlife in the medium-term than a nuclear accident – a quite revealing vision of the human impact on the natural environment."
With travel to Italy growing, Ernest Airlines plans to triple its investments in Ukraine, to €100 million, and to base two jets next year in Ukraine, probably in Lviv and at Kyiv Sikorsky. With 13 Ukraine routes — from Kyiv, Lviv, Kharkiv, and Odesa – the Milan-based discount airline expects to more than double its Ukraine air traffic, to 500,000 this year, reports avianews. From Kyiv, Ernest flies to five Italian cities: Bergamo, Bologna, Genoa, Milan-Malpensa, Naples and Rome-Fiumicino.
The price of success for SkyUp, Ukraine's new discount airline, is a campaign of harassment. Without naming which air rival might be orchestrating the campaign, Alexander Alba, a shareholder and founder of the one-year-old airline, writes on Facebook: "Today, our company feels unprecedented pressure: dirty information attacks (for example, a fake website with reviews, Bot attacks, a false video message by a journalist from one of the main channels), six simultaneous checks in a group of companies, unfounded [Rada] deputy speeches and the already legendary decision of the Baryshevsky court." After that decision suspended its license, SkyUp immediately appealed. It is operating normally.
Note from the Editor:  Welcome surprise! Ukraine's under-20 national soccer team defeated South Kore 3–1 Saturday night in the 2019 FIFA U20 World Cup finals, winning the first-ever gold in this football tournament for Ukraine. Congratulations to the valiant young men in blue and gold! Jim Brooke – jbrooke@ubn.news