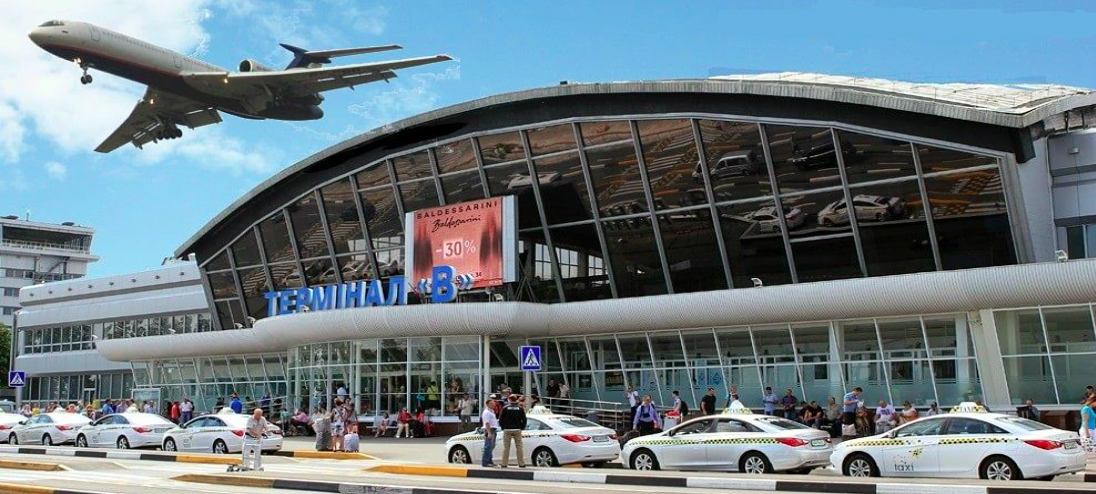 Monday, June 15
Boryspil Reopens Today with Limited International Flights...Air, Hotel Bookings Weak...Corona's Return: First Lady Tests Positive...IMF Money Arrives, in 5 Different Currencies...Betting on the Future, Zaporizhia Opens $40 million Air Terminal Today...
After a 3-month break, Kyiv Boryspil reopens today for scheduled international flights. Planes are to take off from Ukraine's largest airport today for: Belarus, Belgium, India, Israel, Lithuania, Moldova, the Netherlands, and the United Arab Emirates. Fifteen flights are scheduled, Pavlo Ryabikin, the airport's general director, told reporters yesterday. "Because the companies that started selling tickets do not see much demand, and I cannot rule out that some companies will cancel scheduled flights," he said. "In two weeks, we will see a stable schedule of international flights."
Departing passengers are to enter a lone operating entrance to Terminal D. They will be admitted only if they have tickets, wear masks and have temperatures below 37.2 (99F). These rules also apply to domestic flights, which started on a very limited basis June 5. UIA is running flights from Boryspil  to Odesa, Lviv and Kherson twice week. Last Saturday, Boryspil's empty 4 km concrete runway was used for a 42 km charity marathon to raise funds for protective suits for doctors.
Albania, Turkey and the United States allow unlimited arrivals from Ukraine. For now, Turkey requires Covid-19 testing on arrival. The EU has closed its border to most visitors from outside the Schengen Zone until July 1. Germany advises its citizen to not visit Ukraine and 160 other countries until Aug. 31. UIA is offering special flights from the US to Ukraine – on June 22 from New York and on June 25 to Miami.
Passengers traveling to Ukraine must have health insurance to cover coronavirus treatment here. The Health Ministry is dividing the world into Red and Green countries. The dividing line is a national infection rate of 40 per 100,000 people, roughly double Ukraine's rate. Passengers arriving from a Red country will have to download the Diy Vdoma app and self-isolate in Ukraine for two weeks. A map will be posted on the Ministry website and updated every three days.
Boryspil is cutting its staff by 20%, to 3,000, Ryabkin says. Terminal F will only reopen when passenger volumes return to 1 million a month, the level of 2018. He predicts Ukraine's air passenger flows will only return to 2019 levels at the end of 2023.
Today, the Kyiv Boryspil Express train resumes with limited service — three trains in the morning and three in the evening. As of last night, Ukrzaliznytsia had not refreshed the schedule from mid-March, when 29 trains ran daily. However, Unian has posted the schedule. Expanding service, the train now connects with the city's Metro system at the Vidybuchi Green Line Station.
Although this is to be the summer of domestic tourism, Ukraine hotels report weak July-August bookings, Interfax-Ukraine concludes after interviewing executives at three of the nation's largest hotel chains. Andriy Dema of Reikartz Hotel Group says July-August booking range from 45 to 75%, down from 80% across the network last year. Arthur Lupashko, founder of Ribas Hotels Group, says only 20-25% of his rooms are booked for July-August. Premier Hotels and Resorts calls bookings for July-August 'an empty sheet.'
Softening travel demand is the sense that Ukraine's low level coronavirus problem is here to stay for the summer. In the last four days, about 700 new cases have been detected daily, about 50% above the average. Bed occupancy of Kyiv's Covid-19 hospitals is now 46%, up from 35% two weeks ago. While some increases are due to increased testing, Ukraine took a psychological blow Friday when First Lady Olena Zelenska announced she tested positive for coronavirus and is being treated at home, in self-isolation. Coming as two of Ukraine's top peace negotiators returned from Paris with coronavirus, President Zelenskiy has cancelled all face to face meetings and trips outside of Kyiv.
Ukraine has received the $2.1 billion from last week's IMF coronavirus stabilization deal, boosting national reserves to $28.7 billion. Yakiv Smoliy, governor of the National Bank of Ukraine tweeted Friday: "Did you know that the funds are not coming directly from the IMF, but from the member countries of the Fund? Since yesterday, the funds have been received in parts in dollars, euros, yen, pounds and yuan." An IMF checkup team is to come to Kyiv this summer, Finance Minister Serhiy Marchenko told Inter TV Friday night.
Moody's has upgraded Ukraine's long-term foreign debt rating to B3 from Caa1. Moody's cited Ukraine's new IMF deal for "the easing of Ukraine's near-term funding challenges." Fitch and S&P give B ratings to Ukraine's long term foreign currency debt. All three agencies say Ukraine's outlook is 'stable.'
Ukraine could return to the Eurobond market at the end of this year, raising $1 billion, according to the IMF memorandum  signed last week with Ukraine under the new $5 billion Stand-By Arrangement. "The macro framework assumes that Ukraine will return to markets in Q4 2020," the memorandum says. "The framework does not assume non-resident inflows in the domestic bond market for the remainder of 2020."
An unexpected $6 million in cash dropped into the Treasury Saturday. At a press conference, officials of the Special Anti-Corruption Prosecutor's Office displayed photographs of bricks of $100 bills impounded in what they called a frustrated bribery attempt. They say a trio was arrested trying to pay for the cancellation of a case against Viktor Yanukovych-era ecology minister Mykola Zlochevsky for his alleged participation in the embezzlement of a stabilization loan from Ukraine's central bank to Real Bank OJSC.
Zaporizhia's new $40 million air terminal opens today, with officials hoping to offer 12 international destinations this summer, Infrastructure Minister Vladyslav Krikliy said after touring the new terminal. Coupled with a newly resurfaced runway and new lighting, the airport is positioned to be the leading airport for Ukraine's southeast. Located on the Donetsk Highway, the airport is a three-hour drive from Ukraine's two Azov ports — Mariupol and Berdyansk. Served by LOT, Motor Sich, SkyUp, Turkish, Wizz Air, and UIA, the airport is to offer direct flights this summer to: Minsk, Burgas, Prague, Vienna, Vilnius, Warsaw, Wroclaw, Gdansk, Krakow, Budapest, Istanbul, and Antalya. Motor Sich, the airport's hometown airline, will re-start flights June 15 to Kyiv Sikorsky and on July 1 to Minsk.
About 100 km north of Zaporizhia, construction is to start this year on rebuilding Dnipro airport and runway, Minister Krikliy said. As part of $3.7 million worth of design work, a 'Scandinavian-style" design was unveiled in mid-March by Dnipropetrovsk Region officials. Designed by Ukraine's UVT Group, the terminal will be built by Alexander Yaroslavsky's DCH Group. The state will build a 3.2 km runway and install modern navigation systems. When completed, Dnipro's terminal is to be able to handle 1,300 passengers an hour, three times Zaporizhia. To ease access, a $7 million, 7 km Dnipro Bypass is being built, connecting the Zaporizhia Highway and Dnipro Airport.
Last year, Zaporizhia airport handled 434,000 passengers, almost 30% more than its rival Dnipro. Dnipro has a population of 1 million, 25% more than the population of Zaporizhia.
From the Editor: For readers planning road or rail trips in or out of Ukraine, the Infrastructure Ministry is maintaining an interactive map on which land border crossings are open. Ukraine is tip toeing out of national self-isolation. But this summer, reduced travel is going to be the new normal. With Best Regards Jim Brooke jbrooke@ubn.news