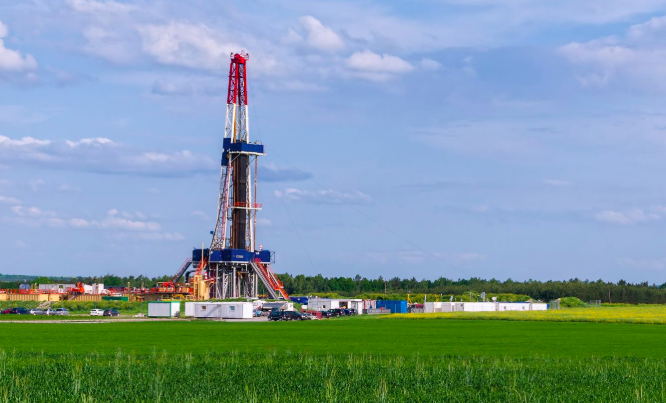 Ukraine accounts for 45% of the 186 active oil and gas drilling rigs active in Europe today, according to the monthly Baker Hughes European Rig Count. Russian rigs are not counted in the Europe listing. With 84 active rigs, Ukraine is stepping up exploration and production as doubts cloud future supplies from Russia.
Six weeks before the parliamentary election, two leaders of Ukraine's pro-Russian coalition flew to St. Petersburg Friday and won an offer from Gazprom CEO Alexei Miller to sell gas at a 25% discount. Miller also asked for two-way, Russia-Ukraine talks to renew Gazprom's gas transit contract, cutting out the EU. Yuriy Boyko and Viktor Medvedchuk said Gazprom's calculations show that Ukraine's "government deliberately buys gas at exorbitant prices."
In response, Naftogaz officials said that, with European gas prices dropping, Ukraine already buys gas well below Gazprom's offered 'discount.' "First, they overestimate by 100% the fair market price, and then they give a 'discount' of 25%," Yuriy Vitrenko, Naftogaz executive director, writes on Facebook. "We don't need your illusory discounts."
Under heavy EU pressure to negotiate a new gas transit pact with Ukraine, Russia's deputy foreign minister Aleksander Pankin said Thursday: "No one has ever made an announcement that we will refuse [to continue gas transit]. For us, it would be deadly and irrational." Russia is on the defensive as European traders charge that Russia's Transneft cost them hundreds of millions of dollars by sending west large volumes of oil contaminated with organic chlorides.
Belarus state energy company Belneftekhim said Sunday it has partially resumed sending Russian oil west, towards Poland, aiming to ship 65,000 tons in June. To date, Belarus has shipped back to Russia 450,000 tons of contaminated oil. The state energy company says it needs two more months to clean up a key pipeline to Mazyr, one of its two refineries.
"You shouldn't yell, attack, etc., but you should take care of your interests. But you don't have to crawl on your knees," Belarus President Alexander Lukashenko advised executives of Belarus' Naftan refinery Friday on how to get compensation from Russia for the contamination damage. He complained that international companies are demanding $800 million from Russia, 40 times the compensation level considered for Belarus. He says: "We suffered the most."
US pressure and Denmark's recent elections may combine to delay completion of Nord Stream 2, Gerhard Schroeder, board member of Rosneft and chairman of Nord Stream AG, the gas pipeline construction consortium, told Reuters in St. Petersburg on Friday. As a result of Denmark's general elections last Wednesday, a center-left coalition is to take power. The new government is to include green MPs skeptical of Russia laying the pipeline through Denmark's Baltic waters.
Russia criticizes US plans to supply gas to Europe because it fears free market competition, Frank Fannon, U.S. assistant secretary of state for energy resources, told Reuters late Thursday. Hours earlier, Igor Sechin, CEO of Rosneft accused the US of starting an "era of energy colonialism," using energy as a political weapon.
Fannon, Washington's top energy diplomat, said: "[The Russians] don't like the idea of, even the concept of, competition because it forces a change in their behavior…They prefer to operate under opaque conditions in the dark of night. They're fearful of the energy that the U.S. is producing and the exports." The US is the world's fastest-growing exporter of liquefied natural gas. This year, it is to become the world's third largest exporter of LNG, after Qatar and Australia.
By the end of next year, all Ukrainian apartment buildings should have a gas meter for each apartment, Gennady Zubko, deputy prime minister for Housing and Communal Services, told the Rada Friday. Moving from the Soviet legacy of building-based metering, individual meters have expanded from 23% of apartments in 2014, to 80% today.
DTEK Energy Holding plans to build Ukraine's largest wind farm, Tylihulska with a 500 MW capacity, in southern Mykolaiv's Berezanka district. With 130 turbines spaced 1.5 km apart, the project would occupy 35,000 hectares and require 250 km of high voltage above ground and buried cables. Taking advantage of winds blowing up the Tylihul Estuary, DTEK plans to also build Tylihulska 2, a 65 MW plant. Currently, Europe's largest onshore wind farm is across the Black Sea in Romania: the 600 MW Fântânele-Cogealac project. Next year, Norway is to commission Fosen Vind, a complex of six onshore wind farms with a total capacity of 1 gigawatt.
The Rich and Powerful Cash In From Ukraine's Green Energy Gold Rush
headlines a recent report by Alisa Yurchenko for the partly USAID-funded Organized Crime and Corruption Reporting Project. Noting that Ukraine's 'green tarriffs' are to expire at the end of this year, Yurchenko writes that companies are scrambling to commission projects by late fall. "By far the biggest beneficiary of Ukraine's green tariffs is still Rinat Akhmetov," she writes. "His DTEK holding company plans to increase renewable energy generation from 210 megawatts at the beginning of this year to as many as 1,000 megawatts by year's end."
By the end of this year, Norway's Scatec Solar expects to see its total Ukraine investment hit €250-300 million and its portfolio of completed projects to hit 400 MW, Scatec Solar CEO Raymond Carlsen tells Energy Reform. Counting projects in the pipeline, Scatec hopes to hit 500 MW next year. "We would like to participate in auctions in Ukraine, expected in 2020," he says.
In Scatec's biggest project, Power China Guizhou Engineering Co. is building a €124 million project, 148 MW solar plant in Prohresivka, Mykolaiv. With Power China covering 65% of the project capital costs, the plant is to be launched in the first half of next year.
SkyUp starts flights tomorrow from Kharkiv to Paris. After flights from Kharkiv to Rome and Milan on Ernest Airlines and to Dortmund and Vienna on Wizz Air, the Paris flight is part of a new western orientation of an airport built in the mid-1920s to connect the capital of the Ukrainian SSR with Moscow and Leningrad. Today, the airport's busiest flight is LOT Polish to Warsaw. Next Monday, Ryanair inaugurates service from Kharkiv with a flight to Krakow. In October, it adds Poznan and Vilnius. In August, Wizz Air adds Krakow, its fourth Polish destination. In May, international traffic from Kharkiv increased by 34% y-o-y, to 95,100 passengers.
Note from the Editor: Tomorrow, UBN is media partner for the annual Ukraine Banking Day in London. Held for the second time, this financial gathering is presented by the Strategy Council, and supported by Ukraine's Embassy in London and the Independent Association of Banks of Ukraine. For more information, visit: http://strategy-council.com/en/events/the-2nd-annual-ukrainian-banking-day-in-london/ Best regards Jim Brooke – jbrooke@ubn.news.