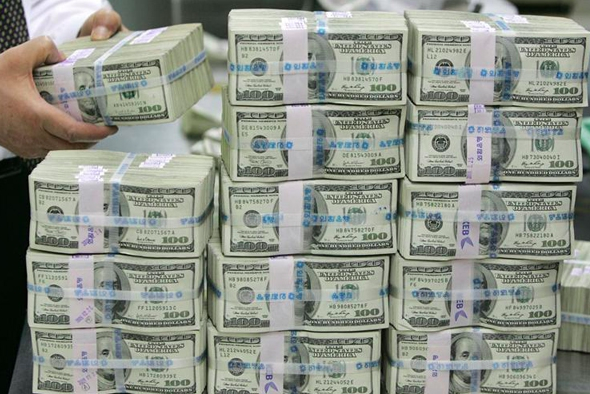 Ukraine expects the IMF Board to approve a $5 billion loan Friday and to disburse a first $1.9 billion tranche on Saturday, Prime Minister Shmygal tells Reuters. The second $1.6 billion tranche is expected from September onwards, and the third $1.5 billion tranche would come next year, Shmygal said.
The European Union approved disbursement of €500 million in macro-financial assistance to Ukraine. The EU says it has now provided Ukraine with €3.8 billion euros worth of loans to the country since 2014.
"Ukraine remains high on the European agenda," said Valdis Dombrovskis, a Latvian politician who is the EU's Commissioner for Financial Stability "We continue political, financial and technical support, especially during this time of crisis, to support Ukraine's reform agenda for building a more resilient economy." He noted that as part of the EU's policy to help its 10 eastern neighbors during the Covid-19 economic crisis, the EU is providing another €1.2 billion in MFA aid.
Confident of receiving the IMF money, the Cabinet of Minister has given the Finance Ministry the green light to pursue a $350 million World Bank loan.
Concorde Capital's Alexander Paraschiy sees the multilateral aid as the first step toward Ukraine returning to the Eurobond market this summer: "That will also pave the way for Ukraine to attract additional financing for the state budget on international debt markets."
Ukraine repaid a $1 billion Eurobond Thursday. Issued with US guarantees, the 5-year bond had an annual interest rate of 1.847%, the Finance Ministry reports. Prime Minister Shmygal tells Reuters the repayment "shows that we can and are able to service external and internal debt absolutely calmly." He said Ukraine repaid the bond without dipping into its $26.2 billion in central bank reserves. While Ukraine continues to borrow on the domestic market, he said: "Today, in the current situation, there is no urgent need to go to foreign markets and borrow there, firstly because the situation is unfavorable."
With a strong currency and low inflation, Ukraine's central bank is expected to cut interest rates again, Bloomberg predicts. Despite seven successive cuts, Ukraine's 8% prime is four times the 2% annual inflation rate. The next bank board meeting is June 11. In contrast to the financial crises of 2008 and 2014, Ukraine's hryvnia kept relatively strong through the Covid-19 crisis. Today's exchange rate, UAH26.8 / US$, is at the same level of one year ago, and 9% below the Feb. 28 peak.
Braving bomb threats, razor wire, brick walls, and strange court rulings, State Property Fund officials, backed by busloads of special police forces, entered the improvised headquarters of Centrenergo on Friday and installed the new, government-appointed leadership. Producing about 15% of Ukraine's electricity and thermal power, Centrenergo may have cost the treasury $3.7 billion since 2004, partly by selling electricity at below market prices to Ihor Kolomoisky's energy intensive ferro alloy plants, reports the Kyiv Post. The state company did not come out with 2019 financial results and executives hid the books, says Dmitry Sennychenko, head of the State Property Fund.
Centrenergo is to be privatized in Q2 of next year, Sennychenko tells Reuters. "We have created a commission, now we will choose a privatization adviser," Sennychenko said after the raid on the improvised company headquarters, a sanatorium in Kyiv's southern Koncha-Zaspa neighborhood. "This will be a consortium or investment bank, which will subsequently carry out all the necessary procedures for preparing the enterprise for privatization."
Gyms and swimming pools open today as the spread of coronavirus appears to slow. Shopping centers opened in Kyiv Saturday, although without food courts and cinemas. With suburban 'elektrichka' trains running today, Metro ridership is expected to go over last Thursday's level of 540,000. To keep social distancing, Metro officials plan to limit access to stations, a move that could cause crowds on the streets.
In a big step toward restoring normal relations with the EU, Ukraine opened 66 land border crossing in the West last weekend. Today, another six checkpoints are to open with Slovakia and Moldova. With these openings, about 50 border crossings, largely with Russia and Belarus, remain closed. Separately, all the crossings of the administrative line with Russia-controlled Donbas remain closed until June 22.
Trains to Western Ukraine re-start this Friday. Leaving Kyiv, trains will go to Ivano-Frankivsk, Kovel, Khmelnitsky and Uzhgorod, making selective stops at cities along the way. Today, Ukrzaliznytsia re-starts 42 trains to the East and South.
Starting tomorrow, ÖBB, Austria's state railway, resumes international trains, starting with routes from Vienna to Zurich and the Prague. Turkey recently restored its high speed intercity train service.
SkyUp is selling tickets for flights starting June 23 to these countries: Albania, Armenia, Bulgaria, Czech Republic, France, Israel, Italy, Portugal and Spain. Starting June 30, the low cost airline offers flights to Cyprus, Georgia and Greece. The airline sells tickets to those countries, based on the countries' plans to admit foreigners. Starting June 15, Greece says it will accept foreigners from 29 countries.
Ukraine's Foreign Ministry is negotiating reciprocal travel rights with Greece, Georgia and Turkey. Prime Minister Shmygal said Friday on "Freedom of Speech of Savik Schuster: "We will not restore regular flights before June 15. After June 15, those countries that will receive, obviously, will gradually restore regular flights."
With airlines in crisis, SkyUp asks the Rada to pass a law excluding domestic air travel from VAT, a privilege enjoyed by international air travel. Six months ago, the parliament's Committee on Transport and Infrastructure recommended passage. With its international route network sharply reduced, SkyUp says it can no long afford to offer low prices on domestic feeder flights.
Wizz Air, historically the discount airline with the most flights to Ukraine, is buying new jets, adding new destinations and opening four new hubs this summer, including in Lviv, Reuters reports from London. Wizz Air starts flights from Ukraine June 16. Strong in Central Europe, the Budapest-based airline launches a Kyiv Sikorsky – Salzburg, Austria route July 1.
Boryspil airport has taken out a $10 million loan from Alfa Bank. In 2018 and 2019, Boryspil was among the top 10 fastest growing airports in Europe. After the government suspended scheduled air travel to Ukraine in mid-March, the airport's revenue fell by 90%.
UIA operates one flight to New York this Wednesday and one flight to Miami next Monday. Tickets can be purchased through the UIA site: www.flyuia.com. The US Embassy is collecting date on passengers to facilitate their departure from Boryspil. If you have a ticket on the June 3 flight to New York, submit your information here by 5 pm today.  If you buy a ticket for the June 8 flight to Miami,  submit your information here by 5 pm Thursday.
From the Editor:  Dutch reader Pieter Hagendoorn, a man who knows his barges, writes that Infrastructure Ministry calculations are too optimistic, saying that one tug pulling two barges down the Dnipro can move 1 million tons in four years and replace 250 trucks. He writes that one tug normally pulls two barges with a total load of 4,000 tons. If the tug is able to make 30 trips in the April-October river shipping season, that means 120,000 tons a year. One truck can carry 24 tons 100 times a year, or 2,400 tons a year, With Ukraine's over loaded trucks, it could be 3,000 tons a year. That means that one tug pulling two barges can replace 40 trucks a year. It still is a benefit, but not the silver bullet to solve Ukraine's banged up roads. With Best Regards Jim Brooke jbrooke@ubn.news