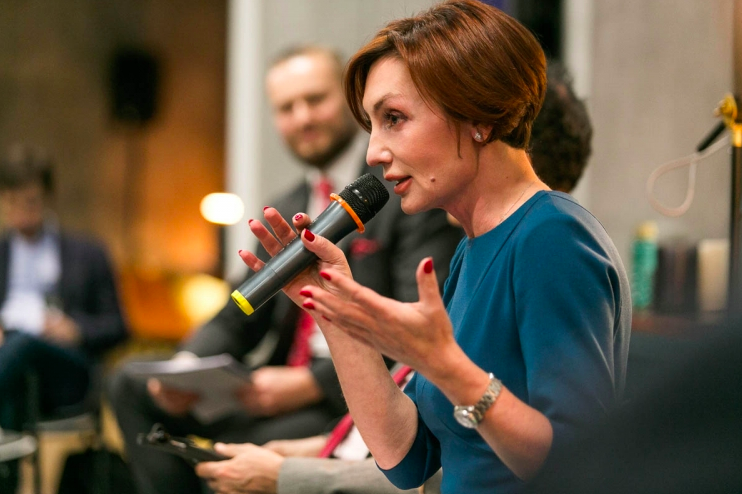 Monday, July 6
Outgoing Central Bankers Warn of Backsliding...IMF, EU Aid Could Depend on New Governor...Cargo Jumps at Ukraine's Busiest Port...Retail Returns from Covid Low...For Summer Travelers: Turkey and Egypt Are Welcoming; Greece and Poland Are Snooty...
The name of President Zelenskiy's candidate for governor of Ukraine's central bank will be submitted to the Rada next week,  Iryna Vereshchuk, a member of parliament, tells Interfax-Ukraine.  Last Friday, the Rada voted by a wide majority – 286 of 424 members – to accept the resignation of Yakiv Smoliy, who held the post for the three years at the National Bank of Ukraine. Smoliy's 7-year term was to expire in 2025, but he resigned Wednesday, complaining of sustained political pressure. On Friday, he warned the Rada of "systematic political pressure to make decisions that are not economically justified and may cost dear to the Ukrainian economy in the long term."
Kateryna Rozhkova, now acting central bank governor, warned Friday about "red lines," especially the bank's independence and "the right of the National Bank to make decisions regardless of political wishes, but only with the aim of maintaining macro-financial stability." She told reporters: "It's also inadmissible to turn on the printing press, inadmissible to return bankrupt banks to their former owners."
Under Smoliy, the central bank cut annual inflation to 2%, stabilized the currency and cut the prime interest rate from 18% to 6%. According to a new poll, Ukraine's low inflation rate is acceptable to 94% of respondents and 88% oppose weakening the hryvnia. Almost 90% of the Gradus Research poll agreed with the statement that inflation and devaluation benefit oligarchs, not ordinary people. Some politicians argue that Ukraine's economy will grow faster with 10% inflation and a 10% devaluation.
Last month, IMF Managing Director Kristalina Georgieva made non-interference in the independence of the central bank a condition for the $5 billion IMF deal. On Friday night, Prime Minister Shmyhal said on Savik Schuster's Freedom of Speech program that the IMF reacted "tensely, but with restraint. We continue to cooperate." Two weeks from today, on July 20, he said he expects to sign a memorandum on receiving €1.2 billion in EU macro-financial aid. Analysts speculate that this aid, and a second IMF tranche in September, may depend on the caliber of central bank governor proposed by Zelenskiy.
Timothy Ash writes: "This is perhaps the most important hire that Zelenskiy will make during his presidency. There is no room for mistakes, as now appears to be the case with the cabinet reshuffle back in March."
Cargo handled by Pivdennii, Ukraine's busiest port, increased 61% during the first half of this year, to 10.6 million tons, compared to January-June last year. Figures released Saturday, during President Zelenskiy's visit to the Odesa region port, show these yoy increases: exports up 62%, to 7.8 million tons; imports up 56%, to 1.5 million tons; transit up 36%, to 1.8 million tons. On some days, rail car handling topped 1,000 a day.
Mariupol, Ukraine's main port on the Azov, appears to be reviving. In June, this Donetsk region port handled 528,100 tons of cargo – up 60% yoy. And June's volume was up one quarter over May. Metals accounted for 78% of the June tonnage. For the last year, Russian Coast Guard vessels have tightened and eased their harassment of Ukraine-bound ships entering the Azov, a binational sea.
In the grain marketing year that ended last week, Ukraine exported a record 57 million tons of grain, 14% more than the 50 million tons exported last year, also a record. The Agriculture Ministry's breakdown was: corn – 30 million tons, up 1%; wheat 20 million tons, up 31%; rye – 8 million tons, down 91%; and barley – 5 million tons, up 35%.
The government may cut wheat exports by 15% this year marketing year, to 17.2 million tons, Ukragroconsult reports, citing traders. Sensitive to bread prices, the government traditionally holds over traders the threat of restricting wheat exports, usually in the spring.
China, Ukraine's largest trading partner, has authorized four Ukrainian producers of rapeseed meal to supply China's market, reports Ukraine's Food Safety agency. A byproduct from processing rapeseed into canola oil for cooking, the meal is a high-protein feed for cows, pigs and chickens.
New car sales in June jumped 24% over May, to 7,306 – 12% over June 2019, reports Ukravtoprom. Comments Alfa-Bank Ukraine: "This supports our view that consumer demand has not been damaged by Covid dramatically."
Through May, Ukrainians spent $1.2 billion new car imports, reports the State Customs Service. The top three sources are: US — $268 million; Japan — $229 million; and Germany — $200 million.
"Trade is recovering most rapidly," reports ICU investment bank. Retail trade in May was down only 3.1% yoy. Wholesale trade in May was up 2.2% yoy, estimates ICU. Softening the impact of the coronavirus lockdon on trade were the growth of e-commerce and the fact that half of spending in Ukraine is on food. Supermarkets remained open during the three month lockdown.
Attendance at shopping malls was down 20% during the first three weeks of June, compared to the same last year. But sales were up 10-50%, depending on the category of goods, Evgenia Loktionova, director of UTG commercial real estate consultancy, tells Interfax-Ukraine. Depressing shopper numbers, movie theaters, food courts, and children's play areas remain closed. Yoy sales growths were recorded in these sectors: electronics +50%; sporting goods +30%; clothes +20%; children's goods +18%; cosmetics and perfumes +10%; and shoes +5%. Pet supplies were down 20%.
Olena Zelenska, wife of President Zelenskiy, was released from a Kyiv hospital Friday two weeks after she was interned with double pneumonia brought on by coronavirus infection. On Sunday, Kyiv Mayor Klitchko announced that 78 new cases have been identified in the city. About 20% of positive cases result in hospitalizations in Kyiv. Nationwide, there have been 48,500 known cases and 1,249 deaths since the first cases were recorded in Ukraine, in March.
Turkey's Pegasus Airlines has resumed flights between Istanbul's Sabiha Gökçen Airport and three Ukrainian cities: Kharkiv, Lviv and Zaporizhia. In addition, the airline plans to fly from Kyiv Sikorsky to Ankara, Bodrum and Dalaman.
Flights from Ukraine are once again landing at Hurghada and Sharm el Sheikh, Egypt, reports Independent Egypt news site.
Poland re-imposed on Friday two week quarantine on passengers arriving from Ukraine.
17 Ukrainians have been detained at Athens airport since arriving Saturday night on the Wizz Air flight from Kyiv Sikorsky, reports Evropeiska Pravda. Several reportedly showed certificates of recent Covid tests that were negative. Airport authorities maintain Ukrainians are not allowed to enter the EU and they should return to Kyiv on tomorrow's Wizz Air flight. The Ukrainian embassy is working to avoid formal deportation, which would result in multi-year entry ban.
Ukraine plans to open an embassy in Tirana, Albania this year, Ukraine's foreign ministry reports. Albania, Croatia, Montenegro, Egypt and Turkey are five countries that opened their borders last week to Ukrainian tourists. SkyUp and UIA now fly between Kyiv Boryspil and Tirana.
From the Editor: In Zelenskiy pulling a Yanukovych? The former Ukrainian president swore on a stack of Bibles that he would take Ukraine to Europe. Then he flew to Moscow, told the Kremlin he would join Moscow's economic union, and took out a $3 billion personal loan. Five years later, Zelenskiy campaigned as a free market libertarian. But, since March, he has fired virtually every  Western-oriented reformer and replaced him with a second string loyalist. Yesterday, the director of European bank office here, buttonholed me on Kreschatyk to complain bitterly about the abrupt departure of the central bank governor. The European said gloomily: "I regret signing up for one more year here." With Best Regards Jim Brooke jbrooke@ubn.news