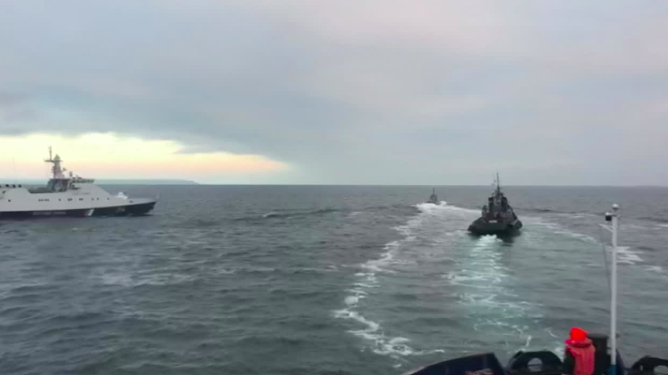 Monday, July 29
Russia Closes One-Quarter of Black Sea Until Aug. 19...US Trident Wins 50-year Oil and Gas Contract for Ukraine's Black Sea Block...Russia Wants Short Gas Transit Contract to Buy Time to Open its Ukraine Detour Pipelines...With Brexit, Ukraine Gets EU Open Skies...Paris Hilton Dreams About a Castle in Zakarpattia
Russia has closed one-quarter of the Black Sea for almost one month, reports Ukrainian Military Portal, a civilian defense news site. The five blocks – totaling 118,570 km² — will force cargo ships passing from Turkey's Bosporus strait to Ukraine's Black Sea ports to pass through a narrow shipping lane. Ukraine's ferries from Chornomorsk to Turkey and to Georgia will have to take circuitous routes to reach their destinations. Through Aug. 19, ships will have to take detours to reach ports in Bulgaria, Georgia, Romania and the Sea of Azov.
Russia imposed the restrictions Wednesday, 10 days after Bulgaria hosted two weeks of exercises over a far smaller part of the northwest Black Sea. Ukraine joined these exercises, which involved 27 ships from 12 NATO allies, including Bulgaria, Romania and the United States. Under the 1936 Montreux Convention, non-Black Sea nations can only send warships with displacements of less than 15,000 tons into the Black Sea for 21 days. On July 10, Russian Black Sea Fleet missile destroyer Smetlivy ignored warnings and entered a Black Sea area closed to navigation where naval artillery shooting was underway, reports the Ukrainian Naval command. The intrusion ended without mishap.
The day after the Russian shipping restrictions were imposed, a 30-year-old Russian gasoline tanker entered Ukrainian waters, near Izmail, on the Danube. The ship had the same International Maritime Organization identification number as the Neyma, a tanker used to block the Kerch Strait last November, contributing to Russia's seizure of three Ukrainian Navy boats. Ukraine immediately impounded the Neyma. Over the weekend, the Ukrainian Military Portal analyzed: "It is likely that the decision to move [the Neyma] to Ukraine was taken in order to provoke our state and may also be part of a special operation, along with the overlapping of a large area of ​​the Black Sea."
Meanwhile on the Azov, "a green beam of light" from a Russian Coast Guart boat illuminated boats of Ukraine's State Border Service in Mariupol on two nights after sunset last week, reports Ukraine's Joint Forces Operation. No injuries or material damages were reported. Separately, Russian officials impounded in Yeysk the Lizori, a vessel homeported in Ukraine's Mariupol. Russian authorities deported the crew back to Mariupol, 100 km by water.
This summer's Russia-Ukraine naval shadowboxing will not spiral out of control, predicts Leonid Bershidsky in a Bloomberg Opinion piece, "The Seas Are Unsafe in a Transactional World." He writes: "Russia, for its part, can't start an all-out war with Ukraine over a tanker built-in 1989. The costs would clearly outweigh the benefits; besides, just to be on the safe side, Ukraine has let the crew go after treating it with the utmost politeness. Russia only threatened "consequences" if its sailors are held, hostage."
US company Trident Acquisitions has won the competition for a 50-year contract to explore and produce oil and gas from Ukraine's offshore Dolphin block, nearly 10,000 square kilometers in the northwest corner of the Black Sea's continental shelf. One year ago, Trident raised $201 million in an IPO on the NASDAQ. The CEO is Ilya Ponomarev, a former Russia Duma Deputy. In the 1990s, he worked at Yukos and Schlumberger. In May, he received Ukrainian citizenship. One contender for the production sharing agreement, Azerbaijan's Caspian Drilling Company, withdrew its application under pressure from Russia, says Igor Nasalik, Ukraine's Energy Minister. Trident offered to invest $200 million in the Dolphin block for the first five years — 3.5 times the minimum set by the competition — and to drill at least seven exploratory wells.
Russia wants to strike a short-term deal with Ukraine on gas transit to Europe when the current 10-year agreement expires to buy time to complete pipelines that will bypass Ukraine, Reuters reports from Moscow and Brussels, citing "four sources familiar with Russian thinking." "Ukraine is looking for a long-term, 10-year deal. It's not beneficial for us. A one-year deal would be OK so we would build up our strength and launch all those 'streams,'" one source told Reuters of the contract that expires Jan. 1. Another source said: "It's clear that they (Russians) want to phase out, dry out Ukraine transit…They want a short contract, with a low commitment on volumes."
Russia, the EU, and Ukraine are to resume gas transit talks on Sept. 16. Maroš Šefčovič, European Commission vice president for energy, stands by his January offer: a 10-year transit contract with a guaranteed minimum yearly transit volume of 60 billion cubic meters. Europe gets one-third of its gas from Russia. The EU, Russia's largest gas client, is expected to stand by its demands, its back stiffened by anger over Russia's oil contamination scandal of April-May. Preparing for a showdown this winter, Europe's gas storage reservoirs were 80% full last week – 38% more than this time last year, reports Gas Infrastructure Europe, an industry association.
The Cabinet has authorized the Finance Ministry to attract €250 million in loans from Cargill Financial Services International, the financial arm of the US grain conglomerate. The loans would be €100 million for two years at 5.15% per annum, and €150 million for five years at 6.25% per annum, Ukraine's official gazette, Uryadovy Courier, reports Friday. The Cabinet resolution was two weeks earlier.
Concorde Capital's Alexander Paraschiy writes: "It's positive that the Finance Ministry has an option to borrow from a private international company, but it will not necessarily use such an option… The rates on Cargill loans look in line with the rates at which MinFin attracted its EUR-denominated Eurobond in late June (6.75% for the seven-year bond). However, since that time, yields on Ukrainian international bonds have plunged (yield to maturity on the seven-year bond was 6.0% on July 9, and it's 5.0% today), making the Cargill loan not much attractive now."
If UK Prime Minister Boris Johnson keeps his promise to pull Britain out of the EU by Oct. 31, Ukraine and the EU can sign an 'open skies' aviation agreement within weeks, Hugues Mingarelli, the EU's outgoing ambassador to Ukraine, predicts in an interview with Evropeiska Pravda. For years, the holdup on signing the agreement has been the dispute between Spain and Britain about the status of Gibraltar. "So, when the UK leaves the European Union, this dispute will not be inside the EU," Mingarelli says. "My colleagues in Brussels say that as soon as Brexit takes place, the obstacles for signing this agreement will be removed."
Paris Hilton, the celebrity hotel heiress, is negotiating to buy Derenivska Kupil, a late 17th-century health resort complex located in the foothills of the Carpathians, 25 km east of Uzhgorod. "A deal is expected to be closed by the end of the summer," reports Ukrinform. The fairy tale castle setting would host "international beauty contests" sponsored by Paris Hilton. The American entrepreneur found out about the Zakarpattia resort in April 2018, when she performed as a DJ at the opening of the Grand Hotel in Lviv, 250 km north of Derenivska Kupil.
Editor's Note: Were you forwarded this email? Sign up for your own daily delivery at www.ubn.news/subscribe. Ukraine Business News is sent as an email every weekday morning before 6:00 a.m. Kyiv time. Tell your friends! Best regards Jim Brooke – jbrooke@ubn.news