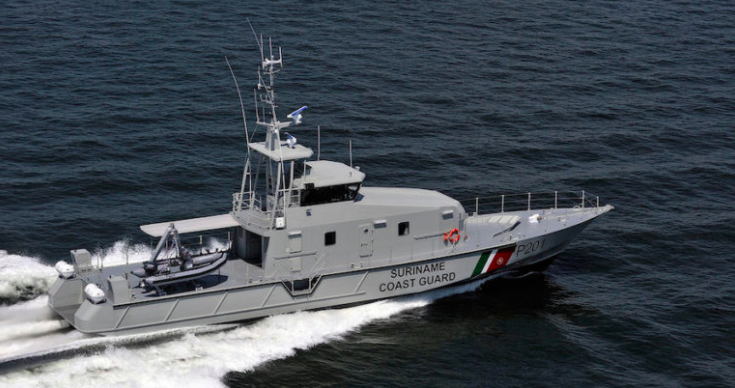 Monday, July 27
French Shipbuilder Signs Deal to Provide 20 Fast Border Patrol Boats...Nibulon Plans to Boost River Cargo...China Wants to Upgrade Dnipro Locks and Ports...Europe Loans €100 Million for Nuclear Safety...Corona Infections Hit 1,000 a Day; EU Barriers Stay High...
French shipbuilder Ocea has signed a €136.5 million contract with Ukraine's Border Guard Service to provide 20 fast patrol boats by 2023. Fifteen of the 32-meter boats will be built at Ocea's Atlantic shipyard, about 100 km south of Saint-Nazaire. The other five will be built at Nibulon's shipyard in Mykolaiv. The aluminum boats have a range of 1,200 nautical miles, roughly the equivalent of Ukraine's coast line, from Izmail, on the Danube, to Mariupol, on the Sea of Azov.
The international joint venture highlights Nibulon's emergence as Ukraine's most modern shipbuilder. Oleksiy Vadaturskyi, Nibulon's general director, said at the signing ceremony: "We are reviving the Dnipro, building the Ukrainian fleet, and doing everything to make Ukraine a maritime country — not a country by the sea." The French Treasury is providing most of the financing, and Jeantet, the French business law firm, is advising on the deal.
The EBRD is loaning Nibulon $27 million to maintain river cargo development projects and grain trading at a time of cash flow squeeze during the economic downturn caused by coronavirus. The financing is part of the EBRD Solidarity Package, which aims to ensure continuity of key businesses during the pandemic.
Nibulon launched its second harbor pusher tug last week, part of plan to build four over two years. Equipped with powerful Scania engines, the 80-ton tugs are used for mooring and pushing 3,000 dead weight ton barges through shallow waters. The Nibulon shipyard also is making smaller tugs and river barges. Nibulon has a fleet of 77 vessels, almost all for river work.
Nibulon aims to transport up to 5 million tons of river cargo this year, a 30% increase over the last July-June marketing year. During the year that ended in June, Nibulon carried 3.8 million tons, up 9% over the previous marketing year. Cargo is largely grain, iron ore, coal, building materials, but also Kherson watermelons. About 85% of Nibulon's cargo is for export. Anchored in the mouth of the Dnipro, the Nibulon Max, a new 140-meter floating crane, allows for the high speed, simultaneous pumping of grain from two barges into a seagoing mother ship.
The Ukrainian Danube Shipping Company reports on Facebook that someone stole 32 of its lighters, or small barges, worth a total of $5 million. The state company reports that two or three years ago, a contractor Olteks-Od LLC, probably towed them out of Ukraine and re-registered them. Danube Shipping also accuses employees of the Izmail office of the Justice Ministry of stealing money intended for paying salaries. Chinese investors have expressed interest in buying the shipping company, if it comes up for privatization.
Li Jingyuan, vice president of the China Railway 14th Bureau Group Co., has signed an agreement with Igor Sheverdin, acting chief of Ukrvodshlyakh, or Ukraine Waterways, to develop Ukraine's inland waterways to facilitate trade between Ukraine and China, now Ukraine's largest trading partner. Aimed at the Dnipro, Dnister and Danube, the memorandum of understanding signed July 15 in Kyiv called for "attracting investments, technologies and best practices for the implementation of infrastructure projects on inland waterways in Ukraine." At the ceremony, Infrastructure Minister Vladyslav Krikliy said Rada adoption this fall of the Inland Waterways bill "will make river logistics efficient and allow transporting large-sized cargoes, saving millions on road repairs."
The Finance Ministry will use $846 million of last week's $2 billion Eurobond placement to buy Eurobonds maturing in 2021 and 2022, the Ministry reports. This about $100 million more than expected. With the settlement to take place Thursday, the $2 billion Eurobonds carry a yield of 7.253%. The old bonds carried yields of 7.75%.
Energoatom, Ukraine's state nuclear power company, has received a €100 million tranche of a loan from Euratom, the European Atomic Energy Community. Under agreements made in 2014, Euratom and the EBRD are each loaning Energoatom €300 million to implement safety measures at Ukraine's 15 nuclear power plants. Nuclear supplies about half of Ukraine's electricity.
Privatbank says its former owners laundered $760 million in the US, according to an amended lawsuit filed last week in a Delaware court, reports RFE/RL. In the original lawsuit filed last year, the new management of Ukraine's largest bank charged the former owners, Igor Kolomoisky and Gennady Bogolyubov, of laundering $623 million. After the bank was nationalized, in 2016, Ukraine's central bank accused the former managers of channeling 90% of loans to the owners' companies.
Skepticism about the Zelenskiy government's ability to reform Ukraine was the common theme of two articles in the Western press last weekend. "A hard road ahead for Zelenskiy in Ukraine: Sympathy for the president in western capitals and the IMF is now tempered by concern," headlines an opinion piece by Tony Barber in the Financial Times. "Corruption in Ukraine: Is time running out for Zelenskyy to reform the country?" asks the headline of a piece in Euractiv. The reporters quote Maxim Nefyodov, former head of Customs, saying: "The time for reforms in Ukraine is over. The signal that the government is now sending to people is this: being a reformer means that you will be harassed, get bad PR and that you will have no political future."
New reported corona virus infections have averaged 1,000 a day in Ukraine since Friday, up 20% since the average of 800 during the first three weeks of July. Deaths have edged up to an average of 13 day. Western Ukraine and Kyiv city continue to be the nation's hotspots, Health Minister Maksym Stepanov said Saturday. In the 24-hour period prior to Saturday morning the new infections were: Lviv region – 130 cases; Kyiv city – 95; Ivano-Frankivsk region – 88; Rivne – 81; and Zakarpattia – 67.
The Health Ministry is allowing the Ukrainian Football Association to hold matches in stadiums filled to 25% of capacity. In the case of Kyiv's Dynamo Stadium, this means a maximum of 4,200 spectators, instead of 16,900 — the full capacity. If fans keep their distance at the next test match, on Wednesday, the Ministry could allow half-filled stadiums. Ukrainian clubs restarted playing on May 30 — without fans.
Starting today, Austria will not allow entry of Ukrainians – and citizens of 31 other countries with high corona infection rates, such as the US and Russia. Ukrainians with Austrian residence permits must show a certificate of negative results from a test taken 72 hours before arrival.
With the EU travel restrictions stretching into August, UIA, Ukraine's largest carrier is suspending service to some cities and cutting other flight frequencies to weekly.  Through Aug. 15, UIA flights are canceled to: Berlin, Prague, Vienna, Larnaca, Tbilisi, and Chisinau. Of the 33 international flights out of Boryspil today, almost half are to Turkey.
From the Editor: The Dnipro could once again become the Mississippi of Ukraine. But last year's river cargo of 12 million tons is only 20% of the 60 million tons a year carried in the late Soviet era. Holding up the Inland Waterways bill in the Rada is the fact that no one wants to pay user fees for maintenance and modernization. One day, a massive steel door on a river lock will freeze — or fail. With that day of reckoning not so far away, the government should call an international donors conference for a multi-billion dollar rebuilding project. Dutch, American, and now Chinese companies are eager to participate. The challenge is funding. With Best Regards Jim Brooke