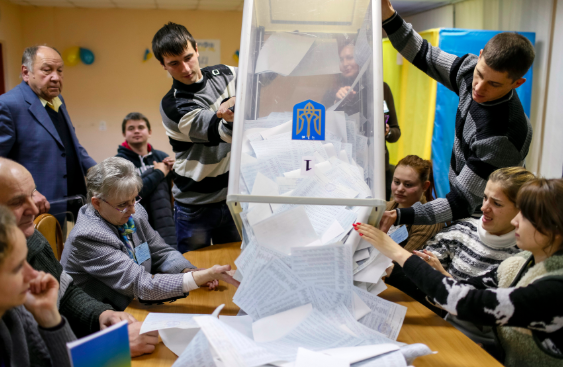 Flush with a strong showing in Sunday's Rada vote, President Zelenskiy said he would choose as Prime Minister a "professional economist" who hasn't held that job or led a party.  That fits the description of former Finance Minister Oleksandr Danylyuk, who has expressed interest in the post. Zelenskiy also said he would reach out to Svyatoslav Vakarchuk, the country's most popular rock singer, to form a pro-Western government for Ukraine in August.
In Sunday's vote, Zelenskiy's Servant of the People Party won 44% of a national exit poll and 41.5% of initial returns. Vakarchuk's Golos, of  Voice, the party won 6% of the exit poll. The pro-Russian Opposition Platform – For Life party came in second place with 12% of initial returns and a similar amount in the exit poll. Ukraine's pro-Russian fell to one third its historic levels, partly due to the loss of pro-Russia voters in Crimea and in Russia-controlled areas of Donetsk and Luhansk. In the exit poll, former President Poroshenko's European Solidarity party won 9%, and Yulia Tymoshenko's Fatherland Party won 8%.
From London, Timothy Ash writes: "Encouraging comments from Zelenskiy that he wants a professional economist as Prime Minister, who has not held that job before but is respected in the West – Danylyuk, [Aivaras] Abromavicius or [Vladyslav] Rashkovan fit that bill… A victory for reform – close to three quarters of voters backed pro-Western, pro-reform parties."
With 10% of the vote counted by midnight, the composition of the Rada should be known by the end of today.  Of the 424 seats, 225 members are elected on party lists and 199 in single-member districts. Voters cast ballots for one of each category.
Detectives of the National Anti-Corruption Bureau of Ukraine searched the headquarters of ICU investment bank on Friday as part of an investigation into the Rotterdam + formula for pricing coal. ICU posted on its website that it had earlier complied with all requests for information and denounced the search as "an attempt to exert pressure on it, which has an obvious political context." The bank is seen as affiliated to former President Poroshenko. Valeria Gontareva was chairwoman of ICU until June 2014, when she became governor of the National Bank of Ukraine, a post she held for three years.
Following Zelenskiy's complaints last week that Ukraine's largest steel mill is polluting air in Kryvyi Rih, the president's home town, agents of the Ukrainian Security Service, or SBU, searched the company headquarters of ArcelorMittal on Saturday. Alexander Ivanov, the acting head of the mill, said the company has invested $235 million in air pollutions controls. Mittal has invested $9 billion in the plant complex, Ukraine's largest integrated steel company, since buying it in 2005. The company's production capacity is:  6 million tons of rolled steel, 6.7 million tons of pig iron, and 7 million tons of steel.
Andy Hunder, president of the American Chamber of Commerce of Ukraine, comments to the UBN: "Discouraging news from Ukraine's top investor that has invested over $9 billion in Ukraine. Investors will be concerned about selective justice. Ukraine is sending the wrong message to the investment community at a time when business is watching closely the changes taking place."
By the end of June, electricity generation from renewables hits 585 million kwh – almost three times the level of one year earlier. Renewables share of national electricity production hit 5%, compared to 1.8% one year earlier. Excluding large scale hydro, Ukraine's installed capacity of renewable energy is: solar — 2,640 MW; wind – 777 MW; biogas – 66.4 MW; and biomass — 51.3 MW.
 Working on early grains, farmers have harvested 21.6 million tons, or almost one third of the total forecast 2019 crop of 70 million tons. Farmers have threshed 6.2 million hectares of grains or 63% of the early sown area, reports the Agriculture Minstry.
To speed up construction of major highways, Zelenskiy proposes opening tenders to foreign companies. "Shall we will make a plan in the near future to give the construction of priority roads to leading Western companies," he asked Friday at a road infrastructure meeting in Kyiv. Also on Friday, Zelenskiy invited a Chinese delegation to build a toll highway around Kyiv. Earlier, Slawomir Novak, head of Ukravtodor, said that this fall the highway agency will hold a competition for Ukraine's first road concession – a 70 km toll road between Lviv and Krakovets, on the Polish border.
Construction of a new cargo terminal for Kyiv Boryspil is the subject of a new tender by the Infrastructure Ministry. By Aug. 19, applications are to be submitted for building and operating the cargo terminal for 25 years. Last year, airport officials failed to act in face of rapidly rising air cargo traffic and were forced to suspend air cargo service during the Christmas-New Year's holiday. Since a new terminal will not be built in time, airport officials plan to use temporary measures to cope with the annual year-end rush.
The Israel-Ukraine free trade pact ratified last week by the Rada will stimulate Israeli investment in Ukraine, Natalia Mikolska, Ukraine's former chief trade negotiator, tells UNIAN. "The agreement will give the green light for cooperation between Ukrainian and Israeli enterprises in many areas: high-tech, engineering, processing equipment for the food industry," she says, noting that dozens of Israeli IT companies already work in Ukraine. This fall, Israel's Knesset is expected to ratify the pact. Trade expert predicts that implementation will fuel a 10% increase in bilateral trade every year.
Construction of a new, free access road to Odesa port is the goal of a new task force composed of Ukraine's Sea Ports Authority and the City Council. After Odesa banned big trucks from city streets, Euroterminal presented itself as the only road alternatives. However, this private company charges $17 per truck, a levy that hikes logistics costs and contributes to the port's comparative decline.
Peugeot Citroen Ukraine has opened six dealerships in Ukraine this year: Dnipro, Kharkiv, Khmelnytskyi Kharkiv, Lviv and Zaporizhia.  The French company plans to increase its sales five times this year, to 1,100 new cars and commercial vehicles.
Although Kyiv's hotel occupancy rate only inched up by 1.6% in the last year, to 53%, STR, the global hotel industry research organization, reports that the number of hotel rooms in the construction pipeline represents a 10% increase. In Lviv, the increase is 9%.
Editor's Note: Were you forwarded this email? Sign up for your own daily delivery at ubn.news/subscribe. Ukraine Business News is sent as an email every weekday morning before 6:00 a.m. Kyiv time. Tell your friends! Best regards Jim Brooke – jbrooke@ubn.news