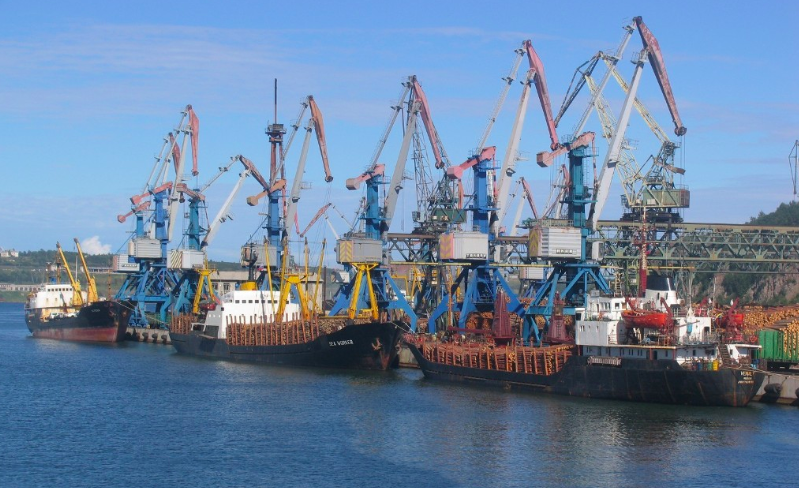 Qatar's QTerminals has won a 35-year concession tender to run Olvia, a 180-hectare, year round seaport 20 km south of Mykolaiv City. QTerminals is Qatar's leading port operator, operating Hamad, the country's largest trading port. Last year, the company handled 1.3 million containers – one third more than all containers handled by all of Ukraine's ports.
Under the deal, QTerminals is to invest $140 million in Olvia through 2024. In addition, it is to pay an annual concession fee of $3.3 million to Ukraine – a payout 16 times larger than Olvia port's profits last year. "This is one of the largest foreign investments in the port industry, in the whole history of Ukrainian independence," Infrastructure Minister Vladislav Krykliy writes on Facebook. "The move by this company gives a unique opportunity to modernize the port of Olvia, bring the work of the port and the level of related navigation and logistics services to the best international standards."
Concorde Capital's Andriy Perederey writes: "The concession agreements will enable the upgrade of the state-owned seaport infrastructure and increase its efficiency. We expect that the concession-based investments will lead to an increase of cargo shipments through the seaport and its financial results."
HEARD IN DAVOS: For four days last week, the Ukraine House Davos gave a platform to some of Ukraine's best and brightest to look forward for Ukraine in the 2020s. Here are a few excerpts:
Vladyslav Krykliy, Infrastructure Minister, wants to put four more ports up for concession this year – including the Chornomorsk ferry complex – and 10 railroad stations. Feasibility studies are being prepared for concessions to run four regional airports: Chernivtsi, Kherson, Lviv and Zaporizhia. To highlight poor public management, he said: "My favorite is Kyiv Central Rail Station. Last year, it lost $2 million. Next door, the McDonald's made $3 million. And the traffic at the rail station is much higher."
John M. Beck, Chairman of Aecon Group, Canada's largest publicly traded construction company: "It would be an honor for us to participate in the exciting growth that is clearly in Ukraine, particularly in the transportation sector, in the airports, in the toll roads. We will be there for you. We will be coming to see you very quickly."
Lenna Koszarny, Horizon Capital CEO, said: "For investors, the window of opportunity that opens now on concessions can close very quickly. The window opens for concessions, then they are gone for 30-35 years."
Dominique Piotet, chief executive of UNIT.City: "I am more stimulated by the opportunities and challenges [in Ukraine]  than when I arrived in Silicon Valley in 2004…I had not appreciated the maturity of companies working in the sector nor their global perspective and ambition. The realization that Ukraine is a cradle of next-generation technology innovation quickly replaced my perception of a skilled, low-cost outsourcing destination with a range of domestic-focused start-ups."
Maciej Zielinski, CEO, director general, Siemens Ukraine, predict 3D printing will be soon be used by Antonov, Turboatom and the Paton Institute to make parts. "What is 3D printing?" he asked the panel 'Ukraine As Europe's Next Industrial Powerhouse.' "It is welding. Paton is the world champion in welding." In the last three years, Siemens doubled its business in Ukraine – a growth rate it expects to maintain over the next three years.
Matt Simpson, CEO of Toronto's Black Iron Inc., predicts construction will start one year from now on the $750 million iron mine in Kriviy Rih. Last July, President Zelenskiy endorsed the massive mine, seven kilometers from his home town. "Before it was tough to get meetings," Simpson recalled. "As soon as Zelenskiy got back to Ukraine, I got to meet with the Prime Minister, the Economy Minister, the Minister of Defense.
Dmytro Sennychenko, head of Ukraine's State Property Fund, is changing the management of state enterprises to facilitate transparent, competitive asset sales. "We are going to privatize more than 500 assets this year," he said. "We know the book value does not correspond to the market value. There are poison pills, court cases. I am building a machine to transform them into transparent enterprises."
Oleh Sentsov, filmmaker: "I hope the new authorities succeed in fighting against corruption and bring in investment," said Sentsov who was released last fall after five years in Russian jails. "If the Russian population start seeing our success they will start asking for changes of their own government."
Johan Eliasch, chairman and CEO of Head: "It's only a matter of time before you get, not just $50 billion, but 100s of billions coming into Ukraine, but all that depends on confidence — and confidence often comes from word of mouth."
David Arakhamia, secretary of the National Investment Council: "The current Labor Code is really communist, not socialist. All the businesses we talk to say: 'We would hire 20-30% more people under a more liberal code'…As a politician, my Key Performance Indicator is to have at least 25-30 companies listed on other exchanges. But these would be originally Ukrainian companies."
Yuriy Kosyuk, MHP CEO, on labor migration to Poland: "We practically did not lose any engineers, technicians. We increased their salaries, we started to listen to them."
Lenna Koszarny, Horizon Capital CEO: "If Ukraine gets it right, the country may very well emulate the post-reform economic rebound stories of Colombia – growing 13% annually for 10 years from 2004; the Philippines – growing 9% per annum from 2001-2014; Slovakia – surging 17% annually from 2000-2014, and other success stories, driven by focusing on structural reforms, attracting considerable FDI and substantially growing exports.
Yulia Kovaliv, deputy head of the Office of the President of Ukraine, promised that international arbitration will in place in by October. "We want the foreign investors to have a space where can be supported with fair justice."
Andriy Kobolyev, Naftogaz CEO, said: "At least 10 billion cubic meters of gas now can be stored in Ukraine to the benefit of the EU, creating more security. On top of that, we expect that excessive supply to the European gas market will result in lower margins, thus creating more profit for Ukraine."
Janusz Kopacs, director of the Energy Community Secretariat: "The biggest risk I see is not in the gas sector – reforms have been implemented at 80% – but in the electricity market. It is currently very shaky. This is the next step. I hope that in a year there will be another success story."
Misha Rogalsky, cofounder of Monobank: "We put a cat into our app. People loved the cat so much that they did transfers of one kopeck to see the cat. We put humor in banking."
From the Editor: Concessions to run ports, airports, and rail stations. Gas storage hub for Eastern Europe. Online information windows for state companies going on sale. I come back from Davos with the sense that Ukraine's new generation have cherry picked the most pragmatic – and proven – methods to cut the state sector and bring Ukraine into the 2020s. Best Regards Jim Brooke jbrooke@ubn.news