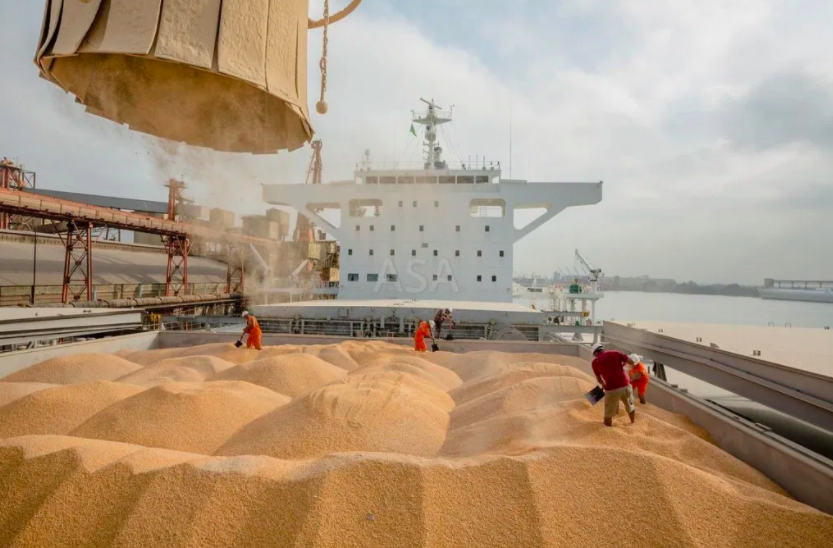 China's imports of Ukrainian grain are soaring during this marketing year, the Ukrainian Grain Association reports, citing figures released Thursday at an Agro meeting at Ukraine's Embassy in Beijing. In the first seven months of the grain marketing year, China has imported 6.9 million tons from Ukraine – more than the 6.3 million tons imported during the 2019/2020 marketing year. During the 2020 calendar year, China was the largest importer of Ukrainian grain, buying 20% of Ukraine's total exports of $9.4 billion, said Serhiy Ivashchenko, acting executive director of the Ukrainian Grain Association.
After the United States, Ukraine was the world's second largest grain exporter in the marketing year that ended June 30, Taras Kachka, Deputy Minister of Agriculture and Economy, told the International Grains Council last week. Citing USDA figures, Kachka said Ukraine ranked 2nd in barley exports, 4th in corn exports and 5th in wheat exports. After a poor harvest this fall, Ukraine may fall behind. During the first seven months of the current marketing year, exports are down by 6.3 million tons, a drop of almost 19% yoy.
DHL and Ukrzaliznytsia plans to develop China-bound trade from UZ's left bank rail wagon marshalling yard at Liski, Logistics Manager, an Asia-oriented logistics news site, reports in a story headlined: "Full Steam Ahead for Ukraine & China to Drive Rail Connectivity." Freight from Ukraine's neighbors can be consolidated in Kyiv for shipping east in container trains. "There is a lot of excitement for those watching trade developments between China and Ukraine," says Steve Huang, CEO of DHL Global Forwarding Greater China. "Further to China's newly-established position as Ukraine's top trading partner, recent reports have revealed Ukraine's plans to start negotiations on a free trade agreement with China."
Ukraine saved $3.4 billion last year on oil imports, cutting its import bill by 36% yoy, reports the State Customs Service. In volume terms, Ukraine cut imports by 5%, to 8 million tons. Top suppliers were: Russia – $1.2 billion; Belarus – $1.2 billion; Lithuania — $400 million.
Industrial production dropped last year by 5% yoy, reports the State Statistics Service. Manufacturing was down 7%. Other big drops were: coal mining down 13%; and electricity generation down 6.6%. On the upside, steel was up 6.5% and cement was up 7%. In 2019, industrial production was down 1.8%, cancelling out a 1.1% growth in 2018.
Net foreign direct investment in Ukraine was the worst in 20 years, Lenna Koszarny Founding Partner and CEO of Horizon Capital, said Friday at a discussion of the draft National Economic Strategy 2030. Looking at negative flows for first nine months, she said: "We hope that net FDI will go to zero." To get Ukraine on a growth track, she said the government's goal should be: judicial reform, capital market reforms and investment reforms.
Last year's remittances from Ukrainian workers abroad totaled $12 billion — almost five times the net direct foreign investment of $2.5 million. In 2018, net FDI added up to $2.4 billion. Kyrylo Kryvolap, Executive Director of the Center for Economic Recovery, said that since independence, Ukraine's economy has attracted $50 billion in FDI, while Poland attracted over the same period $240 billion.
Despite coronavirus travel controls, worker remittances are expected to be near last year's level. Ukraine's State Border Guard Service reports that 35% of the 11,250,000 border crossings out of Ukraine last year were to Poland. While Ukrainians were largely barred from visiting the EU for tourism in 2020, travel was permitted for work. Outbound crossings were: Poland – 4 million; Hungary – 1.6 million; Russia – 1 million; Turkey – 965,000; Egypt – 730,000; Romania – 626,000; Belarus – 496,000; Slovakia – 336,000; Moldova – 328,000; Germany – 222,000; and UAE – 100,000. Ukraine received 3.4 million foreigners, 30% of the outbound flow.
The sale of large state companies starts this year and will not be reversed, Prime Minister Shmygal vowed Friday at the meeting to debate the National Economic Strategy through 2030. He added: "Investors have liquidity today. Objects for privatization in Ukraine are extremely interesting." He said planned companies for sale this year include: three regional power generators, five combined heat and power plants, the Bolshevik plant, the Odessa Port Plant, the United Mining and Chemical Company, and the President Hotel.
To promote investment into Ukraine, UkraineInvest is creating up to 70 information offices in Ukrainian embassies around the world, Serhiy Tsivkach, executive director of the Investment Promotion Agency, said at the National Economic Strategy meeting. The agency is working with the Foreign Ministry and the Ukrainian World Congress. Ukraine has 78 embassies and 45 consulates.
Turkish companies are interested in investing in Chornomorsk container terminal and  railway and ferry complex, Infrastructure Minister Vladyslav Krykliy reports after meeting Thursday with executives of three Turkish companies: Busserk, Çalık Holding, and NIKO Group. One of Ukraine's busiest black sea ports, Chornomorsk has a car ferry to Derince, near Istanbul.
DTEK Renewables plans to launch solar and wind projects in the EU as early as this year, DTEK Renewables CEO Maris Kunickis tells Bloomberg in an article headlined: "DTEK Looks Abroad After Ukraine Backtracks on Green Support." Behind DTEK's drive to diversify, Bloomberg writes: "In 2020, government only paid for 50% of produced energy to renewable producers. The retroactive cut jeopardizes Ukraine's goal of having a 25% share of renewables in electricity production in 2035."
Ukrainians bought two thirds of their long-distance train tickets online last year, reports Ukrzaliznytsia. By buying 12.9 million tickets through the Internet, at booking.uz.gov.ua, travelers had easy access to fares, seat selection and discounts. Two weeks ago, UZ launched ticket sales through Viber and Telegram, facilitated by chatbots. On the first day, 17,000 people took advantage of the new service.
The longest train ride in Ukraine is also one of its five most popular, reports Ukrzaliznytsia. Every day, Train No. 45 sets off from Uzhgorod or Lysychansk, Luhansk, ambling across Ukraine making at least 40 stops and averaging 53 km/hour (33 mph). The train takes 31 hours and 15 minutes to travel 1,653 km, slight longer that the distance from Marseilles to Berlin. Last year, 461,500 people rode the train, most for small segments.
Restaurants, gyms and shopping centers reopen in Ukraine today as the nation emerges from the coronavirus lockdown-imposed Jan. 8. Registered new infections are running at about 5,000 a day, about one third the peak of two months ago. "Epidemiologists record the stabilization of the situation," Prime Minister Shmygal wrote Saturday on Facebook. "The number of occupied beds has decreased to less than 30%." Kyiv city has a 32% occupancy rate of coronavirus beds and the nation's fourth highest infection rate – 297/100,000 people.
Ukraine imported a record amount of wine last year — $180 million. Top supplying countries are: Italy – $ 29 million; France – $ 27.5 million; and Georgia – $26 million. Over the last decade, Ukraine's wine production dropped in half, partly due to the loss of Crimea, partly to due to red tape blocking small producers, and partly due to imports. EU exports to Ukraine are expected to increase this year after duties dropped to zero on Jan. 1.
Editor's Note: Ukraine's two largest renewable investors – DTEK and NBT — plan to make their next investments outside of Ukraine. TIU Canada, once one of the biggest foreign cheerleaders for investing in Ukraine, is suing Ihor Kolomoisky for pulling the plug on its solar plant. Wind and solar — Ukraine's top bricks and mortar investment story of 2017-2019 – is over. Outside of Ukraine, Bloomberg reports that investors last year spent $291 billion last year to build 205 GW of wind and solar worldwide. It is nice to have meetings in Kyiv to draw up blueprints to double Ukraine's economy in a decade. But the first step is to get straight with investors who are already here. With Best Regards, Jim Brooke