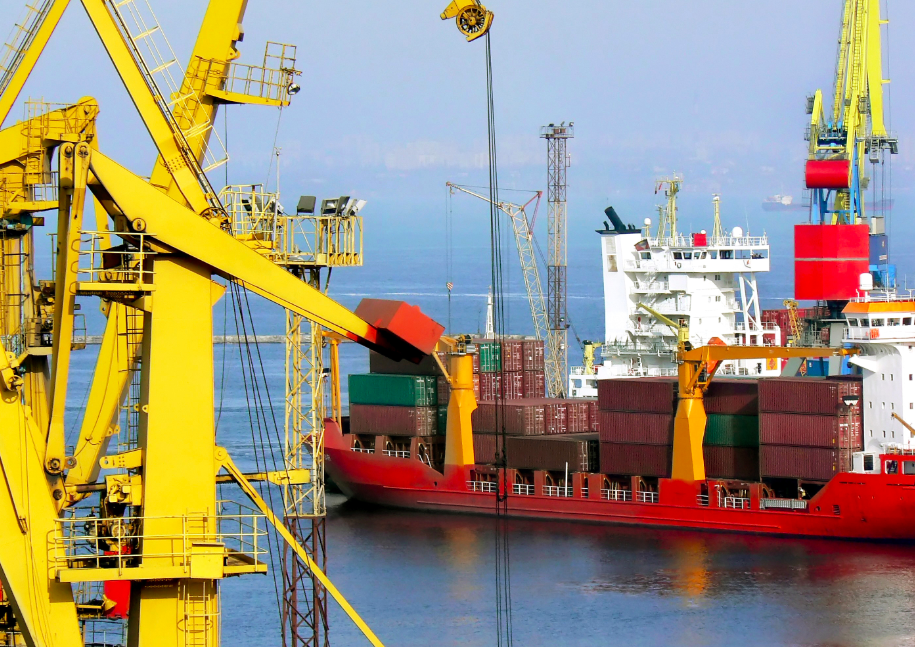 Monday, January 20
Shipping News: Sea Cargo up 18% to Post-Independence Record...At Black Sea Ports, TIS, EBT and Kernel Start Big Investments...Qataris, Turks, and Swiss Vie For Ukraine Port Concessions...River Cargo up 19%...Ze Aims to Triple River Cargo, But Shippers Complain River Closes Too Early...Nibulon and Asket Build More River Ports...
Cargo handled by Ukraine's 13 seaports jumped by 18.4%, topping 160 million tons for the first time in the history of independent Ukraine. The top four ports, all on the Black Sea, were: Pivdennii (Yuzhne) – 54 million tons (+26%); Mykolaiv – 33.4 million tons (+14.5%); Chornomorsk – 26 million tons (+21.4%); and Odesa – 25.3 million tons (+16.8%).
Pivdenni, Mykolaiv, and Olbia hit maximum cargo levels since opening, in Soviet days. For the first time in a decade, Black Sea container cargo topped 1 million. Helping shippers, 7 million cubic meters of sediment were dredged, for the second year in a row, reports Raivis Vetskagans, outgoing CEO of the Ukrainian Sea Ports Authority.
After handling a record 33 million tons at Pivdennii – 61% of the port's total — TIS terminals have ambitious plans for the 2020s. "90% of the world's cargo is still transported by sea, and we have huge plans in this regard," Andriy Stavnitser, a co-owner of the company, told the Center for Transportation Strategies. "We are going to develop the TIS industrial park, actively increase container transit and transshipment. There will be more container trains, many new records, and impressive news."
Mykolaiv's Nika-Tera marine terminal handled 48% more cargo last year than in 2018, reports Alim Agakishiev, director of this terminal, which is part of the Group DF. Of the 8.6 million tons, grain, legumes, and oilseeds accounted for 69% of the total volume.
Mykolaiv's ЕВТ starts construction in May of a 180m long berth capable of loading two Panamax size vessels at the same time, says Sergey Gunko, director of the port formerly known as Evroneshtorg. Due for completion in October, the new berth will expand the company's usable berth line by 65%.
At Chornomorsk, Kernel, the world's largest producer and exporter of sunflower oil, has signed a deal with the Sea Ports Authority to invest $125 million in port infrastructure. In return, the Authority will dredge in front of Kernel's berths. In November, Kernel made its first grain shipment to China exclusively by water. From Svitlovodsk port on the Dnipro, two barges carried 4,000 tons of corn to Chornomorsk where they were loaded on a mother ship and shipped to China.
Qatari port operator Qterminals and two Ukrainian companies are finalists in a tender for a concession to operate Stevedoring Company Olbia. The Infrastructure Ministry to is to announce the winner this week. In the queue for a concession operation are Kherson, Mariupol, Mykolaiv, Odesa, and the Chornomorsk ferry complex.
Four companies – two foreign and two Ukrainian – are competing in a tender for a 30-year concession to run Kherson seaport. Applicants are Turkey's Busserk Liman, Swiss-Georgian consortium Risoil-Kherson, and Ukraine's Ukrmorport and the Special Company Seaport of Kherson. The winner may also be announced next week. Chosen for the pilot concession project, Kherson handles a mix of Dnipro River and Black Sea cargo.
Despite Russian harassment of Ukrainian shipping in the Sea of Azov, the cargo was up 10% last year at Mariupol, Ukraine's largest port on the Azov. Cargo at this Donetsk Region port hit 6.5 million tons, reports the Sea Ports Authority. In 2018, cargo fell almost 10% from 2017 levels.
River freight continued to rebound last year, growing by 19% y-o-y, to 11.8 million tons. Taking hundreds of trucks off overburdened roads, barges moved 55% more grain – 4.9 million tons – and 33% more metal products, to 1.7 million tons. Petroleum products dropped by 45%, to 3.7 million tons.
Due to expanded dredging and larger barges on the river, the number of boat trips was down 27%. Over the last two years, dredging has allowed barges to nearly double their average cargos, to 960 tons, says Vetskagans, of the Sea Ports Authority.
Nibulon, the nation's largest river shipper, increased its river cargo by 38% to 3.8 million tons. This was split between 3 million on the Dnipro, and 800,000 on the Southern Bug, Ukraine's second-longest navigable river.
With some grain moved to ports by train and truck, Nibulon exported a total of 5.3 million tons of food in 2019, up 8% over the year before. Already exporting to 70 countries, Nibulon is working to develop Bangladesh, Ethiopia, Kenya and India, Indonesia, Saudi Arabia, and South Korea.
Dnipro cargo should grow this year by 25%, to 15 million tons, says Infrastructure Minister Vladyslav Krikliy. By 2024, river cargo should triple to 35 million tons, he told a recent transportation forum, outlining his Ministry's 5-year plan. He said: "The development of river transport will unload the roads and protect them from destruction, and will also help to create new jobs by increasing orders for Ukrainian shipbuilding companies."
In a first step, Krikliy says repairs will be made this year on four of the six locks on the Dnipro 'cascade' of dams. Descending the river, the six shipping locks are Kyiv, Kanevskyi, Kremenchuk, Kamianskyi (Dneprodzerzhinsky), Zaporizhia, and Kakhovskyi. Viktor Dovhan, a Ministry adviser estimated that dredging and basic lock repair will cost $36 million. To pay this bill, the Ministry advocates doubling lock fees this year.
Nibulon argues all major repair work should be done January to March when ice closes the river for shipping. This season, the Infrastructure Ministry closed the Kamianskyi (Dneprodzerzhinsky) lock on Dec. 1 for repairs. "We lost half of the river," Mykhail Rizak, a Nibulon government affairs officer, told the UBN.
Nibulon, which owns 12 river ports, plans to build two more, both on the Southern Bug: one in the Matveevka district of Mykolaiv City, and the other, about 100 km upriver at Pribuzhye, Mykolaiv Region.  Nibulon has 75 riverboats, most made at the company shipyard in Mykolaiv.
Also betting on river transport, Asket Shipping plans to commission in March a grain storage warehouse at its new river terminal in Dnipro City. In 2018, Asket opened a river terminal in Zaporizhia. About 90 km apart, the terminals handle barley, corn, soybeans, and soybean and sunflower meal.
In mid-October, the State Hydrographic Service started pulling buoys near the Belarus border. Every fall, about 1,000 navigation devices are removed from 1,000 km. Usually, the lower Dnipro is navigable through early January. In spring, the locks start opening in early March. Last year, the Kyiv lock worked for 7.5 months — from April 2 to Nov. 14. With no major river ice expected through January, climate change may extend the shipping season.
Boat passenger traffic ticked up 4% last year, to 538,000. Although largely for domestic cruises, 10,000 passengers traveled on international Black Sea routes, largely to Odesa. This summer,  Viking River Cruises expand its 10 Odesa-Kyiv cruises to include Bucharest. The 12-day cruises run from May 17 to Aug. 15 and prices start at $4,000 per person.
From the Editor: Ukraine House opens tonight as part of the activities of the World Economic Forum in Davos. With a week-long agenda of panels, presentations and networking opportunities, Ukraine House hosts conversations about global challenges that will shape Ukraine in the 2020s — and the opportunities that Ukraine will offer. UBN is pleased to be a media sponsor. I will be there, reporting and filing the UBN this week from Davos.  With best regards Jim Brooke jbrooke@ubn.news