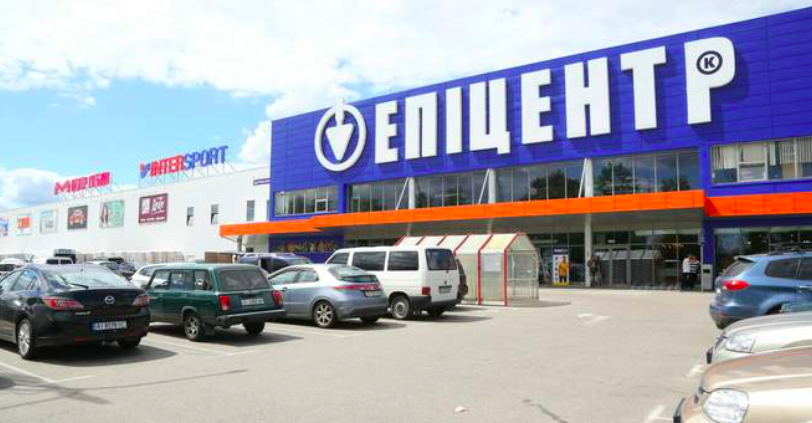 Monday, January 18
Epicenter K Taps Dutch Bank to Help with $1.2 billion Investment…Shopping Mall Traffic Down, Retail Sales Up…After Delays, Corruption Charges, Gov't Contracts UK's Crown Agents to Buy Covid Vaccines…Russia Restarts Nord Stream 2…Ukraine Orders 8 New Transport Jets, First From Kharkiv Factory since 2014
Epicenter K, Ukraine's largest retailer, plans to invest $1.2 billion through the end of next year, Petro Mykhailyshyn, Director General of the group, said Thursday at a press conference at Interfax-Ukraine. To help finance the investment, more than triple the amount invested in 2019, the company plans to raise a loan from ING, the Dutch bank. Some of the loan would be used to buy equipment from Vanderlande, the Dutch logistics automation company. Atradius, the Dutch trade insurance company, would provide cover.
Epicenter, Ukraine's version of Home Depot, has 62 hypermarkets with a total area of ​​over 1 million square meters nationwide. Recently, the company has invested in farming and logistics. Mykhailyshyn told reporters: "We hope and intend this year to make an unprecedented investment in the development of all segments of our company, all businesses, and this is construction activities, the agricultural sector, the production of ceramic tiles and other building materials, as well as the development of logistics fulfillment centers."
To reach Ukraine's smaller cities, Epicenter is building up to 100 smaller format stores – retail spaces with 4-6,000 square meters, Mikhailishin told Interfax-Ukraine in an interview. Aiming at the hundreds of small cities with 10-15,000 inhabitants, Mikhailishin said: "We are developing an online system with a large logistics infrastructure, which will provide residents not only of regional centers, but also villages."
Although attendance at shopping malls dropped by 26% yoy last year, overall retail sales were up 7.6% for the first 11 months of 2020, reports NAI Ukraine, the commercial real estate consulting company. Alarmed by the coronavirus quarantine controls, many shopping center developers pushed off openings to 2021:  stage two of the Blockbuster Mall – 55,000 square meters; Ocean Mall – 99,000; the stage two of April – 47,000; and White Lines – 21,000. With these four expansions alone – 222,000 square meters – rents will remain soft and the retail vacancy rate is expected to rise above its current level of 10%, NAI predicts in its study.
Online orders through OLX Delivery, one of Ukraine's largest internet shopping platforms, jumped for the for the period Dec. 9 to Jan 13, compared to last year, the company's analytical service reported Friday. Orders for men's clothing doubled, while the check remained about the same — $20. Orders for men's shoes were up 94%, for electronic components up 74%, and for smartphones up 63%.
Starting this week, service personnel in all stores, restaurants, cafes, pharmacies, and gas stations, must first address customers in Ukrainian. Customers are not obligated to use Ukrainian and can communicate in any language they want, including Russian or English. If a business repeatedly refuses to greet customers in Ukrainian, it will be subject to a $200 fine.
Facing complaints about coronavirus vaccine profiteering and delays, Ukraine's Health Ministry signed a contract last week with Crown Agents, a British international development company, to buy the Chinese Sinovac Biotech vaccine. Health Minister Maksym Stepanov said that vaccinations will start in the middle of February, two months after the US and UK. The first 350,000 to be vaccinated will be: doctors and nurses working with Covid patients, ATO soldiers and workers at elderly homes.
In March, the mass vaccination of 2.5 million Ukrainians is to start. Later in the spring, people will be able to buy vaccinations – a window for foreigners to get vaccinated here. Minister Stepanov tells Ukraina 24 TV that people who are vaccinated will get 'passports' – certificates to facilitate foreign travel. Currently, about 7,000 new Covid cases are reported daily in Ukraine, about half the level of six weeks ago. The currently heightened level of quarantine is to ease this Sunday at midnight.
Starting tomorrow, all airline passengers traveling to the US, including US citizens, must provide a negative COVID-19 test taken within three days of travel or documentation of recovery from COVID-19. Airlines must deny boarding to passengers who do not meet these requirements. Details can be found on this US Centers for Disease Control and Prevention web page.
Russia's Gazprom resumes construction of Nord Stream 2 this week, aiming to complete work in Danish waters by the end of May and in Germany waters by the end of June, reported Bloomberg, citing an official work schedule seen by a Bloomberg reporter. Russia's pipe laying vessel, the Fortuna, is already in the Baltic, off Rostock, reported shipfinder.com. Germany's Federal Maritime and Hydrographic Agency has extended the permit for laying the gas pipe on the Baltic sea bed.
Zurich Insurance Group AG has become the latest European company to pull out of the controversial Russia-Germany pipeline project, bowing to US sanctions, reports Bloomberg in a separate story. Presumably a Russian company will pick up the construction insurance that was provided by Zurich. In face of stepped-up US sanctions, Norway's Det Norske Veritas Holding AS, a certification company, and Denmark's engineering firm Rambøll cut ties with the project.
Foreign holdings of Ukrainian bonds ticked up 3.8% in the first two auctions of 2021, hitting UAH 87.6 billion, or $3.1 billion. Foreigners now hold 8.75% of the Ukrainian government bond market, according to Central Bank figures. The growth comes after a gradual 27.1% fall during the first 11 months of 2020. By contrast in 2019, foreign investment in the bonds increased 18-fold, ending the year at UAH 115.8 billion.
Air traffic in and out of Kharkiv, Ukraine's second largest city, dropped by 51% last year, slightly better than the nationwide drop of 64%, reported the Center for Transportation Strategies. Worldwide, passenger traffic dropped by 60%, hitting the level of 2003, International Civil Aviation Organization reports in a study headlined: "2020 passenger totals drop 60 percent as COVID-19 assault on international mobility continues." For Ukrainian travel agencies, sales volumes fell by 70%, Pavel Grigorash, executive director of the national Association of Travel Agencies, tells Economic Truth website.
Ukraine's Armed Forces plan to order up to eight new An-74 multipurpose transport jets to start replacing its aging An-26 fleet, Minister for Strategic Industries Oleh Uruskiy writes on Facebook. The orders would go to Kharkiv State Aircraft Production Enterprise, a manufacturer that has not completed a plane since 2014. However, the factory has six An-74s on its assembly lines, about 70-90% complete, reports Defence Blog. Four planes would go to Ukraine's Air Force for transport and four would to the Navy for maritime patrol. Between 1985 and 2004, the factory made 62 An-74s. The need to upgrade Ukraine's military transport became clear last September when a 43-year-old An-26 crashed near Kharkiv, killing 26 Air Force cadets and instructors.
Editor's Note – I love antiques, but going up 1,000 meters in an antique airplane – no thanks! Ukraine has 53 An-26 transport planes in use, about half in civil cargo aviation. According to a survey by the Center for Transportation Strategies, the age range for this fleet is from 35 to 49 years. Instead of flying these planes until they crash, it's time to invest in renewing the fleet. With Best Regards, Jim Brooke