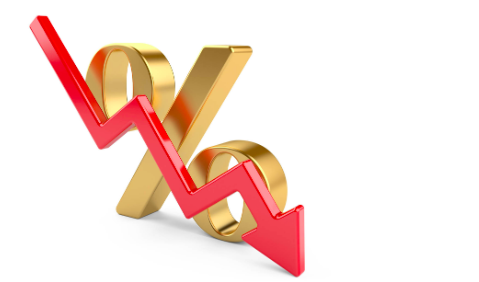 Monday, January 13
Big Interest Rate Cuts Ahead...Campaign Against Tax Evaders: Gambling, Logging, Gas Stations...Ukraine is the World's Fastest-Growing Food Exporter to EU...Farmers Feud With Railroaders, But UZ Hauls Record Grain Volume...UIA Asks: Why Did Iran Keep Airport Open After Firing Missiles at US Bases?...Ciao Ernest!
Ukraine's prime rate may be slashed this year to 8% — one year ahead of schedule, Yakov Smoliy, governor of the National Bank of Ukraine, tells Project Krym. "Business can rates on loans at the level of 10-12% per annum in UAH," Smoliy predicts in the summary on Facebook. This would mean a 550 basis point cut from the current level of 13.5%
With Ukraine's 13.5 prime rate more than triple December's 4.1% inflation, economists predict radical interest rate cuts. The next central bank board meeting, on Jan. 30, "is likely to bring a new wave of acceleration in rate-cutting, with the decision probably coming to a 300 bps cut," Oleksiy Blinov, head of research of Alfa-Bank Ukraine, wrote Saturday. He noted: "In December, the Consumer Price Index decreased 0.2% m-o-m, marking the first case of deflation at the end of any given year in Ukraine's history."
December's deflation may provoke the central bank to reverse course and nudge inflation back up to the 2020 goal of 5%, Serhiy Nikolaychuk, deputy economy minister writes on Facebook. "Most likely, in the near future, the task will be the opposite – to raise inflation to the target," he writes. Referring to rock bottom interest rates in the US, EU and Japan, he adds: "I think there should be no problems in this regard, unlike the central banks of developed countries."
In the first year of a major foreign currency liberalization, the volumes of buying and selling currency online by Ukrainian individuals were almost evenly balanced at $1 billion each, reports the central bank. On Feb. 7, a liberalization package authorized online purchases of foreign currency by individuals. On Nov. 5, the central bank canceled the daily limit for the purchase of foreign currency. It had been the equivalent of $6,250.
Crackdowns on illegal gambling, logging, and gas stations are part of a drive to shrink Ukraine's shadow, off the book's economy, Prime Minister Honcharuk said Saturday at a meeting with leaders from the 24 regions. He wrote on his Facebook page: "Shadow schemes mean money stolen from every Ukrainian. 2020 will be the year of the de-shadowing of the Ukrainian economy." In the last two weeks, police have closed 900 illegal gambling halls and 707 gasoline stations that were not paying fuel taxes. On Feb. 1, Ukraine is to have a centralized, digital record of all cut timber.
A mild winter, with rain and temperatures above freezing, has put Ukraine on track for a strong winter wheat crop, according to Tetyana Adamenko, the state weather forecaster. In the fall, abnormally dry weather raised concerns about seeds germinating. Winter wheat accounts for 95% of the nation's wheat crop. Last year, Ukraine harvested 28.1 million tons of wheat, 14% more than in 2018.
Ukraine was the world's sixth largest wheat exporter in 2018. The ranking was: Russia – $8.4 billion (20.5% of total wheat exports); Canada – $5.7 billion (13.8%); US – $5.5 billion (13.2%); France – $4.1 billion (10%);  Australia – $3.1 billion (7.5%); Ukraine – $3 billion (7.3%).
Facing a world sugar glut and weak prices, Ukraine's sugar refiners cut their production by 19% during the recently completed milling season. This follows a 15% drop last year. Sugar prices are 14 US cents a pound, well below the average of the last decade. With the acreage planted in sugar beets down by 20%, nine refineries never opened their doors this fall, down from 42 last year. This year's production was 1.5 million tons, reports Ukrtsukor, the sugar producer association. Top three producing regions are: Vinnytsia – 331,900 tons; Khmelnytskyi -192,800 tons; and Ternopil -186,400 tons.
Despite farmer complaints about EU quotas, Ukraine was by far the fastest-growing food exporter to the EU in the 12-month period ending last October, reports European Integration Portal. Of the top 20 exporting nations to the EU, only two achieved double-digit growth: Ukraine + 41%, to €7.3 billion; and Peru +18%, to €2.6 billion. With this jump, Ukraine displaced China to become the third-largest food supplier to the EU. The top two are the US +6%, to €12.3 billion; and Brazil -2%, to €11.7 billion.
Reflecting the importance of food, Ukraine's overall exports to the EU increased by only 7%, during January-October, compared to the same period in 2018, reports Ukraine's State Statistics Service
Despite farmer complaints about the railroad, Ukrzaliznytsia transported 40 million tons of grain last year, 20% more than 2018 and an absolute record for the three decades since Independence. Yevhen Kravtsov, CEO of the state railroad, writes on Facebook that the increase is due to better coordination with farmers and logistics companies and faster turnarounds of UZ's 28,000-grain hopper cars.
Tehran agrees with Kyiv to compensate families of the 176 passengers killed in last week's shootdown of the UIA passenger jet flying out of Tehran, Ukraine's presidential service said yesterday in a readout of Saturday's telephone call between Zelenskiy and Iran's President Hassan Rouhani. Iran's admission Saturday that its anti-aircraft missiles shot down the Boeing provoked anti-government protests. The majority of passengers were ethnic Iranians traveling to Europe and Canada for study and work.
UIA officials questioned why Iran did not close Tehran's Imam Khomeini International Airport immediately after Iran's military fired missiles at US bases in Iraq. "They were being completely irresponsible," Ihor Sosnovsky, UIA's vice president for flight operations, said Saturday at a press conference in Kyiv. "If you are playing war, you can play it as much as you want. But all around are normal people who have to be protected. They had to close the airport if they were shooting."
Ernest Airlines, the largest provider of flights between Italy and Ukraine, ended all flights on Saturday. In two years, Ernest grew to have flights from Kharkiv, Kyiv Sikorsky, Lviv, and Odesa. From Kyiv, it flew to six Italian cities. On Dec. 29, the Italian National Civil Aviation Administration temporarily suspended the operating license of the Milan-based airline, without publicly explaining reasons. "All aircraft have been returned to their lessors," Jakob Wert reports in International Flight Network.
Olena Lytvynenko, the Kyiv Region judge who tried to ground Ukraine's low-cost airline SkyUp last May, has been fired by the High Council of Justice. Lytvynenko tried to ground the airline based on the complaint of a local woman, Oksana Pasenko. RFE's Scheme reporters soon discovered the flight did not exist, that Pasenko did not have a passport, and that she had never flown on an airplane. It is not clear if a bribe was made to the judge.
From the Editor: Someone who manages money once commented to me that a journalist can get it wrong and go to work the next day. The portfolio manager who gets it wrong ends up on a park bench scanning the classifieds. Add Ukrainian economists to the first group. Inflation at 4%. Reserves at $25 billion. GDP growth at 3.7%. Hryvnia up 15%. A New Year's resolution for economists should be to reopen their January 2019 file — and reflect on what went right, with Ukraine's economy. With best regards Jim Brooke jbrooke@ubn.news