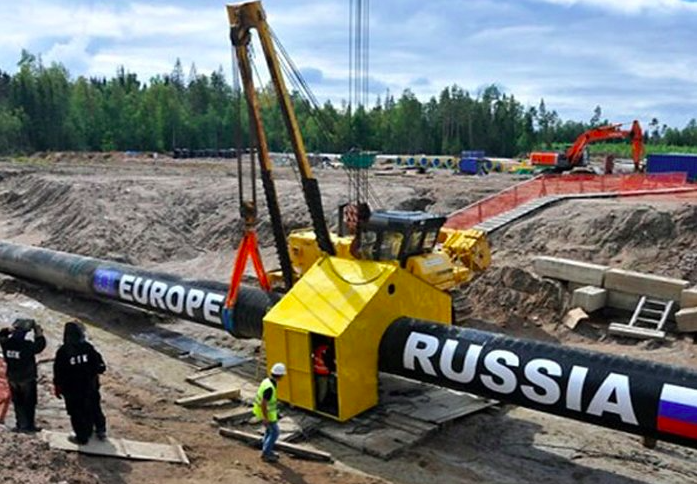 Gazprom re-starts construction of Nord Stream 2 on Friday, using a flotilla of three Russian boats capable of finishing the Russia to Germany gas line by May, The Financial Times reports from Moscow and Berlin. Denmark's energy agency states it received the necessary documents for pipe laying to resume Jan. 15. A German Foreign Ministry official tells the FT: "According to our information, the construction permits necessary for laying the pipeline have been issued." Worked stopped one year ago, in face of new US sanctions. A second layer of sanctions were approved by the US Congress 10 days ago.
"The US sanctions will delay the launch of the project, but will not stop its completion," predicts Naz Masraff, Europe director at Eurasia Group. "Ultimately, Moscow, with the help of Berlin, will find ways to bypass the sanctions." Looking ahead to the inauguration of Joe Biden next week at US president, she told the FT: "[US] sanctions will likely be used as leverage to co-operate with the German government on restrictions to make the pipeline operational while also paying attention to Washington's concerns over Ukraine."
With Russian gas transit across Ukraine only guaranteed through 2024, Ukraine's pipeline operator is negotiating alternatives: storage of gas from new LNG terminals in the Baltic and Adriatic, and transmission of 'non-carbonized' gases, such hydrogen and bio-methane. Olga Bielkova, international affairs director for Ukraine's gas transportation system, writes in an Atlantic Council Ukraine Alert blog that Ukraine and Romania are increasing their cross-border pipelines from one to four, Ukraine is negotiating with Hungary access to gas from Croatia's new LNG terminal, and is offering Polish gas traders storage capacity in western Ukraine, near the border.
Pro-Russian politicians promoting Russia's coronavirus vaccine are making advances as the West delays sending its own vaccines to Ukraine, The New York Times reports in a story headlined: "In Vaccine Geopolitics, a Great Game Played With Ukrainians' Health." The article reports that the first Covax-supplied vaccines are to arrive in March, and commercial purchases of Western vaccines are only to start at the end of this year. In a New Year message, President Zelenskiy complained that "the richest countries" will get the vaccine first.
Alfa-Bank Ukraine forecasts the 2020 year-end foreign direct investment figure will be $0.00 billion. By contrast, net FDI inflow was $5.2 billion in 2019 and $4.5 billion in 2018.
Lack of rule of law, unpaid debts to solar and wind investors, and last year's purge of internationally-known reformers from government make for bleak prospects for inbound investment this year, Anders Aslund predicts in an Atlantic Council Ukraine blog: "What is Ukraine's Economic Outlook for 2021?" "Looking ahead, Ukraine's worst economic problem remains the absence of property rights, which continues to hinder investment of any kind," the Swedish-American economist writes from Washington. "Without judicial reform or an increase in investment, there is little reason to expect any economic growth beyond the gains arising from the anticipated post-coronavirus rebound."
By the end of next year, Ukrhydroenergo plans to put into operation at its hydro plants energy storage systems with capacity of 212 MW and solar power plants with a capacity of 65 MW, says Ihor Syrota, CEO of the state hydroelectric power generating company. Without citing numbers, he said the World Bank and the European Investment Bank are ready to lend to the project, reports Expro Consulting.
DTEK is opening "an investment hub" in London to attract investments for renewable energy projects in the Ukraine and in the EU, the company reports. "We created a hub to attract investment in new energy projects in Ukraine," says company CEO Maxim Timchenko. "This primarily concerns renewable energy sources, energy storage systems and hydrogen energy projects."
Turkey and Ukraine are working on "more than 30 joint projects" for production of military equipment, Ukraine's Ambassador to Turkey Andrii Sybiha says in a lengthy written said interview with Defensehere.com, a Turkish defense industry news site. Rather than trading military goods across the Black Sea, the countries are focusing on "joint research, joint-ventures and establishing joint production," he says. This decades, he predicts, will see Ukrainian Antonov planes built in Turkey and Turkish drones produced in Ukraine. Turning to space, he said both countries are working for joint development of "satellite technologies, space launch systems and infrastructure."
A Turkey-Ukraine-Poland container route is in the pipeline for 2021 as Ukrferry and Ferrplus have signed an agreement with Ukrzaliznytsia's Lisky terminal in Kyiv. In a multimodal route, containers will cross the Black Sea by ferry, largely to Odesa, then continue by rail to Kyiv and then to Gdansk, Poland's port on the Baltic, reports Railfreight.com. Separately, Edvīns Bērziņš, the new Latvian director of UZ's freight terminal at Lisky, is negotiating with PKP Cargo Connect to transport goods between Ukraine and Poland; with BTLC Germany to expand container trains between Europe and China; and with DHL will allow to organize container transportation around Ukraine.
On the first anniversary of the shootdown of the UIA passenger jet over Tehran, Ukraine joined Afghanistan, Canada, Sweden the UK in stating: "Our countries will hold Iran to account to deliver justice and make sure Iran makes full reparations to the families of the [176] victims and affected countries." UIA pilots and air crews and families of the deceased laid flowers Friday a memorial stone in Willow Grove Square on the left bank of the Dnipro.
Ryanair is suspending about 70% of its flights out of Kyiv Borsypil until April, according to an analysis of the discount airline's booking system by avianews.com. Until spring, only three out of the 30 routes from Kyiv will operate unchanged. Flights from Kharkiv and Kherson are suspended and traffic from Lviv is limited to a lone flight to London. The EU and UK have largely banned non-essential visits by Ukrainians. Flights are largely limited to people with work permits, study visas, in transit, or nationals of the destination country. Most countries require a certificate attesting to the negative result of a coronavirus test conducted within the previous 48 hours.
Editor's Note: Zero foreign investment last year. That should be an alarm bell for a major reset by the Zelenskiy Administration. Otherwise, it will simply tread water through 2024. An outgoing Italian diplomat, before driving home to Rome last week, left me with these sobering numbers for Italian investment in 2018: Africa: + €18 billion; Ukraine: negative €200 million. With Best Regards, Jim Brooke