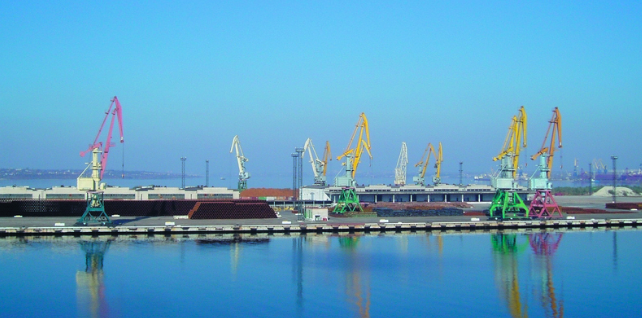 Monday, February 3
Concessions to Inject Private Money and Management into Ports, Airports and Train Stations...After Qatar Takes Over Olvia Port, UAE to Take over Kyiv Rail Station?...Foreigners Now Own $5 billion in Hryvnia Bonds...In Dollars, Wages up 25% in 2019
Qatar's QTerminals plans to turn Mykolaiv's Olvia port into a major grain hub, investing $25 million a year for five years in a new grain terminal, two new berths, six cranes, silos and belt loaders from rail and truck transfer stations. "We want to turn Olbia into a grain hub," Neville Bisset, QTerminals CEO, said Friday in Kyiv. "It has a good geographical location. This makes it possible to create a good product."
Fresh from winning the 35-year Olvia concession, Qatar's Minister of Transport Jassim bin Sayf Ahmed Al-Sulayti met Friday with Ihor Zhovkva, Ukraine's deputy presidential chief of staff. He assured: "Our company will take these investments seriously." QTerminals is the largest operator in Hamada, Qatar's main seaport which opened four years ago at a price of $7.4 billion.
A Swiss-Georgian consortium plans to build a major river cargo hub in Kherson, the last Dnipro port before the Black Sea. Risoil-Kherson, winner of the Kherson concession, plans to invest $15 million to upgrade cargo storage, to purchase new cranes, and to build seed and soybean processing plants. "We want to make Kherson a river hub for the whole Dnipro River," Shota Hadzhishvili, company founder, said Friday at an Infrastructure Ministry ceremony for the port concession winners. Aiming to double cargo traffic in five years, he said: "We plan to use all the navigation options on the Dnipro River, including the acquisition and construction of modern ships."
Infrastructure Minister Vladyslav Krykliy said at the winners ceremony: "Kherson and Olvia ports will become growth points for concessionaires and the Ukrainian economy." He said the next port facilities to go up for concession will be the container terminal and ferry terminal at Chornomorsk, Ukraine's third busiest port.
Turning to airports and rail stations, Krykliy said: "By the end of February we plan to decide on concession projects at the airports of Lviv, Zaporizhia, Kherson and Chernivtsi. We are preparing concessions for railway stations of Chop, Dnipro, Kharkiv, Khmelnytskyi, and Mykolaiv. This should give new quality to our rail passengers."
Kyiv's Central Passenger Station also is being prepared for a 20-year concession, according to the Cabinet of Ministers' 'Investment Atlas of Ukraine.' Serving almost 100,000 people every weekday, the station has a total leasable area of 236,000 square meters. According to Minister Krikliy, one company interested in the concession is Emaar Properties, the United Arab Emirates developer of Burj Khalifa, the world's tallest building.
Big US companies are welcome to bid on highway construction contracts and national gas and oil extraction in Ukrainian waters in the Black Sea, President Zelenskiy told visiting US Secretary of State Michael Pompeo in Kyiv Friday. He asked Pompeo to abolish the 25% customs duties on steel imports from Ukraine.
Alluding to the Ukraine-Impeachment nexus, Andy Hunder, President of the American Chamber of Commerce in Ukraine, told Pompeo: "There is a need to shift the narrative on U.S.-Ukraine relations to focus on business and investment. Ukraine is going through a massive overhaul."
Turkey's President Recep Tayyip Erdogan visits Ukraine today. Erdogan and Zelenskiy will open the Ukrainian-Turkish business forum at the Ukrainian Chamber of Commerce and Industry.
Backed by €366 million in committed loans, an international tender for the electrification of 270 km of rail lines feeding Mykolaiv port has been posted on the EBRD's electronic procurement site. The Rada has approved taking the loans from the EBRD and the European Investment Bank. Converging in Mykolaiv port in a V-formation, the lines start in Dolynska and Kolosivka. Electrifying tracks can increase freight train speeds by 25%.
ArcelorMittal Kryvyi Rih, Ukraine's biggest iron mining and steel manufacturer, invested $415 million to develop production last year. This was slight less than the 2018 level of $433 million, the company reports. "2019 was a difficult year for all plants of the mining and steel complex of Ukraine, while the second half of the year was more difficult than the first one," reads the company press release. "It was increasingly difficult for Ukrainian exporters to sell their steel products due to a significant drop of prices and general decrease in steel consumption on the world markets."
"Despite the reduction of the investment program budget, in 2020 the company intends to complete the implementation of key investment projects and continue the implementation of new ones," Arcelor said. Through 2022, the company plans to invest $1.8 billion to develop production.
MHP, Ukraine's largest poultry producer, is cutting by 15% its earlier guidance that 2019 earnings before interest, taxes, depreciation and amortization would be $450 million. In a company filing on the London Stock Exchange, MHP blames the strengthening of the hryvnia last year, weak export prices and a four month ban on exports to the Saudi Arabia.
To reverse a more recent setback, Ukrainian trade officials are negotiating with the EU to end a temporary ban on Ukrainian poultry exports to the EU. The ban stemmed from the discovery on Jan. 18 of chicken killed by avian influenza. The dead bird was not on a MHP farm. It is believed to have been infected by a wild bird.
The sunflower harvest in Ukraine, the world's biggest sunflower oil exporter, rose by almost 8% y-o-y, to 15.3 million tons in 2019, reports the State Statistics Service. Ukraine has increased its sunflower oil exports by about 60% so far in the marketing year that started in September, to almost 2 million tons. Last year, it exported 6 million tons. The national crop of canola, another source of cooking oil, increased by 20% y-o-y in 2019, to 3.3 million tons.
Foreign investor holdings of Ukraine government hryvnia bonds hit $5 billion last week, the Finance Ministry reports. In January, foreigners bought UAH 7.2 billion, or $287.5 million, of the bonds. Foreigners now hold 15% of the bonds, a level not seen as risky. Last year, Ukraine's Finance Ministry auctioned government domestic loan bonds worth the dollar equivalent of $11.5 billion — 3.5 times more than the amount sold in 2018.
The hryvnia officially trades today at 25 to the dollar, down 5.7% from the start of January. Central bank deputy governor Dmitry Sologub attributed the January drop to cyclical reasons: companies paying dividends and imports prevailing over exports. Sensing the hryvnia would fall, citizen sold a net $100 million in January, Sologub told reporters Thursday. Last year, the hryvnia appreciated against the U.S. dollar by 14.5%.
"In USD terms, wages jumped almost 25% in 2019," writes Oleksiy Blinov, chief economist for Alfa-Ukraine. He cites hryvnia appreciation and low inflation for bringing average wages to $520. Assuming exchange and inflation rate remain relatively stable, he predicts real wage growth this year will be 9%.
From the Editor: The Ukraine Business News archive – about half a million words — is now fully searchable. 1) Go to the site – https://ubn.news/ 2) Next to the magnifying glass, type in a search word 3) Hit enter. For example, a search under 'sunflower' yields about 60 references. It only works in English, the most popular of our four languages. Best Regards, Jim Brooke jbrooke@ubn.news