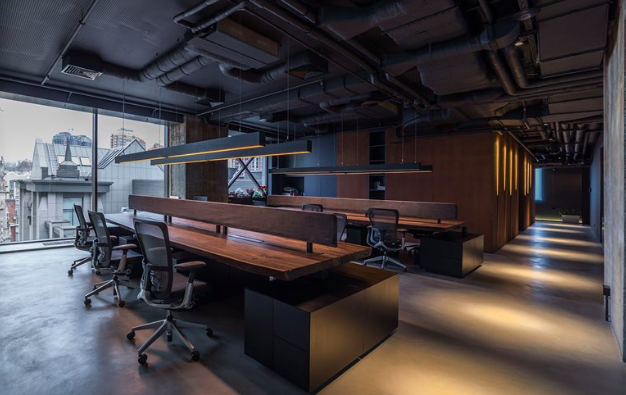 Monday, February 25
Kyiv Office Rents to Rise Until New Buildings Open in 2020-2021…"Dead Malls" to Appear in Kyiv?...Cashless Payments With Cards up 55%...Arcelor Switches American Train Engines for Russian Ones…Foreign Tourists: More by Plane, Fewer by Train
Kyiv office rents will rise for the next two years, until a "huge amount new [office] projects" open in 2020-2021, Ihor Zabolotsky, a commercial real estate analyst for Colliers International (Ukraine), said at Kyiv's recent Open Mind conference. Making up for the post 2014 slump, developers plans to commission 406,000 square meters in 2020-2021 — about two thirds more than the pre-2013 annual rate of 140,000 square meters. With office vacancies hitting 5%, IT companies are driving almost half of the new space demand.
DTEK Academy has become a major tenant of Kyiv's UNIT.City, occupying two floors, or 12,000 square meters, of the six story main building. DTEK moved six kilometers from their old office in the Eurasia Business Center on Zhilyanska Street to work with start ups and to focus training on innovation and digitalization. Max Yakover, CEO of UNIT.City, says the Academy plans a four fold increase of students nationwide, from 30,000 this year to 120,000 in the 2020s.
Real estate purchase transactions increased last year by 8% y-o-y, to 277,230, reports real estate portal domik.ua Drawing on statistics from public and private notaries, the news site reported that the two two regions were: Kyiv – 35,000; and Dnipropetrovsk – 28,500.
Kyiv risks seeing "Dead Malls" this year, NAI Ukraine, the consulting company, writes in a new report on the city's shopping mall scene. After 101,500 square meters in retail space opened last year, an additional 400,000 square meters are to open this year. NAI writes: "Such a large number of offers on the market may lead to the appearance of "Dead Malls" – empty, uninteresting for buyers and tenants of the mall. The concept that is common in America may appear in Kyiv due to the fact that such a large number of offers is not needed by the consumer."
 In a Kyiv poll, NAI found that more than half of respondents like to visit a mall every weekend. About 30% go to malls on weekdays. The average cost per visit is: food court — $5.20; restaurant – $22; jeans – $26; and shoes – $48. Mall goers are 54% women and 46% men.
Britain's Marks & Spencer reopened in Kharkiv two weeks ago, returning to a market it abandoned during the 2014-2015 crisis. With the 500 square meter store in Kharkiv's French Boulevard shopping center, the chain now has nine stores in Ukraine – five in Kyiv and one each in Dnipro, Kharkiv, Lviv and Odesa, and Lviv.
Cashless purchases using bank cards jumped by 55% last year, hitting $48 billion. The number of transactions rose by one third, to 3.1 billion, reports the National Bank of Ukraine. The portion of all non-cash transactions made with cards hit 45%. As Ukraine increasingly goes cashless, the number of point of sale terminals rose by 20% last year, hitting 279,000.
As contactless also becomes popular, the number of contactless cards jumped last year by 44%, to 4 million. Today almost 80% of point of sale terminals allow contactless transactions. Starting April 12, Mastercard increases the limit of contactless payments on cards without a PIN code to UAH 500, or $18.50, up from the current level of UAH100.  Mastercard accounts for 70% of purchases by card in Ukraine.
Ukraine's average monthly wage, as measured in dollars, has doubled in three years, to $380, Prime Minister Groysman said. The minimum wage, received by a minority of workers, has tripled, from $50 in 2016 to $150 today. He said: "The current size is not big, but we are moving forward."
Less than one year after Beskidy railway tunnel opened, the tunnel through the Carpathians is carrying 60% of Ukraine's exports to the EU, President Poroshenko said on a visit to Lviv. Opened in May, the double track, Lviv-Zakarpattia tunnel can carry 100 trains a day. Hailing "the Lviv locomotive," he said that Lviv's exports to the EU jumped by 22% last year. Last year, 79% of Lviv's exports went to the EU, almost double the national average of 43%
Ukrainian loggers last year cut 22 million cubic meters, or about 1% of the national forest, reports Volodymyr Bondar, deputy head of Forest Resources Agency. Forest growth is about 1.5% a year, or 33 million cubic meters. The Agency controls 73% of Ukraine's 10.4 million hectares, or 15.9% of the nation. Due to an Electronic Wood Accounting System, Bondar says that illegal logging has been reduced to 17,700 cubic meters.
 Wood exports dropped 40% y-o-y to only 527,000 cubic meters, a tiny portion of the national cut. The EU is pressuring Ukraine to export more wood to feed its wood products industries. Ukraine restricts exports of raw logs in an attempt to rebuild the furniture and milling industries at home.
ProZorro, the electronic procurement system, has saved almost $2.8 billion since its introduction four years ago, reports the Economic Development and Trade Ministry. About 215,000 companies, 80% of them small businesses, have used the platform, the ministry reports Facebook. Mandatory for most government procurements since 2016, the system posts information on tenders and conducts competitive bidding sales. Foreign companies are eligible to participate.
Ukraine wants to sell to Egypt an upgrade of its anti-aircraft missile defense systems. Pavlo Bukin, head of UkrOboronProm, agreed at a defense show in Abu Dhabi, to provide "proposals for the modernization of anti-aircraft missile systems and other air defense systems used by the Egyptian Armed Forces." Bukin met at IDEX 2019 with Hassan Ahmed Abdel-Mageed, director of Egypt's Ministry of Military Production.
Faced with Russia's ban on sale of locomotive engines to Ukraine, ArcelorMittal Kryviy Rih is solving the problem by pulling out old Russian engines and replacing them with new American-made Cummins diesel engines, reports the Center for Transportation Technologies. Arcelor, Ukraine's largest integrated steel company, is upgrading five locomotives this way, buying the endings from Comtek, the representative of Cummins in Ukraine. Arcelor, which has 125 locomotives, plans to open a tender soon to repair five more.
Tourists visiting Ukraine by plane – rather than train – jumped last year, according to the Border Service. As a result of this higher spending influx, tax money generated by tourism rose by 21% last year to $155 million, reports the Economic Development and Trade Ministry. EU growth champions were: Spain + 68%; Great Britain + 47%; Lithuania + 23%; Italy + 15%; Germany + 13%; and France + 9%. From the rest of the world, growth countries were:  India + by 57%; China + 39%; Japan +38%; Israel + 22%; and the US +19%. Entries by citizens of border countries declined.