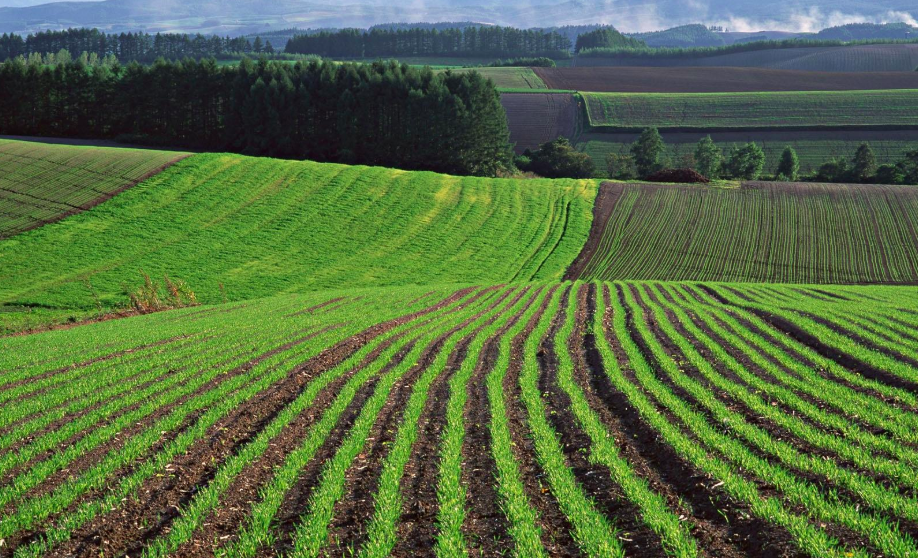 Monday, February 10
Farm Land Market by Spring...Land Sales Will Only Boost GDP in Mid-2020s...For Now, Agricultural Receipts Soar in Popularity...Global Warming Cuts Ukraine's Gas, Coal and Electricity Bills...Kharkiv Airport Wakes Up...Next Summer: Fly to Ukraine's Danube
Adoption of a bill to create a farmland market in Ukraine is two months away, David Arakhamia, head of the ruling parliamentary faction, told journalists Friday. The Rada plans to review each of 4,018 amendments to the bill. Last week, the Rada reviewed 216 and passed one. Oleskandr Kornienko, chairman of Zelenskiy's Servant of the People party, said Thursday, referring to opposition leaders: "The adoption of the law will slow down the implementation of other reforms, but we know whom to thank for that." The Rada's next plenary session is Feb. 18.
The current bill limits land ownership to 10,000 hectares and bans sales to foreigners. After a land market is up and running, the government plans to hold a referendum on foreign ownership. Rada chairman Dmitry Razumkov repeated this policy Friday, saying on TV: "The opportunity to buy before the referendum is limited for foreigners – individuals, just like for companies.
Ukraine's shift to a private farm land market will be gradual, probably taking "at least seven or eight years," Alex Lissitsa, director general of IMC Agroholding, told the annual general meeting of the European Business Association last week. With the market to start in October, there will be no impact on GDP growth this year, he predicted. Injections of capital into the countryside from land sales will only result in economic growth in 2022-2023, he said.
Without a land market, agricultural receipts – getting credit in the spring against harvests in the fall – are snowballing, reports the Economic Development, Trade and Agriculture Ministry. From a pilot project in 2015, agricultural receipts hit $450 million last year — 60% of the 5-year total. Unable to pledge land titles as collateral for credit, farmers of 37 different crops now use this program. The default rate is only 1.6%.
All deals are registered online in an open Agrarian Receipts Register. "We also plan to update the law 'On Agricultural Receipts' to make agricultural receipts even more affordable – cheaper and faster to issue," says deputy minister Taras Vysotsky. The program is supported by Swiss aid and by the World Bank's International Finance Corporation. Reflecting growing confidence in the program, 12 'international' agrarian receipts have been issued for a total of $450,000.
With Kyiv temperatures forecast to stay above freezing through mid-February, Ukraine is consuming less gas, coal and electricity. Electricity consumption is down 10% this winter, Energy Minister Oleksiy Orzhel told the Rada Friday. "We produce more coal than we are consuming during the heating season." Partly due to decreased demand, Ukraine's gas prices in January were down 20% y-o-y. Largely due to warmer Werther, Ukraine consumed 7% less gas in 2019 than in the year before, Naftogaz reports. Low fuel prices help pull down inflation.
Economy and Trade Minister has proposed nearly $1 billion in 'anti-crisis measures,' largely to pay for rebuilding infrastructure and improving the energy efficiency of industry. Minister Tymofiy Mylovanov is the latest government official to raise alarms about the EU's proposed 'Green Deal.' In a challenge to Ukrainian industry, this would raise tariffs on imports based on their carbon footprint. Mylovanov wrote on Facebook of his report last week to the Rada Economic Development Committee: "Further increase of exports to the EU is under threat as domestic producers will suffer losses and lose their competitive ability following the introduction of the carbon border tax in the EU."
To get credit to small and medium enterprises, the EBRD is extending a local currency loan of up to $5 million to Piraeus Bank Ukraine, coupled with €10 million funding under the Bank's Risk Sharing Facility. Designed to increase the size and length of loans to SMEs across Ukraine, the EBRD will share the risk on individual loans made by Piraeus.
Assuming the IMF deal is finalized in the spring, Ukraine's foreign reserves could grow by another 22%, to $32 billion, predicts the National Bank of Ukraine. Last year, reserves grew by 22%, to 25.3 billion. During January, they grew another $1 billion, to $26.3 billion. With $32 billion, Ukraine would have enough money to cover five months of imports.
In the latest liberalization of the foreign exchange market, the National Bank is allowing non-resident foreign banks to buy and sell hryvnia and to make settlements in Ukraine's currency.  "Foreign banks will be able to freely settle in UAH with other foreign banks under foreign currency purchase and sale transactions," reports the central bank.
"The Year of Great Construction" is the slogan Prime Minister Honcharuk is using to galvanize heads of the 24 regions to prepare for the March 1 start to the building season. In addition to submitting lists of roads to Ukravtodor, the highway agency, oblast leaders are to submit by Friday lists of other projects to the Regional Development and Forestry Ministry. "We are launching major construction and major overhaul of schools, kindergartens, hospital reception offices, stadiums and roads across the country," Honcharuk said. So far, only six regions met the Feb. 1 deadline to submit lists of roads to Ukravtodor, reports Ukrinform.
Kharkiv Airport's passenger traffic jumped by 55% y-o-y, to 111,600 in January. With Ryanair and Wizz Air firmly established serving Ukraine second's largest city, there will be direct scheduled flights from Kharkiv to 20 EU cities by March. Today, the most popular destinations are split between work: Dortmund, Gdansk, Krakow, Prague, Vienna, Warsaw, and Wroclaw;  and pleasure — Istanbul and Sharm El Sheik. Last year, Kharkiv's air passenger traffic was up 39%, to 1.3 million.
The cruise business of the Ukrainian Danube Shipping Company lost $2 million last year, despite the fact that the company's four boats enjoyed "88-90%" occupancy, Oleksiy Khomyakov, acting board chair of the state company, tells the Center for Transportation Strategies. Part of new management, Khomyakov blamed the losses on corrupt deals. Using four Soviet-era cruise ships, Ukrainian Danube offers inexpensive river tours "From the Alps to the Black Sea" – from Vienna to Bratislava to Budapest to Belgrade to the company's home port in Izmail, in Ukraine's Danube delta.
Offering a boost to Ukrainian Danube tourism, work starts this year to rebuild and reopen Izmail airport, the second airport for Odesa Region, Infrastructure Minister Vladyslav Krikliy said recently. Located midway between Kyiv and Istanbul – 490 km each way– the airport is to be prepared to receive flights from both cities. Last summer, work started on rebuilding the terminal and its international passport control point. To receive more than daytime flights from turboprops, the runway needs to be extended by 500 meters and modern navigational aids  have to be installed.
From the Editor: Instead of a land rush, the move to a free market in farm land will be gradual – and probably politically doable. Transparent registers on the Internet will fight claim jumpers. Ideally, success stories – increased yields and better rural living standards – will persuade Ukrainians to back moving the farmland model from Cuba to Kansas. Given the mood in the Rada, the 1,000 farming companies now working in Ukraine with foreign capital will just have to wait to win the right to buy the land they work. With Best Regards, Jim Brooke jbrooke@ubn.news