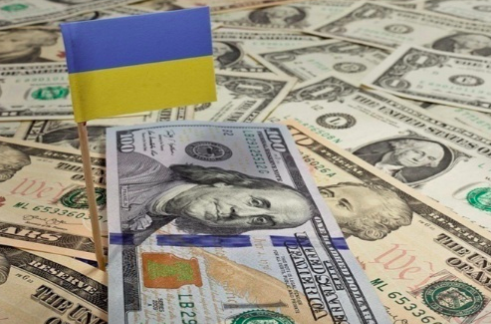 Monday, December 9
IMF Backs Ukraine as Zelenskiy Meets Putin Today...IMF Deal Will Unlock Foreign Investment and €500 million in EU Aid...PM Vows No Return of PrivatBank to Kolomoisky...Central Bank to Chop Prime Interest Rate This Week...EU Courts Push Gazprom to Wall
The IMF has given preliminary agreement to a $5.5 billion, three-year loan program with Ukraine, a boost for President Zelenskiy as he meets Russian President Putin today in Paris for peace and gas talks. The surprise announcement for Ukraine's third IMF package since Russia's 2014 annexation of Crimea, followed a telephone call on Saturday between Zelenskiy and the IMF's new Managing Director, Kristalina Georgieva.
The fruit of three months of talks, the coveted deal is an internationally recognized seal of approval for Zelenskiy's government's free-market economic policies. Pending approval by IMF management and Executive Board, the deal is designed to give a green light to foreign direct investment in Ukraine in the 2020s.
The IMF deal "opens the door to receiving €500 million of macro-financial assistance from the EU on very favorable terms in the coming months," Finance Minister Markarova wrote Sunday on Facebook. Similarly, Matti Maasikas, EU Ambassador to Ukraine, tweeted: "It should open the way to EU macro-financial assistance."
Georgieva, a Bulgarian economist and international servant who started Oct. 1 as IMF Managing Director, wrote after her "very constructive call" to Kyiv: "I commended the President for the impressive progress that he and his government have made in the past few months in advancing reforms and continuing with sound economic policies…The President and I agreed that Ukraine's economic success depends crucially on strengthening the rule of law, enhancing the integrity of the judiciary, and reducing the role of vested interests in the economy, and that it is paramount to safeguard the gains made in cleaning up the banking system and recover the large costs to the taxpayers from bank resolutions."
In response, Zelenskiy underlined his goals for the early 2020s: "Our [legislative] turbo-mode has been praised by the IMF…The new program of cooperation with the International Monetary Fund aims to accelerate economic growth, actively eradicate corruption and improve the well-being of every Ukrainian…We are not satisfied with the current rate of economic growth. Therefore, in order to accelerate economic growth, we, together with our international partners, will continue reforms to catch up with our neighbors in terms of economic development and prosperity."
Similarly, Prime Minister Honcharuk wrote: "It is symbolic that we received the Staff-Level Agreement under the new IMF support program in exactly 100 days of government. Support from such large systemic institutions is a marker of trust in the country. So, for us, there will be cheaper resources. For all businesses and all Ukrainians, it means that the economy will grow faster, there will be more jobs, higher wages."
On the key issue of PrivatBank, Honcharuk told RBK-Ukraina hours before the IMF decision: "There is no reason to return the state bank to the old shareholders. In addition, we will do everything possible to recover the taxpayers' money that has been spent on nationalizing the bank." Three years ago, when the bank was seized from Ihor Kolomoisky and Gennadiy Bogolyubov, the bank needed a $5.5 billion cash infusion to stay afloat. In a striking turnaround, PrivatBank, the nation's largest bank, has recorded $1 billion in profits so far this year.
Ten days from now, a Kyiv court is to rule on an appeal against a court decision last April that ruled the nationalization 'illegal.' The government is preparing a law to bar return of nationalized banks to their former owners. Honcharuk said: "When it will be approved, it is difficult for me to predict. But this is a matter of the near future." It is unclear if a new law can be applied retroactively. Barring the return of PrivatBank to Kolomoisky is a key demand of the IMF.
The IMF operates in strict secrecy. It caught Ukraine watchers flat-footed.
"Does not sound like new program is imminent," Timothy Ash wrote Friday evening, hours before the new program was announced. After the announcement, Ash, a sovereign analyst for Blue Bay Asset Management in London, wrote: "Politically driven."
On reflection, he wrote Sunday: "A victory for reformers and a defeat for Kolomoisky and for those who campaigned against a new IMF program…Western partners wanted to send Zelenskiy into talks with Putin with a strong statement of support from the West, which a new IMF program assures."
The central bank is expected to cut the nation's prime rate this week by one percentage point, to 14.5%, according to 11 of 16 local economists polled by Reuters last week, before the IMF deal was announced. With an IMF deal, the cut could be 1.5 percentage points, predicted Olena Bilan, chief economist for Dragon Capital. All economists predicted that National Bank of Ukraine will announce a cut Thursday, its last policy meeting of the year. The central bank's published target is to cut prime to 9% at the end of 2020. Since the start of this year, foreigners have increased their local bond portfolios by $4.2 billion, helping to strengthen the hryvnia by 16%, to 23.72 per dollar.
Inflation in Ukraine may end this year at 6%, compared to 9.8% in 2018, and 13.7% in 2017, Oleg Churiy, a deputy central bank governor, tells Ukrainian Wealth Management Forum, organized by the Adam Smith Institute in Kyiv. "We have a strong disinflation trend — at the end of the year, we expect inflation of about 6%," he said. Next year, he predicted, Ukraine's inflation will be 5%.
With European court rulings starting to bite, Gazprom discussed in Vienna on Friday paying its $3 billion debt to Naftogaz through gas deliveries. Sensing advantage, Yuriy Vitrenko, Naftogaz executive director, proposed on Facebook that Ukraine's state gas company drop a potential $12 billion lawsuit against the Russian state gas company in return for a 10-year gas transit contract. On Jan. 1, Gazprom's existing 10-year gas transit contract expires, threatening to deprive Ukraine of $3 billion a year in pipeline revenues.
After moving to seize Gazprom assets in Britain, Luxembourg, and Switzerland, Naftogaz believes it is one court decision away from seizing $5.2 billion worth of Gazprom assets arrested in the Netherlands. "Our assessment is that the hearings were successful for us," Vitrenko wrote on Facebook after a court hearing Wednesday in Amsterdam. Looking ahead to a Feb. 25 court ruling, he wrote: "We expect a positive court decision that will allow us to proceed with the sale of Gazprom's assets, which we had previously successfully arrested."
From the Editor:  Last week in London, at Monday's Ukrainian Investment Roadshow, and later at separate meetings with 10 different institutional investors, I encountered the same question again and again: Will Ukraine get an IMF deal? With billions flowing into Ukrainian bonds, Ukraine does not need an IMF deal for the money. It needs the IMF's 'Good Housekeeping Seal of Approval,' a gold standard endorsement for foreign investors looking at Ukraine in the 2020s. In Washington, the White House is going wobbly on Ukraine. Therefore, it is refreshing to see that, three blocks up Pennsylvania Ave., a Bulgarian economist running the IMF, gets it. Best Regards, Jim Brooke jbrooke@ubn.news.