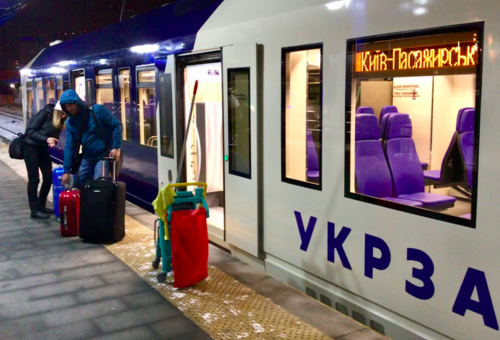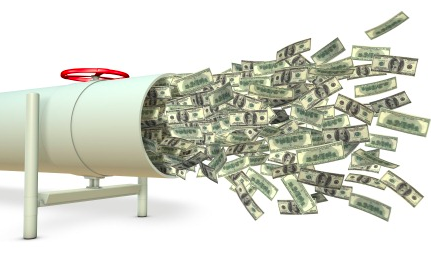 In a clear signal of support to Ukraine, the EU has approved disbursement of €500 million in aid to Ukraine – two weeks before the IMF and the World Bank are to approve similar aid. Valdis Dombrovskis, EU Vice President for Financial Stability said on announcing the move Friday: "Today's European Commission decision on disbursement comes at a crucial moment when Ukraine and its people face a new aggression from Russia and need to see solidarity from international partners. Such aggressive behavior is not acceptable in today's Europe."  According to a post on Ukraine's Finance Ministry website, the aid is to arrive in mid-December, in the form of loans with annual interest rates below 2%.
The EU approved up to €1 billion in aid to Ukraine last summer in return for the government to make free market-oriented changes. These include: fighting corruption, improving transparency of company registers, enhancing the predictability of taxes and strengthening governance of state companies. On Friday, Pierre Moscovici, Commissioner for Economic and Financial Affairs, Taxation and Customs, reminded Kyiv of this linkage, saying: "This is an important and encouraging signal that Ukraine continues to deliver on reforms despite the current security environment and the upcoming electoral cycle."
Using new German and Chinese drilling rigs, Ukrgazviboduvannya, the nation's largest oil and gas producer, plans to increase drilling volumes by two thirds in 2019, a record jump for the state energy company.  Next year, UGV plans to drill 524,000 meters, more than double the 2017 level, Michael Paduchak, head of drilling for UGV, said Friday at the company's Technology Day in Kyiv. A unit of Naftogaz, UGV aims to produce 20 billion cubic meters of gas in 2020, 22% more than this year's forecast level.
By Dec. 1, Ukraine used up 10 quotas for duty free exports of farm products to the EU: honey, butter, chicken meat, cereals, corn, wheat, malt and wheat gluten, processed tomatoes, and grape and apple juice. Quotas for garlic and starch are to be filled in coming days, reports Ukraine's Agrarian Business Club. After Asia, the EU is Ukraine's second-largest market for food sales.
Uzbekistan, the largest importer of Ukrainian sugar, has suspended sugar imports from Ukraine due to a "ban on accepting and customs clearance of Ukrainian goods," reports Ukrtsukor, the National Association of Sugar Producers. Last year, Uzbekistan bought 60% of Ukraine's sugar exports. It is unclear if Uzbekistan's 'ban' applies only to sugar or to all imports from Ukraine. The Central Asian country depends heavily on wage remittances from guest workers in Russia.
Grain handling capacity at Ukraine's sea ports has increased this year by 14% to 50 million tons, Maksym Shyrokov, head of the Sea Ports Authority's Yuzhne branch, tells a grain terminal conference in Kyiv. This year, grain terminals were built at the ports of Yuzhne, Berdyansk and Olbia, raising the national total to 52. Over the last five years, the flow of grain through the nation ports has doubled, from 22 to 44 million tons,
Looking ahead, $1 billion worth of public private partnerships are underway to build terminals, reloading complexes and berths in Chornomorsk, Mariupol, Mykolaiv, Odesa and Yuzhne ports, Shyrokov says. The ratio of private funds to public funds is 5:1.
Work is starting on a $55 million China-Ukraine public private investment to increase grain and vegetable oil handling facilities at Mykolaiv, now Ukraine's second busiest Black Sea Port, after Odesa. Raivis Veckagans, head of the Sea Port Authority, reports from Mykolaiv that the port's grain handling capacity will be increased by 2.5 million tons a year and oil handling by 1 million tons. The state agency is to spend $12 million, largely for dredging. Kyiv's Orum Group is building the grain and vegetable transshipment complexes. In addition, an Orum unit, Seaside Terminal, plans to invest $4 million to rebuild the Mykolaiv-Vantazh rail station, increasing its capacity. Separately, the Infrastructure Ministry reports that COFCO — China National Cereals, Oils and Foodstuffs Corporation — will invest up to $30 million in berth capacity and river logistics.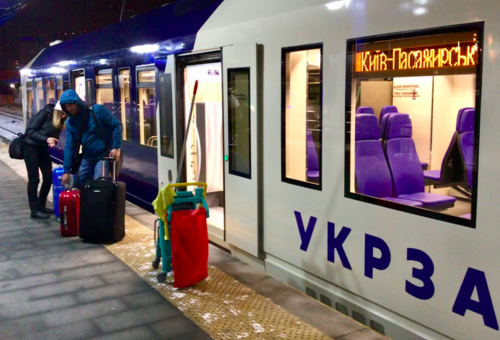 Kyiv's new train to the plane – the Kyiv Boryspil Express train – runs at full schedule this week — 30 times a day, around the clock, linking Kyiv's Central Rail Station with Boryspil, the nation's busiest airport. Frequencies vary.  Roughly every half hour at peak times — 6 am to 10 am; 6 pm to 10 pm. Once an hour during other times. The fare is 80 UAH, about $2.85 and the ride takes 38 minutes, with one stop at Darnitsa, the Left Bank rail hub. Next year, a stop at Vydubichi is to be added, making for easy access to the Metro Green line. By contrast, the bus costs 100 UAH and drive times are hostage to snow, rush hour traffic jams and repairs on bridges over the Dnipro.
Ten years in the making, the project suffered a setback when the first $50 million tranche of Chinese financing disappeared, and Vladislav Kaskiv, the Yanukovych-era director of the State Investment Project, ran away. One year ago, he was extradited to Kyiv from Panama, only to be released on bail. It is unclear where the case stands. Instead of a $365 million, five-year project financed with Chinese loans, today's project was built in nine months, for $17 million, financed by Ukrzaliznitsya. The national railroad built a 300-meter rail bridge over the Kyiv-Kharkiv highway, four kilometers of new track, and a new station at Boryspil's Terminal D. UNIAN's Alexander Kunitsky writes: "By launching the express train, Ukraine showed the ability to implement large infrastructure projects. And Kiev residents and guests of the capital received a comfortable way to get to the airport."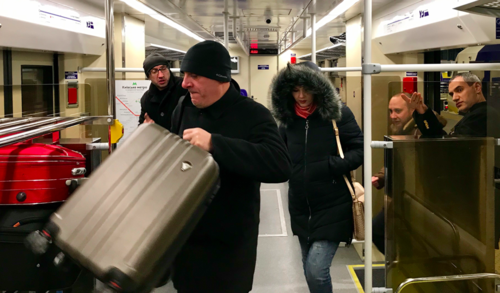 After taking the train Sunday evening, the UBN offer these travel tips. From Boryspil, there is no signage inside Terminal D, the main terminal.  Outside on the arrivals level, a large blue and white Ukrzaliznitsya beckons passengers to a covered walkway. About 100 meters down the walkway stands Boryspil rail station. There tickets can be bought, with a credit card or bank card, from two vending machines, or, with cash, from an attendant in a booth, exact change appreciated. A conductor opens the door of the next train – a single, self-propelled, heated car. Riders wait in the car. Seating is open. The ride is quiet, smooth and fast. On board, there is no wifi or electric outlets.
 Arrival at Kyiv Central station's Platform 14 means lugging bags up two flights of stairs. There is a pleasant, guarded waiting room – heated, with electric outlets, Wi-Fi and a children's area. A ticket is your access. Tickets can be bought at the four electronic vending machines outside the waiting room, or at the main station ticket windows. Tickets are valid for 24 hours.
For comments and story tips, Brooke is reachable at: jbrooke@ubn.news