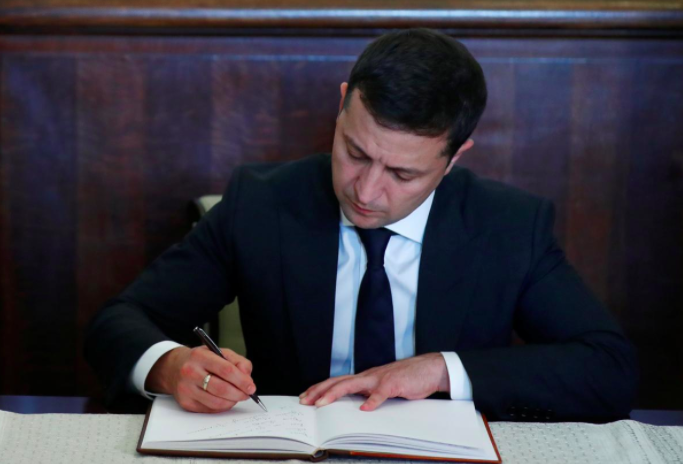 President Zelenskiy signed on Friday the national budget for 2021.  Expenditures are to be $46.5 billion and revenues are $38.2 billion. The deficit of $8.3 billion is to be 5.5% of GDP, forecast at $150 billion. For the Big Construction roads program, $5.3 billion is to be spent.
The budget is built around these numbers for 2021: GDP growth — 4.6%; inflation — 7.3%, public debt to GDP at 65%; average exchange rate — UAH 29.1 per dollar (versus UAH 28.39 today). Starting Friday, the minimum monthly wage increases to UAH 6,000, or $211. The budget predicts an average monthly salary of $480.
Retail sales for this year through November are up 8% in real terms, compared to the same 11-month period in 2019, reports the State Statistics Service. In November alone, retail sales were up 12.1% yoy in real terms. Analysts say this indicates that merchants were able to work about the three weekends of retail lockdown in November.
Concorde Capital's Evgeniya Akhtyrko writes: "Retail sales in Ukraine are booming, backed by fast growth of real wages. Strong household consumption is helping the economy to offset falling investments."
Investments were down 24% in the third quarter, compared to the same July-September period in 2019. The Central Bank attributes this to uncertainty over the Covid-19 pandemic and freezing of solar and wind projects due to unpaid electricity bills by the state.
To mitigate the impact of the upcoming Covid quarantine, the government last week distributed $80 million in aid to 278,000 employees and small business owners, the Digitalization Ministry reports. With all applications coming in through the new Diya, or Action, portal, the government plans to make all payments by this Thursday. Each payment is UAH 8,000, or $283.
Restaurants and bars can stay open until 7 am on New Year's Day, the Cabinet of Ministers has decreed. The following weekend, on Friday January 8, a 2-week strict lockdown is to be imposed nationwide, closing restaurants, non-grocery stores, fitness centers, shopping malls, hostels, and all schools, but not kindergartens.
China, already Ukraine's largest trading partner, could increase its two-way trade with Ukraine by 50%, to $20 billion by 2025, Irina Nikorak, executive director of Silk Link, Ukraine's Silk Road Association, told Xinhua news agency. She said a cooperation plan for joint construction of the Belt and Road Initiative was signed Wednesday at the fourth meeting of the China-Ukraine Inter-government Cooperation Committee, co-chaired via video link by Chinese Vice Premier Liu He and Ukrainian Deputy Prime Minister Olha Stefanishina. Nikorak said Ukraine wants to become a logistics hub connecting Europe and Asia and Ukraine offers joint projects for food processing, industrial parks and IT development zones.
Ukraine is negotiating with a Chinese manufacturer for a supply of vaccines against Covid-19, Ukraine's Foreign Minister Dmitry Kuleba said Thursday on Ukraine 24 TV channel.
Of the 30 million 'economically active' Ukrainians, only 37%, or 10.9 million, pay taxes, Oleksiy Lyubchenko, Head of the State Tax Service, said recently on the Freedom of Speech show of Ukraina TV. Far from getting better, today's number of taxpayers is about half of the number of 15 years ago, he said. According to 2019 statistics, 11.8 million Ukrainians who are able to work "did not make any money," Lyubchenko said. To him, this means that most work unofficially.
The top tax dodging regions are largely in the West: Uzhgorod – 63%; Chernivtsi – 53%; Odesa — 48%; and Lviv — 46%. In central Ukraine, rates are better: Kyiv – 30%; Chernihiv and Poltava – 31%.
Off the books transactions account for "somewhere over 50%" of GDP, Danil Getmantsev, ruling party MP and chair of the Rada committee on finance, tax and customs policy, told Radio Liberty. He called it "too optimistic" and Ernst & Young estimated earlier this year 24% of GDP. Even this rate is "terrible" as the government seeks to move Ukraine toward a tax-paying, EU standard economy.
In one step, 100,000 small businesses have downloaded the 'cash register in a smart phone' app since its debut August 1, 2020 Getmantsev said. As a result, there have been 100 million sales receipts using this technology. The protests in the last two weeks by small businesses of the Save FOP movement, he charges, are led by people who want to abolish cash registers altogether.
Legalized gambling will bring in $270 million in new tax revenues in 2021, Hetmantsev predicted in the Radio Svoboda interview. Gambling in high-end hotel casinos is to start in Ukraine next year.
Ukrainian Insurance Group, a unit of Vienna Insurance Group, has paid $1.3 million for a cargo of wheat destroyed on August 4 in the massive port explosion in Beirut. The cargo was insured against all risks, the company said.
In 2021, Ukraine's air travel will only rebound to half the level of 2019, Infrastructure Minister Vladyslav Krikliy estimated in a year end interview with Channel 24. The 2019 level 25 million passengers will only be attained in 2023, he predicts.
Wizz Air plans to fly from Vinnytsia, its sixth Ukrainian city, Vinnytsia Mayor, Serhiy Morgunov, told Avianews. He said: "We are talking about the potential opening of flights from Vinnitsa to Berlin, Budapest, Vienna and Warsaw." The Budapest-based discount carrier currently flies from Kyiv Sikorsky, Kharkiv, Lviv, Odesa and Zaporizhia.
In 2021, the Infrastructure Ministry plans to spend $21 million to upgrade the runway of Vinnytsia, the nation's 11th busiest airport.  At the same time, the city is going to upgrade the terminal to simultaneously handle two medium haul jets of the Boeing 737 size. In 2018, the airport handled 60,000 passengers, a recent peak. After losing UIA service to Boryspil that year, the airport reverted to only serving charter flights.
Starting today, Turkey, the top foreign travel destination for Ukrainians, requires a negative result of PCR coronavirus test performed 72 hours before arrival. Egypt, the other leading destination for Ukrainians, adopted a similar requirement earlier this month.
Editor's Note: It always seemed odd that Ukrainian cities rely on foreign aid to buy buses and trams. But, if no one here pays taxes, why not tap into the foreign taxpayer money of the EBRD, EIB and World Bank? With Best Regards, Jim Brooke